It's not often the ugliest contestant gets a crown, but at the Garlic and Tomato Festival, bumps and blemishes were the ticket to winning.
Eleven people entered both their most picturesque and most unsightly produce in the festival's Tomato Pageant, held Saturday morning at the La Crosse Public Library. More than 70 people visited the festival within the first hour and were invited to vote in both prettiest and ugliest categories, the winning tomato of each walking away with a tiny gold tiara.
"This one is firm, ripe and just plain beautiful," Margaret Ewert said of her pick for prettiest, a chunky red and yellow star striped tomato. Ewert cast her ugliest vote for a beefy asymmetrical tomato with a centralized brown protrusion.
"It looks like it's smiling with its tongue out," Ewert said.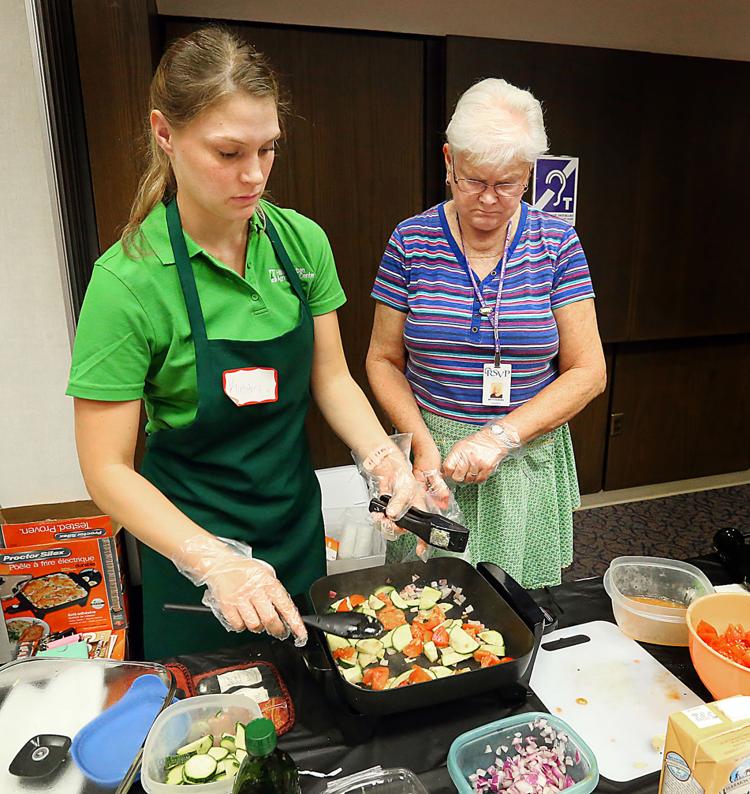 The pageant was a first for the festival, which was previously billed solely as a garlic festival.
This year the library teamed up with the Hillview Urban Agriculture Center to expand the theme.
"Everybody wants to grow tomatoes, eat tomatoes. We brought the world of tomatoes to Garlic Fest," said Pam Hartwell, executive director for Hillview. "There is a love for tomatoes."
Hillview and area gardeners provided fresh-picked tomato samples of several varieties, from the common cherry tomato to Pink Berkley Tie Dye. Hartwell highly recommends growing tomatoes at home, noting their taste is far superior to supermarket varieties, which travel hundreds of miles.
Attendees were also welcome to sample salsa, soup and sauteed zucchini and cherry tomatoes, all prepared on site, and take home garlic bulbs as part of the Seed Library program. Varieties from spicy Bogatyr to hearty German were distributed, with the request that takers save and return the bulbs for replanting by others.
"Garlic is fun to grow and popular for cooking," said librarian and Seed Library committee member Pam Gleason. "A lot of people don't realize you can use the scapes (the green stalks) for cooking."
Gleason recommends planting the bulbs after the first frost of the season, and notes growing garlic is a simple and economical way to ease into sustainable living.
Garlic and tomato lover Mike Benco took home a bag of bulbs to try, and enjoyed tasting a Green Tiger tomato for the first time.
"It's nice to try the different flavors," Benco said. "(The event) is pretty awesome."
When it came to the Tomato Pageant, Benco nominated both a perfectly round, bright red specimen and a scarred, burgundy and green colored monstrosity that ventured into acorn squash size territory.
"What? It's beautiful," Hartwell protested of Benco's pick for ugliest, proving beauty is truly in the eye of the beholder.
And of course, when it comes to the tomatoes, flavor tops aesthetics.
"Everyone kind of thinks of tomatoes as these round red balls," Hartwell said. "No, they're so much more than that."