Seeking to find alternatives to a new highway, La Crosse city leaders are moving to take action on a five-year-old plan to improve conditions for bicyclists and pedestrians.
Earlier this week a committee gave preliminary approval to study a redesign of West Avenue and King Street, and another committee is scheduled to vote Thursday on a resolution to release $50,000 — authorized in the 2016 capital improvements budget — to pay for directional signage on recognized bike routes and five future "neighborhood greenways."
That's less than 1 percent of the roughly $6 million the city is slated to spend on road construction this year.
La Crosse Mayor Tim Kabat said he's happy to see the council moving forward on active transportation even as the city prepares to sink an extra $2.5 million in reserve funds into roads next year.
"The number one priority each and every day is the accelerated street improvements," he said. "We're not neglecting one for the other."
The idea behind the signs, put forth earlier this year by the city's Bicycle-Pedestrian Advisory Committee, is to prioritize projects that can be done right away even while more politically contentious projects have to wait.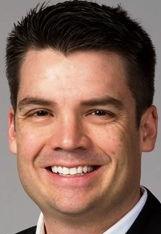 "Basically what this is doing is putting up signs and connecting through paint and bikeway signage to tell people how to get where they actually need to go," said James Longhurst, an adviser to the committee. "For a lot of the infrastructure we've built over the last several years we haven't done a good job of telling people where it is."
Longhurst points to the Bud Hendrickson Bridge, a $4 million footbridge on the city's North Side. Completed in 2015 after years of planning, the bridge is a key connector between Onalaska and La Crosse, yet many people don't know it's there.
"That project took decades and millions of dollars," he said. "To go the last step and spend a little money to put some signs up is low-hanging fruit."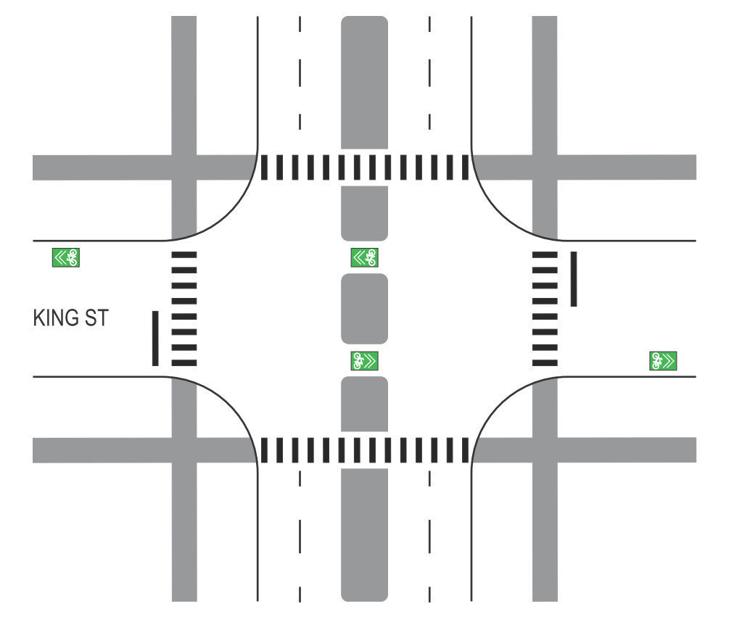 King Street corridor
On Monday, the Board of Public Works authorized the city to draw up engineering plans to redesign the intersection of West Avenue and King Street, designated as a future bike boulevard.
Plans developed out of public meetings recommend installing raised medians to restrict left turns at the intersection and block automobiles cross-traffic while providing cyclists and pedestrians a refuge while crossing the four-lane highway that separates much of the city's south side from downtown.
Only 3 to 7 percent of peak-hour traffic turns left at the intersection, according to a consultant firm's study. Most motorists turn at the signalized intersections of Main and Cass, one block in either direction from King.
A separate study by the La Crosse Area Planning Committee found West Avenue has the highest number of bicycle and pedestrian crashes in the region. In 2011, 55-year-old Michael Stoker suffered fatal injuries when he was hit by a car while crossing at King Street.
The resolution doesn't authorize construction, but assistant city planner Lewis Kuhlman said with engineering plans in hand, the project has a better chance to qualify for federal transportation funding that would cover 80 percent of the cost.
Council president Martin Gaul said modifying an intersection will upset some people, but the city should go forward with relatively easy and inexpensive improvements like signage.
"The more people we can get to ride bikes takes one more car off the streets," Gaul said.
The two resolutions mark some of the city's first real steps to implement a bicycle and pedestrian master plan that was adopted in 2012.
"We've checked some small things off," said Carolyn Dvorak, La Crosse ambassador for the Wisconsin Bike Fed and an adviser to the city on active transportation. "This is really an attempt to make some significant movement."
The plan calls for constructing seven miles of bike boulevard on portions of Avon, King Street, 17th, 22nd and Farnam streets. Construction is scheduled for later this year on 17th, which would be the city's first.
Also known as "greenways," bike boulevards use pavement markings and traffic-calming devices to slow motorized traffic and make a more comfortable environment for all users. They are generally recommended for low-traffic streets that run parallel to larger thoroughfares.
The bike/ped advisory committee also has recommended immediate completion of the King Street boulevard, which could be two or three years out.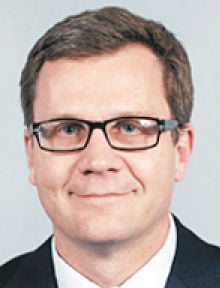 Dvorak said the recommendations were made with an eye toward improving north-south connections and reducing some rush-hour motor traffic, which has been a priority for Kabat as he seeks to avoid construction of a new highway.
The Department of Transportation has identified six potential strategies designed to improve safety and alleviate congestion on the area's three north-south corridors. All include significant new pavement, to the consternation of neighborhood and environmental groups.
City residents blocked similar plans in a 1998 referendum, though the $138 million project remains on the state's list of approved projects.
Kabat, who has been frustrated with the efforts of neighboring municipalities to reduce vehicle traffic and encourage alternative modes of transportation, said the city is not waiting on other entities to address the issue.
"We're moving forward with these very viable solutions," Kabat said. "And we're doing it with local funds."