LODI, Wis. — A La Crosse native and self-described nerd has designed another gobsmacking maze to continue an award-winning tradition that has tens of thousands of people stalking a field on her family's farm.
Angie Lathrop Treinen's unique talent in designing dazzling mazes is a far cry from her original career track toward the human medical field as a student at the University of Wisconsin-Madison, although not that far from her eventual degree as a veterinarian, which she describes as her "real passion."
Even her small veterinary medicine practice has taken a backseat to another passion, the Treinen Farm Corn Maze and Pumpkin Patch. It has blossomed into veritable cornucopia of fun she and her husband, Alan, have incorporated into their 200-acre farm near Lodi, about 125 miles southeast of La Crosse and roughly 25 miles north of Madison.
The 15-acre mazes routinely make USA Today's top 10 maze lists and have snagged other awards. This year it features a trilobite and will be open on weekends through October. Its themes have ranged from the frivolous to the frightening, from rainbows to an enchanted castle, from kittens to killer baby unicorns and a T-rex.
"We were also featured in Science (magazine), which a big deal for a science nerd like me," Angie said.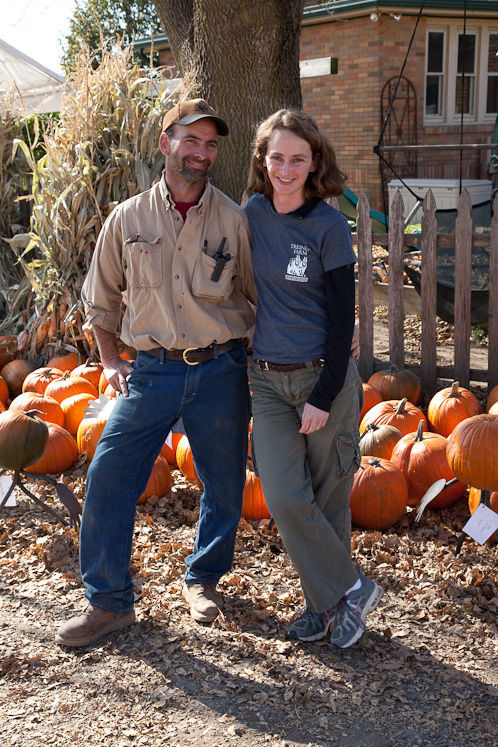 Tradition started in 2000
The Treinens began the maze tradition in 2000, initially hiring a designer. Angie took over the designing duties in 2006 because designers are expensive, and she wanted to test her own wings. This year, for the first time, she granted an outside request and agreed to make a trilobite, at the suggestion of the University of Wisconsin-Madison Geology Museum.
Trilobites, if you're wondering, were hard-shelled, segmented, seagoing creatures that haven't been around for about 250 million years or so. Evidence of their existence remains only in fossil form, but they still fit quite well with Angie's bachelor's degree in zoology.
The trilobite rooted in the Treinens' field is 480 feet long (or high, depending on your vantage point). That is exponentially huge compared with the ones that wriggled on the ground during their heyday in the Paleozoic Era.
For example, the largest trilobite fossil ever found is 28 inches, said Brooke Norstedt, assistant director of the museum who worked with Angie and museum director Richard Slaughter on the project.
But get this: Some trilobites were as small as sesame seeds, said Norstedt, who said the Treinens' farm will have the 28-inch fossil and other artifacts on display.
Angie was happy to entertain the museum's trilobite suggestion, although she initially was puzzled about how to pull it off. She finally plotted it with deft programming on her computer.
"Most people don't know what a trilobite is," she said. "I had to figure out how, when they looked at the maze, how they would see it. I thought if I did the right design, it would look like a giant, disgusting bug — just like when you turn over a log."
Aerial photos of the field, as well as a YouTube video detailing the process, reveal what looks indeed like a giant, disgusting bug.
Of course, designing it and plotting it out are not as easy as turning over — or falling off — a log.
Two rows criss-crossed
In the field, the mazes require Alan to plant corn in rows criss-crossing each other, instead of just parallel rows, Angie said.
"It makes for very thick corn," which is ideal for a maze, she said. "When it is first coming up, you can see the grid."
Then it's just a matter of letting the corn grow a bit, but not too high, so workers can mark the grids to mow what will become pathways while the maze walls grow.
Son Thomas, at 19, uses a drone to help monitor how the design is working out, while 15-year-old Patrick helps with the cutting.
The maze is only part of the attraction at the Treinen farm, which includes a 14-acre pumpkin patch with 15 kinds of pumpkins, hay rides and a variety of games, such as a pumpkin slingshot, rope ladders and a bounce house, Angie said.
"Our boys essentially grew up in a playground," she said, laughing.
Routes through the maze vary in difficulty, with participants filling out maps according to their choices.
About 30,000 people are drawn to the farm for the maze's five-week season, generating about 80 percent of the farm's income. The farm's 120 tillable acres also include soybeans and hay, Angie said.
The Treinens emphasize hospitality for visitors, with 60 staffers, including about 45 teenagers, who explain the ins and outs of the maze.
"Luckily, I love teenagers, and I love seeing them in their first jobs," with roles also including selling tickets and snacks, Angie said.
Slaughter, Norstedt and other UW-Geology Museum staffers also are on duty during maze days to explain the fossils and other geologic information about the Badger State.
"Fifty-thousand people come to the museum a year," Norstedt said. "But we like going to other places, too, where people who never get to the museum might be, to reach a new audience."
The museum tapped Angie's talent for the project because "we knew her family had a science and math interest."
Cabinets of curiosity
The trilobite is only part of the maze, although it by far is the dominant part. Angie added extra elements to replicate what are known as "cabinets of curiosity," which were small collections that often served as launching pads for museums.
Keeping the trilobite company are other elements of Wisconsin's heritage, including a honeybee, the state insect; cubes of galena, the lead ore that attracted miners to the state and made it the home of the Badgers; a butterfly; a coiled shell from an ammonite, which was an ancient sea creature whose only known fossils from Wisconsin were dragged in by glaciers during the Ice Age; an empty bell jar that features images of all the dinosaur fossils ever found in the state; a spear point found near the Treinen farm; a fossil nautiloid, a marine creature that ate trilobites and once was found in the state, and a rendering of the field microscope that geologist Charles Van Hise used. The University of Wisconsin president from 1903 to 1918, Van Hise is considered the father of the Wisconsin Idea.
"The corn maze is a big creative outlet," said Angie, who attributes her geek gene to her dad, Dr. Thomas Lathrop, a retired Gundersen Health System internist who is "the biggest nerd you'd ever want to meet."
"Even at Gundersen, he was the guy who was into computers even before computers were popular" and a driver of what then was Gundersen Lutheran's switch from handwritten to electronic patient records.
It may seem odd that Angie was attracted to farmers after growing up the daughter of a physician and a nurse — her mom is Lynn Lathrop, a retired registered nurse.
Well, as it turned out, Angie acknowledges now, "I always wanted to live on a farm, even though my parents weren't farmers."
Angie was working in her veterinarian practice when Alan brought in a cat. Knowing that farm cats rarely get a trip to the vet, Angie wasn't surprised when Alan told her, "I never spent money on a cat before." But he was fond of this particular one — a good mouser — and wanted it vaccinated.
Angie found it appealing that a handsome young farmer was solicitous of a cat's health.
The next time they ran into each other, Alan said, "Remember that cat I brought in?"
Vet killed the cat?
When she said yes, he countered, "Well, you killed her."
Staggered and wondering how a cat could die from a vaccine, Angie pressed for details.
"Well, right after you did that, he ran into the road and a car hit him and killed him," he said.
"Hmmmmmm," she confesses she thought. "A handsome young farmer with a sense of humor."
They happened upon each other shortly thereafter in a group to whom he was showing photos of a trip he had taken abroad.
"Hmmmm, a handsome young farmer who likes to travel. I like to travel," she recalled thinking, laughing at the memory.
Before long the city girl with a fondness for animals hitched her wagon to the country boy who had all the right instincts, and they've been a-mazing ever since.