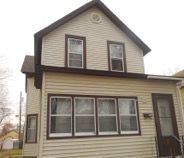 La Crosse Promise executive director Brian Liesinger Wednesday invited people to see beyond the state of 911 Fifth Ave. S. and into what it could be.
"You have to imagine with me for a moment. You have to see beyond the carpet and the drop ceiling and the plaster to the facelift that will bring back the stately historic character to this home," Liesinger said.
The single-family home recently purchased by the city of La Crosse is on the market. The city plans to sell it to someone who will renovate it and move in, taking advantage of La Crosse Promise's renovation program to receive up to $50,000 in education scholarships in return for investing in repairs to the home.
"You'll see what we see, which is a recent example of the progress and partnerships which have transformed the Washburn neighborhood from distressed to desirable," Liesinger said.
The home marks a new direction for the city of La Crosse, community development administrator Caroline Gregerson said.
"We've been very actively demo-ing and building new construction and we recognize that there is a lot of value in preserving the beautiful heritage that our city has," Gregerson said.
This home marks the first time the city has purchased a property with the intention of requiring the new owner to fix it up and live there, although it did launch a program in September to provide funds for homeowners wanting to fix up their current house.
"Prior to this we kind of shied away from it, because we thought it would be hard and kind of complicated," Gregerson said.
However, neighborhood housing development associate Dawn Reinhart led the way in encouraging renovation of existing structures.
"There was a lot of character with the preserved woodwork and the structure is actually in decent condition, so when I saw it listed, I thought this might be our opportunity," Reinhart said.
To buy the home, interested parties must agree to the scope of work, which includes remodeling the kitchen and bathrooms, and replacing the windows and flooring, among other things; although, Reinhart said there was room for negotiation.
"Even with all the new multi-family construction, a lot of the single-family homes are still being converted into rentals," Reinhart said. "This was a way for us to come in, buy a property and make it owner-occupied again and kind of get the mix of the Washburn neighborhood back in order."
The idea is to have a mixture of households and mix of incomes to encourage neighborhood diversity and increase the number of families living there to balance the large number of student rentals.
"Basically, we're saying come and buy this for $45,000, but in exchange you have to give it a complete makeover," Gregerson said. "That's the project we're kind of piloting and testing and we're going to learn if it works and maybe keep doing it and try it again somewhere else."
Liesinger added that renovation programs were a good way to let people who already live in the neighborhood take advantage of La Crosse Promise's scholarships and invest in their own home at the same time. An owner who invests more than $30,000 becomes eligible for $25,000 in scholarships. Investing more than $60,000 raises the eligibility to $50,000.
The project is meant to build upon other neighborhood revitalization efforts in the area, both by the city and by other area nonprofits.
"On this block, we have perhaps the most extensive evidence of the recent activity driving positive change in Washburn," Liesinger said.
The block of Fifth Avenue where the house sits includes another La Crosse Promise renovation project across the street, a soon-to-be vacant lot next door, Habitat for Humanity and Couleecap homes in the works around the corner, as well as the city's twin home project not far away.
"When you come back next summer and you walk down this block, it's going to look and feel entirely different," Liesinger said. "You'll have a model of the kind of transformation that can happen in a short time when you have individuals and government agencies, nonprofits and businesses involved to effect change at a high level."