In the spring of 1976, life took Mary Meehan-Strub in a direction she wasn't exactly expecting to go. But there's something about Meehan-Strub — a combination of work ethic, determination, intelligence and sense of mission — that almost guaranteed she'd succeed whatever path she took.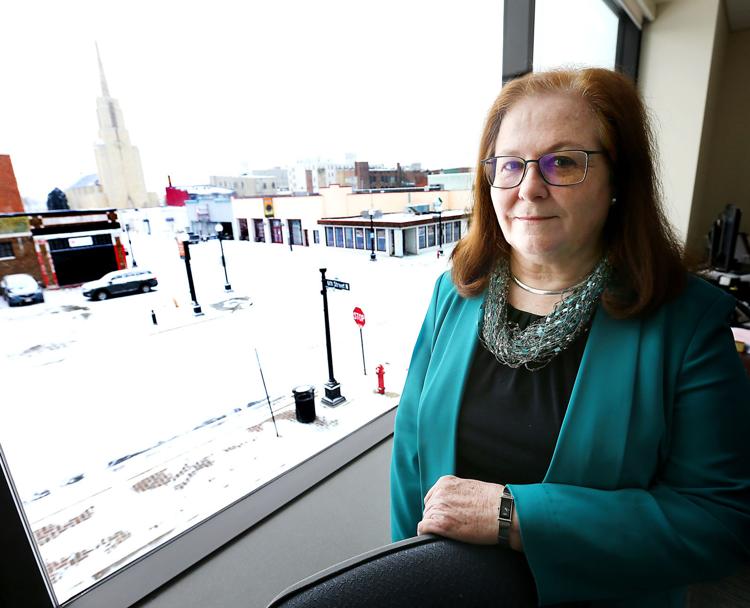 Growing up the youngest of five on a 260-acre farm near Harpers Ferry, Iowa, Meehan-Strub followed an older sister's footsteps after high school. She came to La Crosse to study home economics at what was then known as Viterbo College, working up to 30 hours a week at Northwest Fabrics while taking a full load of classes.
Meehan-Strub figured she would end up teaching high school home economics after college, but just as graduation loomed, she found out about a job opening in Crawford County, a job she's kept at for almost 42 years: UW-Extension family living agent.
After four-plus decades as an Extension agent, the past 32 of them with La Crosse County, Meehan-Strub is setting out on a new path, stepping down from a job through which she has improved the lives of countless people.
"I don't call it retirement," Meehan-Strub said last week during a break from a marathon "pitch-and-pack" session cleaning out her office. "I don't call it 'the R word.' I say I'm transitioning to the next period of my career and life cycle."
Growing up, Meehan-Strub was very involved in 4-H — and very successful at it, especially as a seamstress and as a speaker giving informational demonstrations. She knew Extension agents in Iowa, and her older sister worked for a few years as an Extension agent in Wisconsin, but through college she really was expecting to become a high school teacher.
Looking back now, Meehan-Strub knows that she made a good decision to get into Extension. "I like to learn and I like to challenge myself, technically as well as in terms of general overall learning," Meehan-Strub. "I don't know if I would have gotten to do the depth of learning in new areas had I been a high school teacher."
In a way, Meehan-Strub has been a teacher all along. That's a big part of what being a UW-Extension agent is. The whole point of the UW-Extension is to take the research done through the UW System and provide that to the general public for the betterment of society. As an Extension family living agent, Meehan-Strub is considered a tenured professor, and a big part of her job has involved research and publication, just like a university professor.
"She's always had that tether of bringing that research to people, to bring them that educational resource that helps them make good decisions," said Karl Green, who has been La Crosse County's Extension resource agent since May 2005.
Green recalled that his first impression of Meehan-Strub when he came to the county Extension office was she was a confident, competent, hard-working leader. "I think she represents that era … where work is the most important thing," he said.
"I think she grew up in an environment that was a very male-dominated environment, and she was capable of handling the politics of that," Green added. "When she started, it was still a pretty male-dominated county board. It was a different environment back then and she was able to persevere through that because of her tenacity. … I think she's kind of got a grit to her that you don't always see in people."
Steve Huntzicker, who came to the county Extension office as an ag agent around the time Green started, remembers being impressed right off the bat with Meehan-Strub's organizational skills and attention to detail.
"She always remained a consummate professional," said Huntzicker, who left the Extension office in 2015 for a job as operations manager of the Scenic Bluffs Community Health Center in his native Cashton. "For her to be the leader fit her style. She didn't back down from that. She wanted to make sure things ran well and that details were paid attention to."
Over the years, Meehan-Strub shared her leadership and organizational insights in many arenas, helping government, community and business organizations improve the way things got done. She did a lot of work with county government, noted County Administrator Steve O'Malley. "She and Karl Green both would lead work groups and employee groups, covering everything from solving problems in how families get in line for jail visitation to how social workers process cases to how department heads prioritize what they ought to be focusing on," O'Malley said.
One thing that stood out about Meehan-Strub to O'Malley was her commitment to focusing her efforts on what was needed in the community, which has meant doing extensive work in the areas of financial literacy, at-risk youths, health care and insurance, difficulties in farm living, reading skills in the young, parenting skills and food safety, among many other issues and topics.
"In many other counties, that work wouldn't be done," said O'Malley, who got a new appreciation for Extension after coming to La Crosse County about 14 years ago. "I've become more of an advocate for Extension over the years, due in large part to Mary's leadership and the work that Karl Green has produced."
Meehan-Strub is so committed to serving community needs, she went back to school to earn a law degree because it would be useful to her in helping people, especially providing education in the area of financial planning. She has co-authored numerous Extension publications, with a large portion of them devoted to money issues, including "Look Before You Leap: "A Guide to Legal and Financial Implications of Marriage (and Remarriage) in Wisconsin."
The list of the publications she has helped write is almost as long as the roster of awards she has amassed, both within UW-Extension and related organizations.
Society and "family living" has undergone major changes in the past four decades, and Meehan-Strub said it has been important to recognize that in finding the best ways to serve the community. The Extension program used to host meetings and gatherings as a conduit for sharing educational resources, often with an emphasis on emphasis on rural living and ag issues.
People's time for meetings has dwindled over the years, and Meehan-Strub recognized that early on, turning to other ways to share with the public, as well as putting an emphasis on teaching other people to teach, effectively expanding Extension's reach.
For years, Meehan-Strub wrote a "Coulee Consumer" newspaper column on a wide variety of educational topics, and she had a long-running weekly show on public radio called "Coulee Region Connections" as well as being involved in the local "Newsmakers" program on public radio.
The local Extension office's transition to the social media age is still a work in progress. Key words now for Extension agents to keep in mind, Meehan-Strub said, are "flexible, digital and relevant."
Looking back, Meehan-Strub can point to some major accomplishments that helped thousands of people, like coming up with a community training program after the Affordable Care Act was passed, a program on which she gave a presentation at a national Extension conference. And she can point to small ways in which she might have improved one family's life, like the time she took a call from someone who wanted to know how to get a squirrel out of a dryer vent.
Meehan-Strub repeatedly emphasizes that the work of the Extension office is not just her, and she's excited about the office getting two new agents in January (it's been short an ag agent and a youth 4-H agent for several years). She's hopeful that her position won't stay vacant as long as those two, but even when it gets filled there will be something missing.
"I think the county is so used to Mary's presence," Green said. "It's going to be a different feel."
Part of the restructuring of Wisconsin's Extension program involved an early retirement offer that was too attractive for Meehan-Strub to let pass. She would have been happy to keep on with her longtime mission, and it remains to be seen what new path Meehan-Strub will go down.
She said she feels truly blessed to have had the career she's had, a career she sort of stumbled into. And reflecting on all that she's done in those 42 years kind of boggles the mind. "Sometimes you look back and you say, 'Wow, we did all that,'" she said.