Taking orders, making product and tracking inventory are all in a day's work for Onalaska High School senior Alexcie Wenger.
Wenger, one of a dozen students in Mesa Heit's job skills class, does double duty as both a student and businesswoman, dedicating four periods a week, plus occasional evenings and weekends, to helping run the class's Ona Spirit business, founded in 2012 by Onalaska High School transition coordinator Shelby Buchanan.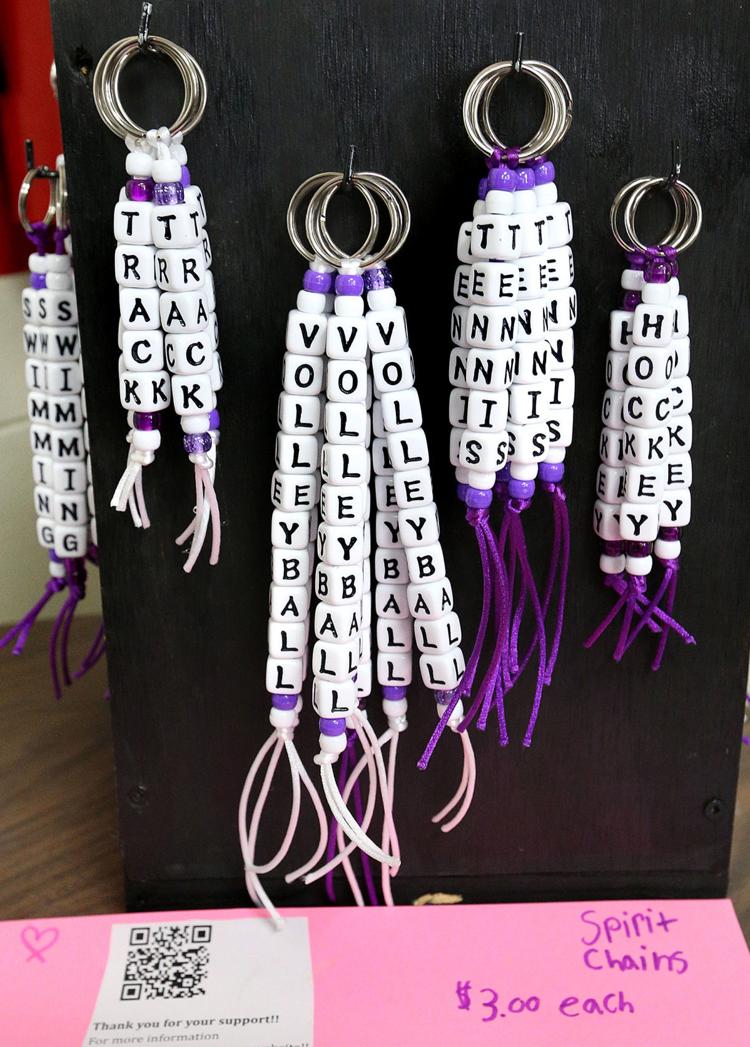 Introduced to the idea of an in-school micro-enterprise during a conference, Buchanan developed Ona Spirit to introduce the school's special education students to the basic communication, teamwork and problem-solving skills they will need upon joining the workforce. The business started with creating Spirit Chains, personalized key chains made from letter and colored beads and cord, and has since expanded to include a morning coffee shop and sale of fresh greens, grown from seeds in a classroom greenhouse.
"All these little micro-enterprises we have give them a chance to learn skills," said Buchanan. "The Onalaska student body is really amazing in supporting us in everything we do."
The class receives anywhere from four to 20 Spirit Chain orders daily, with sales at their peak leading up to Christmas. Customizable with names, school colors or symbol beads, the $3 chains are popular with both students and staff, with additional orders coming in through the Ona Spirit website. Spirit Chains are also available for purchase at the Parks and Recreation office and local businesses Zen and Pow, Harley-Davidson, Unwined and Miller Quick Print. The students crafted displays for the stores, which they stock monthly, and receive the full profit from each sale. To show their appreciation, the students drop off annual thank-you notes for the staff, delivered on Valentine's Day.
"They go into businesses and they shake hands and make eye contact — they're getting really comfortable in the community," said Jeri Metzig, a paraprofessional who works with the job skills students. "They know it's their job, their business."
The students fill orders daily, each packaged and labeled, and make deliveries once a week. One student has taken on the role of accountant, tracking sales through spreadsheets, and profits are pooled into a group fund, to be used for an end of year event or outing. Students have the opportunity to earn individual money through positive behavior, tracked by themselves and Heit on a daily job skills check list. Up to five points are awarded each day under categories such as work ethic and team work, and for every 50 points, they receive a dollar to spend as they please, with most opting for candy or ice cream. Last year, the class earned enough for an overnight stay at Wisconsin Dells, where each student took on a task such as meal prep or budget.
"They work so hard, they deserve to be rewarded," Buchanan said.
Wenger, who can finish a spirit chain in under 90 seconds, enjoys being part of Ona Spirit — but she concedes there are some frustrations. During the holidays, the number of orders can be overwhelming, and at times a chain is done with the wrong spelling or colors, requiring a redo. Heit helps the students work through the stress, viewing errors as a valuable learning opportunity.
"They had to start learning and listening to the customer instead of just doing what they think it should be," Heit said. "But no matter what type feedback they get, positive or negative, I think they're growing."
While Wenger isn't sure what career she foresees after high school, she is confident her experience with Ona Spirit will give her a boost.
"I'm better at talking to people and making eye contact," Wenger said. "It feels really good to make this stuff."
Heit sees strides in all her students, especially those who have been part of Ona Spirit since freshman year, and have shown leadership and initiative.
"The confidence," Heit enthused, "is awesome."
For more information on Ona Spirit, or to order a Spirit Chain, click here.