When Stephen Harm bought The Warehouse in 1991, he could have predicted the squeaky doors and creaky floorboards that come with a structure dating back nearly 130 years. The building's pale-faced tenant, however, was a surprise.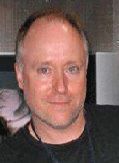 It was 1993 when she made her debut. Harm had recently reopened the three-story brick building at 328 Pearl St., once home to various shops and offices, as a substance-free concert facility for youth. Two bouncers, both intimidating in size and trained in the martial arts, were standing watch near the bathrooms on the second floor. Harm was in an office around the corner when the pair rushed in, their faces drained of color, and pointed to the hall.
"These guys were not scared of anything, they were fearless," Harm said. "I turned around the corner and there was this floating, white girl — see-through. We followed her around a corner ... and she disappeared."
The ghostly being wasn't gone for long, however. During the next two decades, Harm estimates, she has resurfaced a dozen times, usually during bouts of construction, emerging most recently in 2013.
"(It's when) we're sanding or doing the floors, big things that make a lot of noise or dust ... as if we're perhaps disturbing her home," Harm said. "In your peripheral vision you'll catch a light, and if you turn around slowly you'll see a little girl watching you. You can look at her and she'll look back, but if you go towards her she disappears."
While Harm "always assumed the paranormal is possible," he says the appearances were still creepy at first.
"It took the bouncers a while to get back to normal," Harm said. "Over the years we've learned she wasn't here to be malicious and she knows we're not here to be malicious. There's not a terror accompanying it."
There were hints of something preternatural even before the visits began. One night, a motion detecting security system, installed around 1991, triggered an alarm, but when Harm and his former business partner arrived there was no sign of a break in. The sensors had tracked movement through a sequence of inner rooms connected by doors, but none to the entry or exit. It seemed whatever was moving between those rooms had vanished.
"At that point we assumed it was an anomaly in security," Harm said.
Harm says seven people have encountered the young girl in the Warehouse, but he was alone both times he felt a mysterious presence.
During each occurrence, Harm was in his third-floor office in the middle of summer, with temperatures in the building hovering around 90 degrees, when a mysterious chill and a sense of "overwhelming terror" rushed over him.
"All of a sudden, goosebumps," Harm recounted. "Boom! Freezing cold."
Harm postulates the frigid entity is perhaps a hostile ghost that travels between the series of buildings that share walls with the Warehouse.
The theory of a traveling ghost is perhaps not out of the realm of possibility, given that previous owners and employees of Del's Bar on Third St. and the Bodega Brew Pub on Fourth St. have reported eerie experiences of their own, from visions to noises, that have become fabled over years of retelling during guided tours of the historic downtown.
The Dark La Crosse Tour, which, oddly enough, is listed as No. 1 on the list of local Haunted Places on ExploreLaCrosse.com, includes a segment on the latter, which is said to be haunted by the ghost of a former owner who hung himself there in the early 1900s. Del's Bar and the Bodega are Nos. 4 and 5, respectively, on the Haunted Places list.
The Warehouse is listed No. 2, and even if the current paranormal occupants choose to relocate, Harm's postmortem intentions should secure the ranking.
"I fully plan to come back and haunt this place," Harm said.
---
Photos: Halloween displays at La Crosse area homes