Oppressed. Meek. Victimized.
Reports of misogyny and torture, in the forms of confinement, forced marriage, bodily mutilation and servitude, have portrayed Muslim women as objects, controlled by men and living in peril.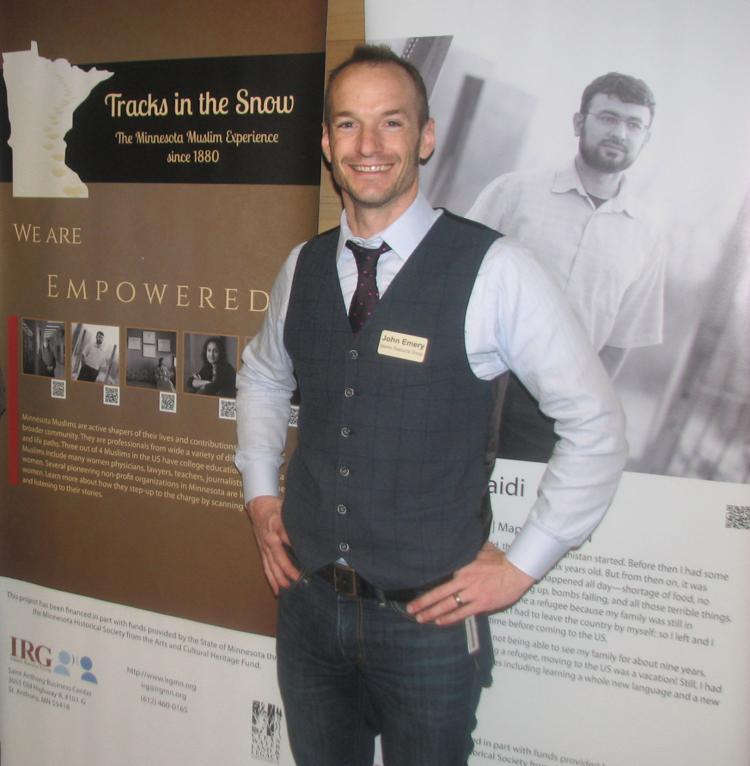 These injustices indeed occur in countries worldwide, including Iraq and Iran, but too often the blame is wrongly placed on the religion of Islam, say faith's advocates, perpetuating harmful stereotypes and community division.
The enduring misconceptions about women in Islam, and crucial differences between religion and culture, will be at the center of a presentation and discussion Saturday at the La Crosse Public Library, the second in a three-part series hosted by the Islamic Resource Group community liaison John Emery. The March 24 installment focused on the practices and beliefs of Muslims, and the April 7 program will cover the history of Islam in America.
"We see a lot of information in the news related to this population, but they are not often visually represented in this community," said Brendan Hubbs, programming librarian for the La Crosse Public Library. "We hope (to promote) a better understanding about Muslims and the Islam faith, and how they are interwoven in the American experience."
The La Crosse Public Library previously partnered with Emery and The Islamic Resource Group last fall and found the programming was well received. The Islamic Resource Group, an educational nonprofit, was founded to forge insight into the Muslim population in western Wisconsin and Minnesota, dispel myths about the religion of Islam and build bridges of understanding.
Emery, a two-year member of the organization, travels the Midwest to educate communities and lead positive discussions about religion, diversity and culture, engaging at a "grassroots level."
"Part of our mission is to serve as a facilitator of community conversations and represent all voices," said Joe Hammes, public relations and communications coordinator for the La Crosse Public Library. "I think our community is always interested in learning about other ways of life ... the Muslim population is growing in La Crosse and across the country and throughout the world."
Emery, a Minnesota native and himself a convert to Islam, was raised in the Catholic faith in a "traditional American" household. After high school, Emery signed up to be a translator for the U.S. Army, studying Arabic for 18 months and becoming fluent enough to read the Quran, the sacred text of Islam.
"It's kind of like Shakespeare in Arabic," Emery said.
Emery served nine years as a translator and interrogator in several countries, later receiving a degree in Global Studies from the University of Minnesota, and felt a calling to convert to Islam, a religion followed by around 1.5 billion people.
"It took me around 12 years to answer that call," Emery said, noting the decision was not a rejection of Catholic values, a religion he has great appreciation for. His wife, Alisen, has converted as well and will share her experience during Saturday's program, though Emery concedes they have both been privileged to have accepting families and spared racial intolerance.
"There's always been a racial subtext about Islam in this country," Emery said. "Because of our ancestry, being white Americans, (my wife and I) face less discrimination."
During the program, which will include examples of influential Islamic women, Emery will touch on how Islamic teachings influence the roles of Muslim women in terms of gender equality, including finances, occupations, education, dress and relationships.
"From the point of Islam, men and women are equal in the eyes of God," Emery said. "Where we see exceptions to this rule are in areas of conflict, or (among) people who are ignorant about the basics of the religion. The negative things we see are the cultural interpretations — there is a big difference between religion and culture."
Muslims may share the same religion yet promote different practices unattributed to the tenets of the Quran. Violence, racism and female oppression which occur in some Muslim regions are connected to culture, traditions, politics or ethnic codes, and yet Islamophobia leads some individuals to categorize all Muslims with terrorists and ISIS extremists.
Islam, Emery explains, is a religion of peace which condemns violence and edicts equal rights for women, including property ownership, schooling, working outside the home, voting, worshiping in a mosque and holding positions of authority. In the past four decades, nine Muslim women have served as heads of state, including current Prime Minister of Bangladesh Sheikh Hasina Wazed and former president of Indonesia Megawati Sukarnoputri.
Coinciding with the presentation, a traveling photo exhibit from the Islamic Resource Group will be on display in the main and upper levels of the library. Entitled "Tracks in the Snow," the photo series shows Muslims from across the region, providing insight into their daily lives, beliefs and contributions.
Questions and comments are welcome during the program, or can be directed to La Crosse Public Library staff. For more information, click here.