Rainbow Ridge Farms in Onalaska hosts summer goat yoga classes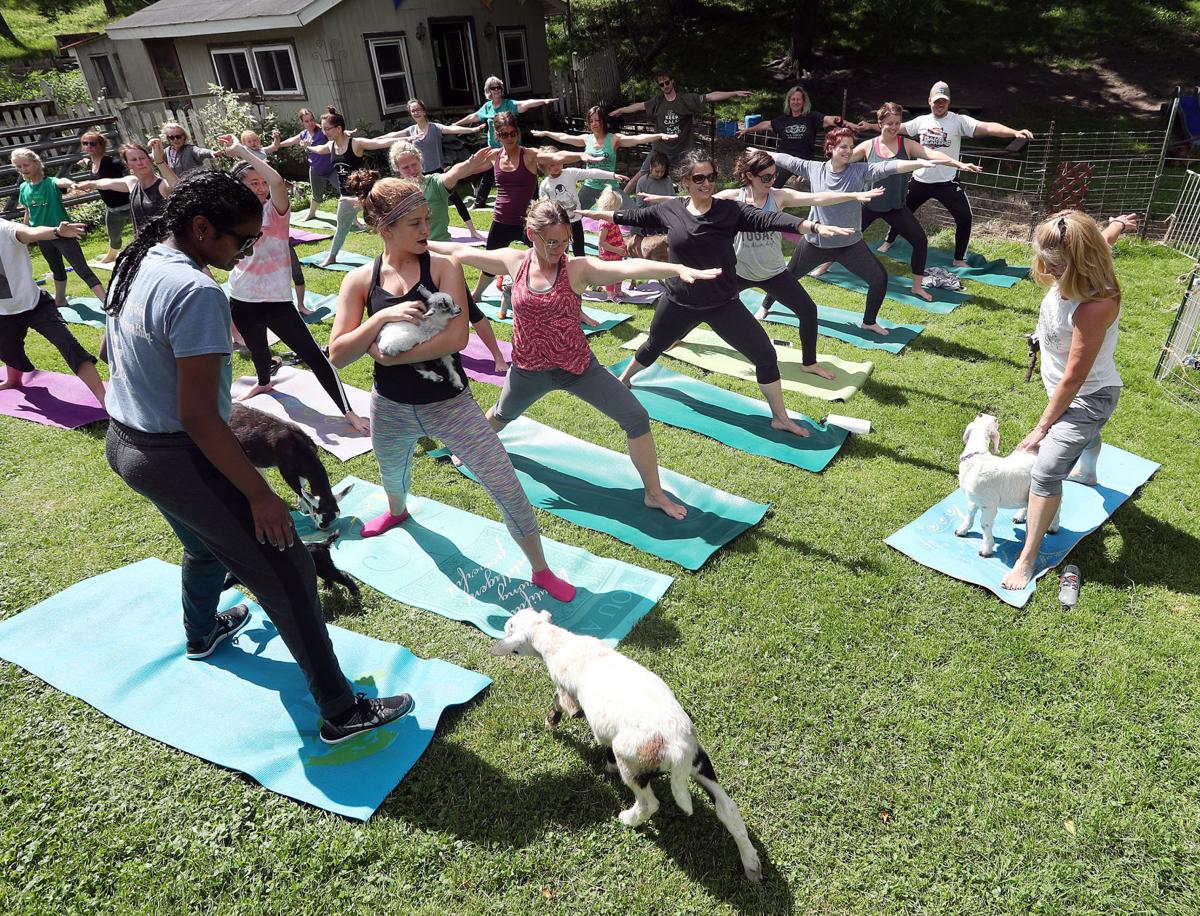 After 25 years of teaching yoga, Tammy Zee has mastered going with the flow, so when a carefree white goat took over her yoga mat during a class at the Rainbow Ridge Farm, she didn't miss a beat.
"I'd like you to meet our new instructor — this is Luna," Zee announced as the carefree kid flopped down and shut her eyes. "She's liking the shavasana (corpse) pose."
Luna wasn't the only goat more interested in mischief than fitness during Saturday morning's Goat Yoga session, where a dozen baby goats ranging from 10 days to 10 weeks old, plus three little lambs, mingled among the 30 yogis of all ages stretched out on mats in a pen. But despite having to clean up a few accidents and occasionally steering a nibbling goat away from their water bottles, the participants were having a blast.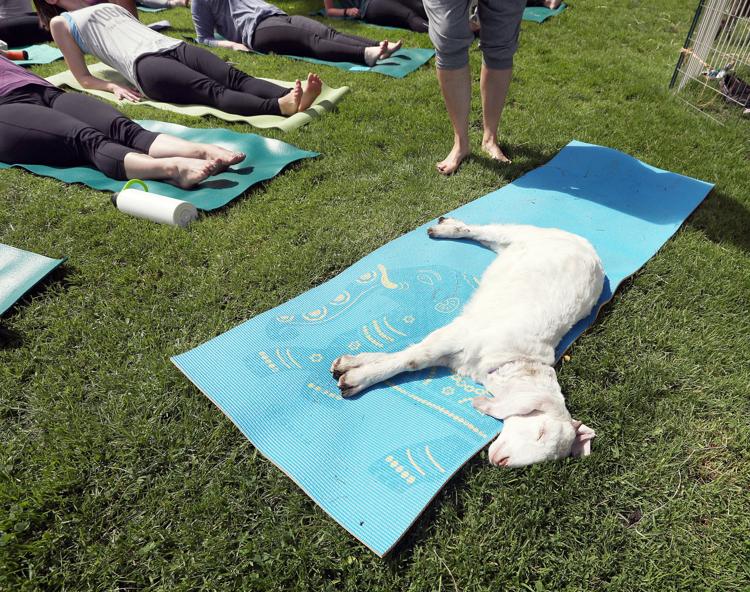 "It's just pure joy having a little furry creature beside you," said Bronson Semerau, who casually held a goat across his arms during a tree pose. "Having them graze up against you and nibble on your arm is a cool feeling."
Semerau maintained holding the goat actually improved his balance, and he and girlfriend Maggie Schauer developed a fondness for brown goat Stardust, who managed to wedge her away out of the enclosure several times.
"I think she liked me," Semerau said. "And then she left."
Goat yoga has surged in popularity over the past year, and when the farm held a class as part of a 4-H fundraiser in May, over 130 people signed up. The farm also hosted yoga classes with fainting and Boer goats last fall, and Zee approached Rainbow Ridge Farm co-owner Donna Murphy about leading a Saturday morning class during the summer.
"(Goat yoga) just kept coming up on my Facebook, and in February I finally said, I'm in," Zee said. "When you do (regular) yoga you might think about work or other things, but when you do goat yoga, you don't really think about anything else. You're only focused on the poses and these cute goats. It's a fun, endearing time to let go of the mundane and the stress and enjoy nature."
The serene farm setting was a bonus for Mary Dahldy, who frequents Zee's classes and is always eager to try something new.
"It's a beautiful day out here, and just seeing the fun and the smiles is the best," Dahldy said. "This is different but it's lots of fun."
Goat yoga was a new concept for many of the participants, some who chose to hold a goat during standing positions, as did Zee, who got Luna into the action during the Warrior One pose. Giggles and smiles where frequent as the goats stepped over backs and nuzzled up to hands during boat and upward dog positions.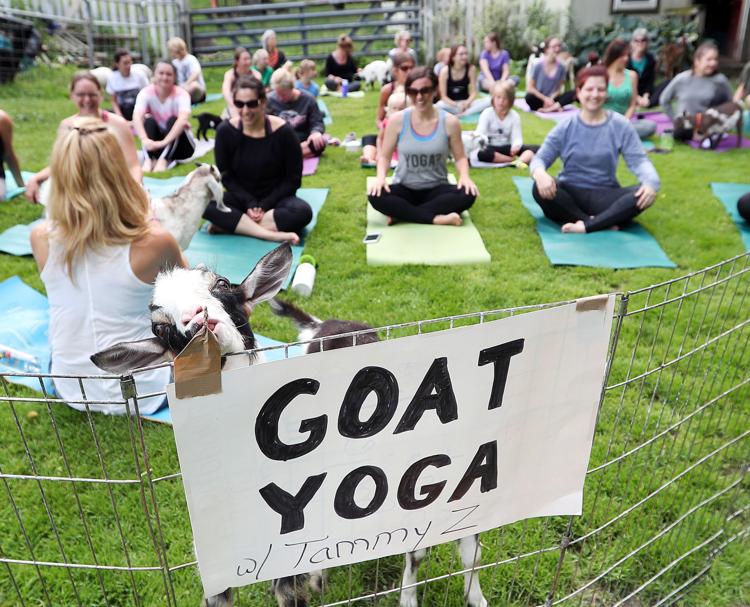 "Our goats love attention," said Murphy. "I mean, they're hams. The babies think they're people. When you're around them, you can see people mellow out and the stress go away. It has a calming effect on children especially I think."
For Natalie Graham, 11, the experience was more exciting than relaxing, and she declared the session far more fun than her regular family yoga classes.
"It's great," she enthused. "The baby goats are my favorite."
By the time the class concluded, a few mats were in desperate need of scrub down and the Tammy Zee yoga sign was half chewed, but Zee was cheerful as ever, marveling how quickly the hour went by.
"It's so funny," Zee said. "I get so into it sometimes I forget I'm the teacher."
Goat Yoga with Tammy Zee is offered from 10:30 to 11:30 a.m. Saturdays through Aug. 19 at Rainbow Ridge Farm, N5732 Hauser Road, Onalaska. To register, visit http://tammyzyoga.com.