The organization's motto was exemplified during the past week, as volunteers and staffers from 34 states traveled to Wisconsin in the wake of extreme storms and flooding that damaged or destroyed roads, homes and businesses across the state.
The flooding, the worst to hit the region since 2008, caused Gov. Scott Walker to issue a state of emergency in 17 counties, and the statewide damage incurred during the past two weeks is assessed at $15 million, with La Crosse County at about $4.5 million in projected repairs. More than 4,000 homes, many in Racine County, were affected, including that of Red Cross volunteer Laurie DeFlorian, whose Coon Valley home was left with 3 inches of standing water in the finished basement.
"My husband is working on it," said DeFlorian. "I feel I need to be here to help my community."
The dedicated volunteer, one of 314 who passed through the Red Cross District 2 headquarters on Losey Boulevard has put in 12-plus-hour days since last Thursday, including a 26-hour stretch. DeFlorian set up an emergency shelter at Southern Bluffs Elementary last week, and while no one in the area used it, many reached out for other services, including damage assessment, cleaning materials, food and household supplies.
Those displaced by the flooding were eligible for up to $1,000 in financial assistance, dependent on the extent of the damage and number of family members in need off alternative housing. Those able to safely work on home clean-up were offered kits containing a mop, broom, hand sanitizer and bleach, a key element in preventing mold growth. Ten thousand kits were shipped in from St. Louis and stored in the Kwik Trip warehouse, along with cases of bug spray, hygiene items and contractor strength garbage bags.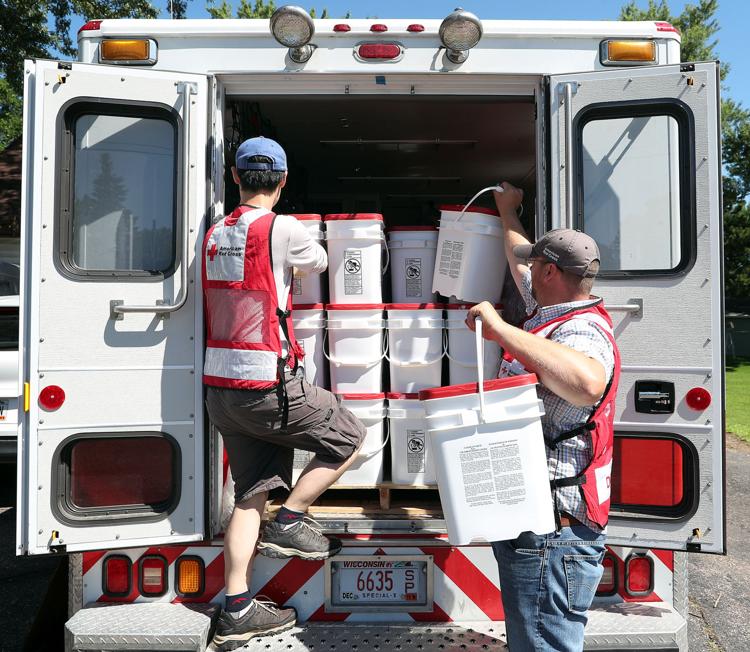 "Floods are very expensive," said Barbara Behling, chief communications officer for American Red Cross-Wisconsin. "Each kit costs $25, and we've given away 9,400 of them. We give everything for free because we know you're going to help the next person. So many of our volunteers previously were helped by the Red Cross."
Carol Miller, a registered nurse from Rhinelander, has been a volunteer for over 12 years and has spent several days at the La Crosse headquarters, refilling medications and medical necessities and equipment lost in the floods. In the last two weeks, over 250 individuals in Wisconsin received mental or physical health services from the Red Cross.
"People are very grateful," Miller said.
The last of the 10 statewide emergency shelters closed Wednesday, and Michelle Tischer, the local disaster program manager, is hoping to send volunteers home by the end of the week.
"The volunteers have been fantastic," Tischer said. "These amazing people went above and beyond to help their communities, and all the people (who came) from elsewhere. We're one Red Cross."