Ice skaters beware: The only safe outdoor spot to try your blades anytime soon will be on the Rotary Lights rink at Riverside Park in La Crosse — and that could be iffy for the hoped-for Saturday opening.
The recent spate of temperatures in the 50s and 60s wasn't fit for frost or ice, but the nightly dives into the teens Tuesday, Wednesday and into the weekend increased optimism that the rink will be ready Saturday, said Rotary Lights President Pat Stephens.
Of course, everybody who knows Stephens also is well aware that he has an unfathomable reservoir of optimism, but a city parks staffer is a bit pessimistic that the whole rink will be frozen enough.
The ground slopes toward the southwest corner of the rink, so the water is deeper there and will take longer to freeze solid, said Dan Trussoni, parks and forestry supervisor for the city's Parks and Recreation Department.
Trussoni agreed with a chuckle that it's not deep enough for ice fishing, although he admitted joking about tossing in a few bluegills.
Speaking of ice fishing, that's a no-go for now, because very little ice has formed on Mississippi River backwaters, Lake Onalaska and Lake Neshonoc. The conditions are unlike this time last year, when ice anglers were capitalizing on the early bite.
At least initially, anyone who hopes to skate at Riverside Park should bring their own skates, because the trailer that will serve as a warming shack isn't quite ready. Shelves for the skates that will be available to borrow for free aren't quite done, so the blades probably won't be available at the outset, Stephens said.
The skates, mostly donated, range from sizes 3 to 14 and include hockey skates, figure skates and speed skates.
Retiree Ed Moore is the rink guru who has helped guide the process, including sharpening and training volunteers on how to dry the skates, Stephens said.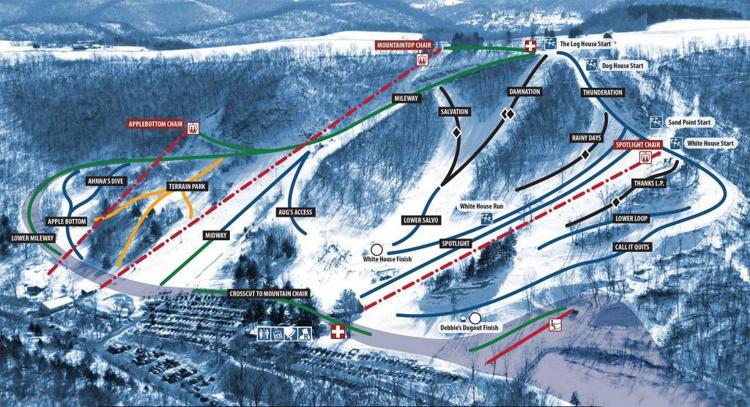 Skiers jonesing to hit the slopes at Mount La Crosse won't have long to wait, as snow-making operations resumed Tuesday after being idled for four weeks. The slopes are scheduled to open from 4 to 9 p.m. Dec. 14, with at least the Midway run to start, and possibly, Mileaway.
This probably could go without saying, but just in case: Snowmobiling, cross-country skiing and snowboarding are the things dreams are made of in the Coulee Region until the snow flies long and hard enough.
However, several spots in northern Wisconsin are rated good to excellent for downhill skiing and snowboarding. You can check those conditions at the Wisconsin Snow Report web site.
Although the National Weather Service forecast predicts daytime temps of 35 Sunday and 34 Monday, nighttime lows are expected to dip into the teens and low 20s.