Jennifer Barney knows her way around cakes and other desserts — inside out, upside-down, wedding, birthday, whatever the occasion — but she is the first to admit she lacks skills as a pyromaniac.
The five bakers still standing out of the original nine when the series began were required to use the flambé technique in the process of making a holiday dessert.
"I feel like I'm at a disadvantage because I've never lit desserts before," Barney said to herself and whoever was watching the Food Network Show as she mentally developed her plan to make a hazelnut cake with a holiday topping and artistic flair.
"When they announced the flambé challenge, I had to let it sink in a while before I understood what they were talking about," the Chippewa Falls native said Tuesday.
But she had to shove the jitters aside in her quest to win the $50,000 prize in the contest.
"While the clock was ticking, I practiced several rounds of adding liquor and setting it on fire," she said. "I was still really timid with it when it came time to be in front of the judges."
Rival baker Stephany Buswell "was giving me pointers on how to make the flames go high — but I was too timid when it came time to do it in front of the judges," Barney said.
Barney was able to create some sultry flames in her fruit toppings, but nothing that could rival the volcanic eruptions Buswell produced during her turn, including pyrotechnics when she tossed cinnamon into the conflagration and created a mini meteor shower.
Buswell, a pastry arts instructor at the International Culinary Center in Santa Cruz, Calif., who is the only Master Baker in the competition, is a pleasant enough opponent who willingly shares her knowledge but also clearly relishes the spotlight.
Evaluating Barney's dessert, the judges eschewed any idea of being polite. "Ace of Cakes" Duff Goldman compared the appearance of Barney's hazelnut cake to that of a "loaded baked potato." British chef Lorraine Pascale said she wanted to taste more hazelnut and slammed the tarragon meringue Barney had rolled to look like pine needles, stating bluntly that they looked like green beans.
So that heat ended up being a good exercise in futility and humility, without hurting Barney's chances in the competition because advancing means either winning the Main Heat or beating at least one other baker to survive for another week — and, of course, being the last baker standing.
The Main Heat required the bakers to craft an unusual, nontraditional cheesecake, with each one designated a specific cheese to employ.
Assigned Brie, Barney opted to create — the contestants do, indeed, formulate their recipes and techniques on the fly, based on their experience — Brie Cheesecake Paris Brest with Pine Nut Praline and Fig Sauce.
The result came as close to sparking a food fight among the judges as one can without actually seeing ingredients flying through the air.
"Whoa!" Goldman said in amazement at the wreath Barney had crafted.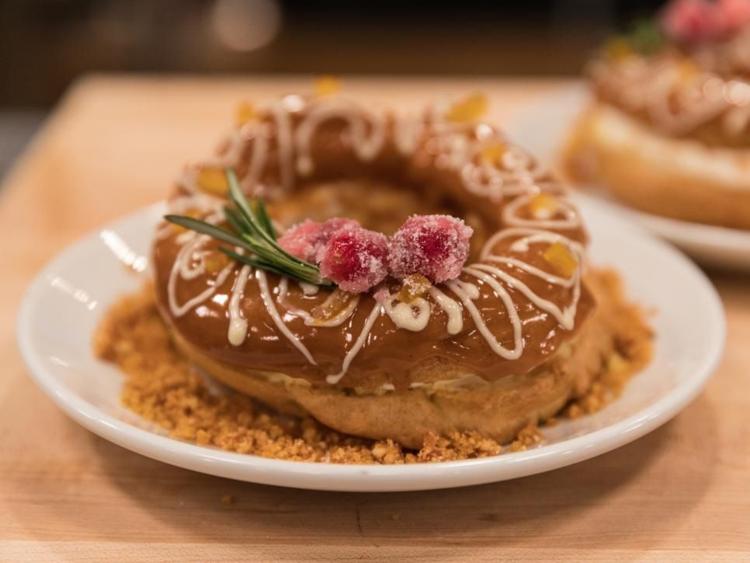 "This is the epitome of a holiday wreath," gushed Nancy Fuller of "Farmhouse Rules" Food Network series fame.
Then came a bit of snark from Pascale, who said, "Is it an unusual cheesecake, or a Paris Brest with cheesecake filling?"
"Good point, Lorraine," Goldman said, noting that he also could have used a bit more Brie taste.
"I think it's an unusual cheesecake," Fuller said, nearly getting in the last word before Pascale started harping that it was way too big.
Although the dessert fared well in the flavor category in the judges' final verdict, they rapped it again for being entirely too large.
It's almost as if these three kitchen wizards never heard of a doggie bag.
Asked about their reaction, Barney said Tuesday, "Go big or go home! The challenge was to make a nontraditional cheesecake and they presented us with a cheese board. I was really inspired by the idea of a cheese plate dessert."
Aiming for a cheeseboard appetizer to be shared with a friend, she said, "I purposefully made it large because I thought it would be a cool idea to have a dessert that was better shared with another person.
"I made a dessert that could be dipped and shared — just like a cheese platter would be served to a table. I was wrong," she said in hindsight.
She also quibbled with Goldman's recommendation that she should have used more brie, explaining, "I have mixed feelings on this advice, because I have tried that before. It made a cheesecake with a weird texture. So I did a 50-50 mix of the brie substituted out for the cream cheese.
"I really respect Duff — but I wonder if they would not have liked the texture if I would have taken it that far," said Barney, who has developed a cake connoisseur reputation of her own, operating her Meringue Bakery out of her home.
She'll never know, and she doesn't have to wonder, because she survived the judging to compete again at 8 p.m. Central time Monday. The challenge sounds insurmountable, considering the reputation fruitcakes have solidified over the years.
Coming next week is a challenge titled "Make Fruitcake Great Again."
Barney pooh-poohed the idea that it's an impossible task, saying, "Fruitcake gets a bad rap. It can actually be really delicious if it done well — and if it has a lot of alcohol in it.
"I am just glad we have a challenge with that could possibly involve making a cake," she said of her particular niche of expertise.