Tent City was largely vacated of human beings — and most of their campsites — by 3 p.m. Wednesday, with a few stragglers hanging around, chatting about their homeless, but bucolic, days at Riverside North in La Crosse.
Two women sat in a tent in a campsite that was about halfway broken down as the deadline approached to evacuate the southwest side of the 65-acre parcel that is slated for development. The 15 acres where 15 to 30 homeless campsites had been pitched under a canopy of trees in recent years are in a floodplain and will be preserved as a natural, but no-camping, area.
One former resident who had moved out and on to another camping area Wednesday morning said he had called Riverside North home year-round, even amid subzero weather and mammoth snowfalls.
The man, who declined to give his name, grinned and nodded in assent when asked whether his shelter was the substantial structure, crafted with heavy tarps, that was pictured with a La Crosse Tribune story on Dec. 17.
The story described its tidiness, including a shoveled area that amounted to a front porch, and a couple of quarts of what appeared to be apple juice in a snowdrift outside the entry flap.
Another former camper he was conversing with Wednesday ribbed him, saying, "Did you ever drink all of that apple juice?"
Actually, they were double-teaming the reporter, when the first man smiled again, with a touch of mischief, and said, "Yeah," adding with a laugh, "And it wasn't apple juice."
He expressed gratitude for the support that church and school groups and other organizations had provided for Tent City residents with donations of food and supplies.
The three remaining campsites were well-kept — one even including a tetherball setup. Hundreds of birds chirped in the rustling trees, while everything else was motionless — until a large beaver lumbered through, headed toward the La Crosse River near where it flows into the Mississippi River. The beaver startled a rabbit nestled in the grass, and the bunny scooted to another patch of heavy plant growth.
Neighborhood resource officers and volunteers had spent much of the day cleaning up the area.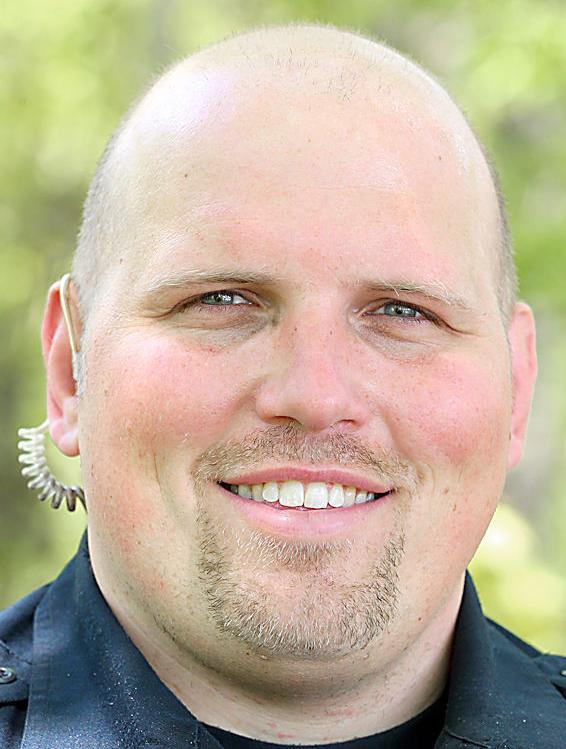 "Today was a working day — we filled a dumpster and have another one for tomorrow," officer Joel Miller said Wednesday. "Today was a clean-up day. Tomorrow is a clear-out day."
Folks from The Salvation Army helped Wednesday, while Thursday is city Street Department workers' turn at the task, Miller said as he and NRO Supervisor John Wenger mixed with people attending a cook-out at the corps headquarters.
The event appeared to be drawing close to 200 people in The Salvation Army's parking lot, with many of those attending dancing to the spirited music that the Prairie Smoke band was playing gratis.
The cook-out, which took the place of the corps' usual evening meal for shelter residents and others from the community who attend, was staged in part to celebrate the shutdown of Tent City amid continuing efforts to end homelessness in La Crosse.
"They do a tremendous amount of work," Wenger said of Miller and his partner, fellow neighborhood resource officer Alex Burg.
The pair have been involved in planning a court diversion program that will flag homeless individuals who are arrested and steer them toward assistance instead of jail, if they meet qualifying criteria, Wenger said.
"The biggest thing is that people have now been dispersed and displaced" from Tent City, said Miller, a member of the La Crosse Collaborative to End Homelessness that has pulled together representatives of 30 agencies to obtain housing and social services for homeless people.
Some merely pulled up stakes and vacated Riverside North to camp elsewhere, he said.
"Some have moved here," The Salvation Army shelter, "which is good," Miller said. "For others, we will manage outreach, with social services and law enforcement. … It's a continuing, ongoing program, to maintain relationships — it's all the more important now."
"The nice thing with the collaborative is information sharing" among advocates and agencies, Wenger said.
The collaborative, which attacked veteran homelessness last fall and now has a goal of obtaining housing for 20 chronically homeless people by July 31, was formed last year with the support of Gundersen Health System's Population Health Office. The Franciscan Sisters of Perpetual Adoration is one of the driving forces of the effort, which includes other agencies ranging from the city's Community Development Department, to Catholic Charities, to Couleecap, to The Salvation Army, to the St. Clare Health Mission, to the county's Health and Human Services Department and a host of others.
"I really think it's all coming together," Franciscan Hospitality House coordinator Tristine Bauman said during the corps cook-out. "People honestly are seeing where we're coming from and accept support."
Homeless individuals who sometimes are skeptical of service programs are seeing the inter-agency collaboration as hopeful signs and are becoming more open, she said.
"The message everybody is giving is that La Crosse wants to make this where everybody has a safe place," she said.
"Some call their tents home, and I respect that," Bauman said. "But we're hoping they start thinking 'Maybe I do deserve more,'" and start working toward that goal.