At a small cafe in Randolph, Wis., James Tinjum found himself surrounded by a dozen rapt diners, intrigued by the dedicated cyclist on a mission to promote wind energy.
"The biggest surprise is people I've talked to in Wisconsin really aren't aware of the benefits and challenges of wind energy," said Tinjum, an associate professor at UW Madison's Department of Engineering Professional Development. "A 90-year-old lady in a convenience store stopped and talked with me for 25 minutes, just fascinated about what I'm doing."
The 47-year-old eco-conscious engineer has spent the past two weeks biking 1,100 miles across Wisconsin, Iowa and Minnesota, passing 47 wind energy sites along the way, and will have biked a total of 1,250 miles by the time he returns to Madison this evening. Tinjum uses his bike as his primary source of transportation, putting in up to 100 miles in an average week. His "Bike the Wind" tour will be his longest trip in 20 years, requiring up to 75 miles a day.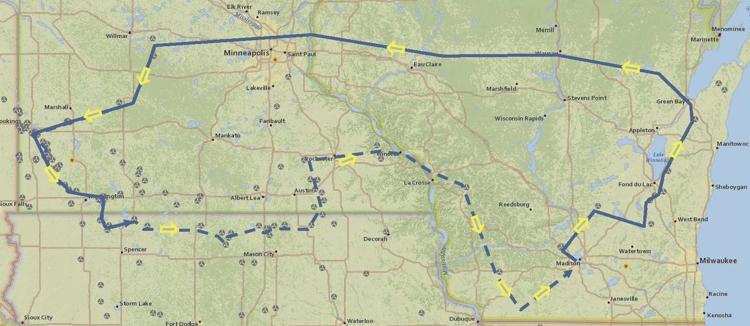 "This journey combines my passion for biking and sustainable wind energy," Tinjum said during a stopover in La Crosse on Sunday. "My real goal is to talk to people about host wind energy sites and see what they think and address misconceptions."
Tinjum has taught at UW Madison for a decade and started focusing on wind energy eight years ago after being consulted on how to build a foundation for large towers.
"I didn't know how to answer, and I found not many people did," said Tinjum, who has since taught several wind energy site design courses. Information gathered during his bike expedition will be used for future classes at UW-Madison, as well as provide content for his upcoming book, "Wind Energy Civil Balance-of-Plant Design."
During his trip, Tinjum has spoken with residents in several towns, as well as with companies utilizing wind energy, in an effort to understand the disparity in the number of wind energy sites in Minnesota and Iowa versus Wisconsin. Minnesota and Iowa harvest 20 percent and 34 percent, respectively, of their energy from in-state wind power, while Wisconsin only sources 2.6 percent from wind energy.
In talking with developers and contractors in Wisconsin, Tinjum was informed the landscape is one obstacle, as are the smaller parcels of land, which means wind energy developers are required to negotiate with numerous land owners. Tinjum also cites a lack of local political support for renewable energy and lack of public awareness.
"In Iowa and Minnesota, the residents take it in stride, and there are so many wind towers they don't really think about them. In Wisconsin, there is less information about it and people are more hesitant," Tinjum said. "In Shirley (part of Brown County, Wis., and location of the state's largest wind towers) people are definitely more entrenched in fighting wind energy."
While Tinjum has gotten mostly positive feedback along the way and plenty of Gatorade from kindhearted passersby, he has received a few emails with "false narratives about global warning" and spoken with some people who believed wind towers kill millions of birds or that the sound frequency can cause illness, both of which have been disproven.
Though debunking myths and spreading information are a step in the right direction, Tinjum acknowledges the flat growth of energy use gives the government less impetus to embrace wind energy. Wisconsin's energy use is currently increasing by just 1 percent each year.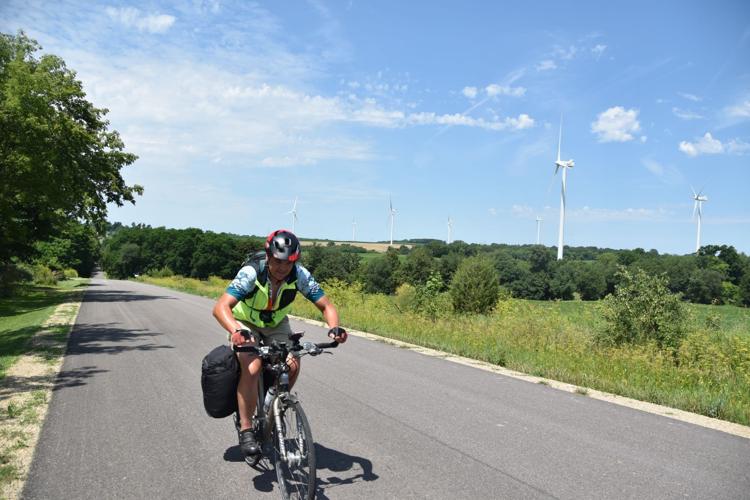 "I think without strong state and federal incentives, Wisconsin will maintain status quo for at least the next five years until a greater need for energy capacity," Tinjum said.
The state does offer tax credits and incentives for renewable energy practices, and corporations including Organic Valley, Epic Systems and SC Johnson have taken the initiative, as has Gundersen Lutheran with its Envision program. Tinjum toured EDP Renewables, a wind farm under construction in Lafayette County, and the proposed Highland Wind Farm near New Richmond. On Monday, he was scheduled to scale a wind turbine at Cashton Greens Wind Farm.
Tinjum's book and a much needed break will be his next priority, but he's planning to up the ante in a few years.
"If my family allows me, I'm hoping to take a sabbatical year and bike from Madison to Seattle," Tinjum said. "There are many more wind farms to visit."