Wisconsin Gov. Scott Walker declared a state of emergency Friday for La Crosse and 16 other southwestern counties hit by storms this week.
Accompanied by the head of the Wisconsin National Guard and key state agencies, Walker surveyed damages in Arcadia and Ontario, two communities hit by flash flooding after storms brought high winds and rainfalls of up to 8 inches across the region Wednesday and Thursday.
There have been no reported casualties, but homes and businesses were flooded, and sandbagging efforts continued across the region, according to the governor's office.
Walker's executive order, which also covers Buffalo, Crawford, Jackson, Monroe, Trempealeau and Vernon counties, calls on state agencies to assist those with flood damage and authorizes activation of the National Guard as needed.
In La Crosse County, authorities closed West Salem's Lake Neshonoc to boat traffic and were monitoring the dam as the water level remained dangerously high Friday morning, although water levels were dropping quickly by the afternoon as additional storms failed to materialize.
Water was flowing through the adjacent powerhouse and gushing from the front door Friday, but the dam's owner said the structure is sound.
"We don't have any concerns at all," said Scott Purlee, regional manager for Eagle Creek Renewable Energy. "It's structurally sound and behaving the way it's intended to behave."
The building has been disconnected from the electrical grid and none of the generation equipment is at risk, said West Salem Village administrator and backup dam operator Teresa Schnitzler.
"It's just going to be a mess for us to clean up," she said.
The 77-year-old dam was last inspected in June 2015, according to Wisconsin Department of Natural Resources records. It is scheduled to be inspected by its owner in 2017. Purlee said the dam has also passed federal inspections.
Boats have broken loose on the lake and at least one got stuck in the dam gates. Schnitzler said grass mats the size of trucks — ripped from shorelines upstream — are going over the dam.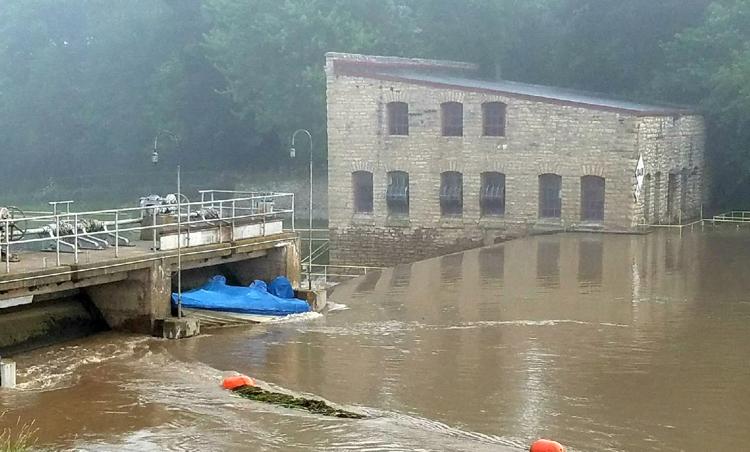 Dam operators are warning people to stay away, noting that debris has torn away warning buoys.
"They shouldn't be sneaking up on the dam to get a better look," Purlee said. "There's a lot of velocity there and it's misleading."
The La Crosse River crested for a second time Friday in La Crosse at 4.22 feet above flood stage but was expected to level off as a line of storms missed La Crosse, said National Weather Service meteorologist John Wetenkamp.
In West Salem, the river crested around 4:30 a.m. two feet above the top of the dam but was falling rapidly Friday afternoon, according to the Weather Service.
"It will continue to fall," Wetenkamp said. "The threat for heavy rain has shifted south, which is good news."
In Monroe County, there were no concerns with the Angelo and Perch Lake dams as of mid-morning Friday, according to Monroe County Emergency Management.
The Mississippi River is not projected to reach flood stage in La Crosse, but the La Crosse County sheriff's office said boaters should use extreme caution because of debris in the water.
Public health officials also caution against swimming in any open water — including the Mississippi — during flooding.
"These are contaminated waters," said Carol Drury, La Crosse County's environmental health and lab manager.
Health officials also said residents with private wells near flooded areas should used bottled water for drinking and cooking until they can have their wells tested for contamination.