When the UW-La Crosse women's basketball team knocked off then-No. 3 UW-Oshkosh on the road, it was a notice to the rest of the WIAC and NCAA Division III as a whole that the Eagles were contenders.
On Saturday afternoon at Mitchell Hall, the No. 18 Titans returned the favor.
La Crosse couldn't find a consistent rhythm on offense and Oshkosh's post presence set the tempo throughout the game as the Eagles fell 61-49 in front of 220 spectators.
Oshkosh, coming off two straight losses, played hungry and aggressive. It was able to get to the basket often off of pick-and-rolls and dribble drives, and when the Eagles put more bodies in the lane with a zone defense, the Titans made enough outside shots to put UW-L in a no-win situation.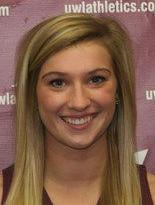 "They came out ready to play today," La Crosse senior forward Elise DeNoyer said. "The whole game it felt like we were trying to catch up, like they were just a step ahead of us.
"We'll learn from this one."
The loss drops UW-L to 15-8 overall, and 8-4 in the WIAC. It is tied with Oshkosh (18-4, 8-4) and Eau Claire (16-7, 8-4) for second place in the conference, two games behind Whitewater (20-3, 10-2) with two games to play. Whitewater is assured at least a share of the conference championship.
The two teams not making the WIAC tournament are set — Stout and Platteville — so the Eagles games next week against Stout and Whitewater are paramount for seeding and a potential share of the regular-season championship.
The Titans took control early Saturday and never trailed — the exact opposite of the January matchup against the Eagles, when UW-L led wire-to-wire. They fed the ball to 5-foot-11 junior forward Isabella Samuels in the paint and she knew just what to do with it, tallying a team-best 16 points on 8-for-11 shooting.
"(Samuels) did a really good job getting in deep," UW-L coach Karen Middleton said. "She was getting it in so deep and scoring so quickly that it was going to be difficult to even bring a double (team) to her."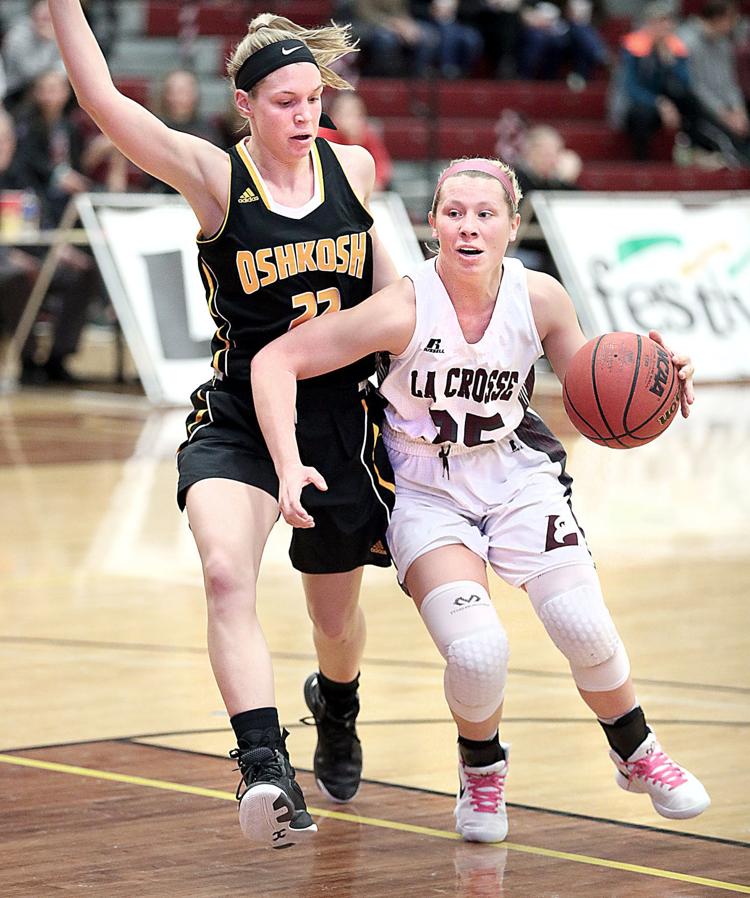 All eight of Samuels' baskets were scored point-blank under the rim. UW-L junior forward Kylee Marks did what she could, fronting Samuels and trying to deny entry passes, but was giving up size in that matchup. Samuels — a national qualifier last season in the shot put for Oshkosh's outdoor track and field team — simply outmuscled her defenders.
"We like to get her touches," said Oshkosh coach Brad Fischer, a UW-L graduate. "La Crosse is a little bit longer and not as big as she is on the block. As the game went on, I thought we did a good job going inside-out."
Despite Oshkosh's hot start, shooting 50 percent in the first half from the field, the Eagles had a stretch in the second quarter that looked as though they were going to be able to weather the early storm.
After an Olivia Campbell layup, Oshkosh led by nine with 7 minutes, 28 seconds left in the second quarter and Middleton called a timeout. The Eagles responded with an 8-0 run, powered by 3-pointers by sophomores Delaney Schoenenberger and Dani Craig, and two turnovers. Fischer called timeout after Schoenenberger's make that cut Oshkosh's lead to 24-23.
"That was a gut-check point for us," Fischer said. "That was the teetering point. We had a great start, but they made a run. If we answer, we have a great chance, if we don't, we're in trouble."
Oshkosh answered with a pair of 3-pointers and held a 32-27 lead at halftime. The Titans started the third quarter on a 9-2 run and didn't look back. They led by as much as 19 in the fourth quarter before a spurt from La Crosse freshman guard Ava Kramer and DeNoyer brought it back to the final margin.
DeNoyer posted her fifth double-double of the season with 20 points and 10 rebounds, while Craig and Kramer each had nine. UW-L shot 4 of 17 from the 3-point line after going 12-for-22 on Wednesday at Eau Claire.
Oshkosh's Eliza Campbell had 13 points, while Madeline Staples added 10.