GALLATIN, Tenn. — The UW-La Crosse men's basketball team continued its strong start to the season under interim coach Kent Dernbach with a 73-52 win Friday against Fairleigh Dickinson-Florham at the Music City Classic.
UW-L is 8-2 on the year, matching its best start in the past 20 seasons.
Playing in their first game since a Dec. 13 win over Carroll, the Eagles got out to a hot start offensively and kept the Devils at bay throughout the contest. Six players scored at least six points for UW-L, which jumped out to a 17-point lead and held it for most of the first half and went into the break leading 40-23.
"It was great to see us start as well as we did offensively," Dernbach said. "We were able to score inside and out, some of post touches and then Tanner (Bruchs) really got us going."
Bruchs, a junior guard who transferred from NCAA Division II Bemidji State University, made three 3-pointers in the first half to spark UW-L. Bruchs finished tied with FDU's Darren Davy with a game-high 17 points, going 6-for-9 from the field. The Eagles went 6-for-12 from deep in the first half.
In the second half, senior Milton Cummings was the one to step up for La Crosse, which was without leading scorer Ben Meinholz. Dernbach declined to comment on why Meinholz did not play. Cummings, meanwhile, scored 16 points, and "put the team on his back," Dernbach said when the Devils cut the lead down to 11 with 10 minutes to play.
The Eagles had the edge on the glass, outrebounding FDU 42-25. The team's trio of guards — junior Taulvish McCray (8), Bruchs (7), and Cummings (6) — nearly outrebounded the Devils by themselves. FDU (0-10) shot 32.7 percent from the field.
"I was happy in stretches with how our defense played," Dernbach said. "Really the thing that hurt us today was turnovers."
UW-L turned the ball over 18 times.
La Crosse plays its second game of the Music City Classic at 5 p.m. Saturday against Lynchburg College (Va.).
No. 15 St. Thomas 76, UW-L 38
WISCONSIN DELLS, Wis. — The Eagles had their six-game winning streak snapped by the nationally-ranked Tommies.
La Crosse (7-3) wasn't able to get its offense going, shooting 26 percent from the field against a Final Four team from a season ago.
"It just wasn't our night," Eagles coach Karen Middleton said. "We got good shots, but they just didn't fall.
"We've got a great chance to bounce back (Saturday) against a Luther team that's playing with a ton of confidence right now."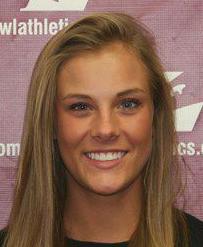 Shayla Karge — a 5-foot-10 freshman forward from Mankato, Minn. — led La Crosse with 10 points.
UW-L plays Luther College — a team it defeated 62-61 earlier this season — at 11 a.m. Saturday.