A record-breaking season has UW-La Crosse junior Jacob Burchfield on top of the country when it comes to the 100-yard individual medley.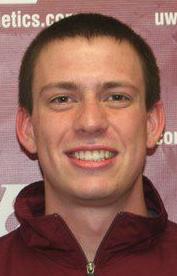 Burchfield, a Lakeville North High School graduate, has recorded the fastest 100 IM in NCAA Division III this season with a time of 50.85 seconds at the Rochester Invitational early this month.
Burchfield's time is also the 17th-fastest when considering swimmers from all levels of college swimming. The top time in that regard belongs to the University of Pacific's Neil Franka (49.53). The top six times — and eight of the top nine — belong to swimmers from California schools.
Burchfield's fastest 100 IM time is well ahead of Wabash's Jan Dziadek, who is second in Division III at 51.56.
Burchfield has also broken school records in the 50 free style (20.47), 200 freestyle (1:40.59), 100 backstroke (50.74) in 2017. He is also part of record-breaking efforts in the 200 freestyle relay (1:21.98) and 200 medley relay (1:32) this season.