When adversity strikes, Ryan DeLong knows you had better be prepared to hit back twice as hard. If not, sky-high aspirations could quickly come crashing down.
Such was the case when the Viterbo University volleyball team, the second-ranked squad in NAIA, lost All-American hitter Siera Skow to a knee injury on Sept. 8.
While a big-time blow, it only temporarily delayed the V-Hawks' overall mission as three freshmen — Miah Garant, Maya Roberts and Katie Frohmader — have made their way into Viterbo's starting lineup.
With one of those super frosh, Garant, creating a bookend of sorts with two-time All-American senior middle hitter Natalie Geidel, the V-Hawks swept Bri Ebenhoe-coached Waldorf University 25-20, 25-16, 25-12 before 157 fans in Beggs Gymnasium Tuesday night.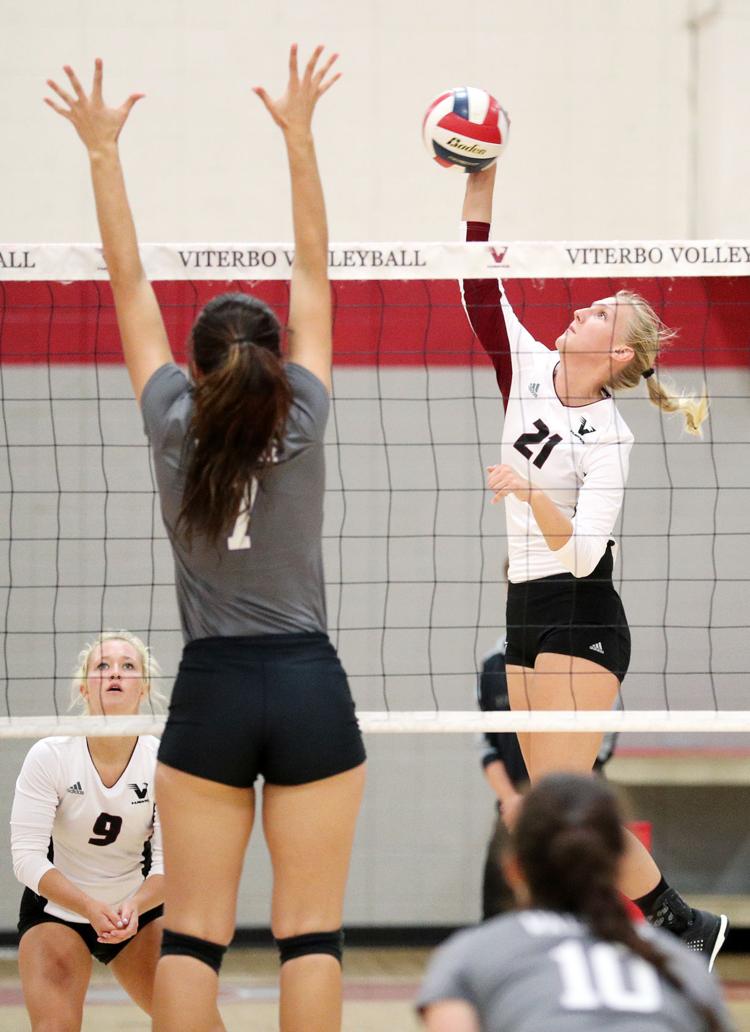 It was the eighth time in 15 matches Viterbo has swept an opponent, and pushed the V-Hawks' unbeaten string to 15. The win also kept Viterbo unbeaten in North Star Athletic Association play at 3-0.
"I was not expecting this. I was expecting to come in and compete as a middle (hitter) and try and get up to the starting spot, but I wasn't expecting it," said Garant, a 6-foot-2 middle hitter who has since moved to the right side with Skow's injury.
"We have a very talented team. It was always my goal to become a starter by the end of the season, and just push as hard as I can to try and achieve that."
Garant and Geidel each finished with 11 kills in a match that got off to a slow start, then picked up midway through the first set. Waldorf (3-15, 0-4) forced five ties — the final being at 8 — before Viterbo started to get some separation.
With Kaitlyn Monck (8 kills) and Kyra Platzek (7 kills) leading the way, Waldorf was within 21-19 and 23-20 before a missed serve helped Viterbo close out the match.
"Every team is a little different in how they play, so we just had to get through it. It was choppy with a lot of errors on both sides, so we never got into a real good rhythm. Once we got into a rhythm, it got better," DeLong said.
"Every night out, we are the other team's biggest match. But every time out we have to really gear up no matter who we are playing because you can't take anyone lightly. It is a different style, a different level, but you have to give Waldorf credit as they played hard and they played scrappy."
It wasn't enough to offset Viterbo's powerful offensive attack, as Garant smashed two kills and Geidel one to give Viterbo a 16-11 lead in the second set. Waldorf would claw back to within 17-14, but Viterbo would score eight of the next 10 points to close out the set and take command of the match.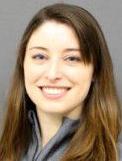 "We were really happy, because as a defense we were really setting ourselves up to predict where the balls were going and we were able to dig them up," said Ebenhoe, who coached the Aquinas High School volleyball team for seven years, taking the Blugolds to state in 2016.
"I was really excited and pleased with where our blocks were setting and our defense was being really scrappy around it and it gave us a lot of opportunities.
"Volleyball is a game where anybody can win on any given night and it is fun to come up and play our best ball and challenge them and I think we did that."
Viterbo was leading 10-9 in the third set when another freshman — Roberts — took over. Roberts, a 6-foot right-side hitter from Watertown, Wis., recorded four kills and a block during an 11-1 run that took the score from 13-10 to 21-11. Roberts finished with four kills and three blocks.
"It definitely helps (having multiple attack options), and I think it surprises other teams, too, as they are not really expecting that out of freshmen," Geidel said, "but it definitely helps us that they have the talent and can contribute right away."
Garant said it makes it easy to contribute when you happen to have a setter like All-American Amelia Grahn on your team. Grahn, who on Tuesday was named the NAIA national setter of the week, finished with 31 assists. That pushed her school-record assist total to 4,136.