SIOUX CITY, Iowa — The Viterbo University trio of All-Americans — Natalie Geidel, Amelia Grahn and Baylee Gross — were determined to not only make it to the national tournament for a fourth consecutive season, but play on the final day of the five-day event.
They did that, but Saturday didn't work out as they had hoped.
Dordt College, ranked No. 4 in the NAIA, did something only one other team has been able to do against Viterbo all season — they beat the No. 2 V-Hawks.
And this one stung, as Dordt (34-7) ended the V-Hawks' (39-2) season in the semifinals of the 32-team NAIA National Women's Volleyball Championship at the Tyson Events Center. Viterbo won the first set 25-23, but Dordt rallied to win the next three, 26-24, 25-17, 25-19 to end the V-Hawks' season-long mission one match short of the national title game.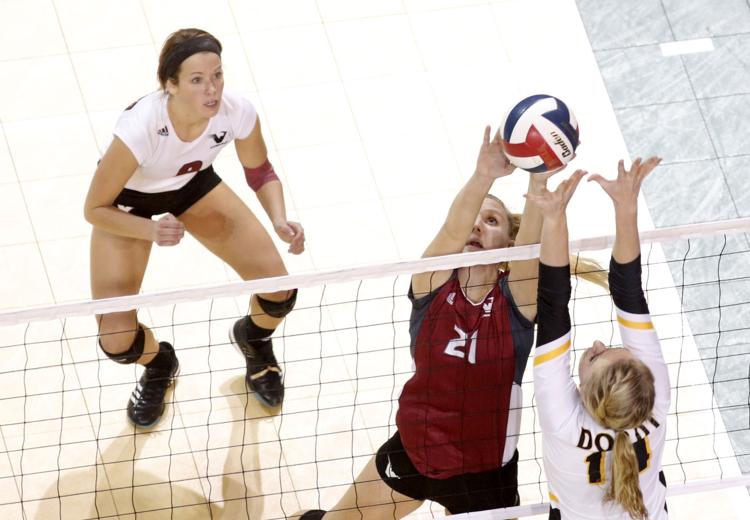 "It was a pretty exciting journey this whole year. To get this far, one, you've got to be good, which we were. You've got to be playing well, which we were," said Viterbo coach Ryan DeLong, who is the winningest coach in school history with a 435-127 (.774 winning percentage). "And you need a little luck, with the ball going one way or the other, it has to go your way. Sometimes you play well and still do not win. We are disappointed in the loss, but not disappointed in how we played."
Viterbo entered Saturday morning's semifinal match having won 16 straight matches and 40 consecutive sets. They were also armed with the fact they had beaten Dordt 3-1 at home on Oct. 5.
None of that seemed to matter, as Dordt earned a spot in the national championship match opposite top-ranked Lindsey Wilson of Kentucky.
"They are a good team," DeLong said of Dordt. "Sets can go either way with a good break or bad luck, one way or the other. It was a really good volleyball match."
Viterbo started strong, taking a 5-4 lead in the opening set before Dordt stormed back to take a 13-8 lead behind Leah Kemp (19 kills) and Ema Aletna (17). It was 16-13 Dordt before Viterbo rallied behind Geidel, forcing a tie at 20.
The V-Hawks, with Geidel and Aubrey Aspen hammering away, took a 24-21 lead, then held off a gallant Defenders' comeback for a 25-23 victory. It was the 41st consecutive set won by Viterbo, and it seemed to put the V-Hawks in the driver's seat.
"We played really good volleyball and go that first set out of the way," DeLong said. "We were up 7-2 in the second set and really handling them. We were up late, 24-22, and had a few opportunities to win it and go up 2-0. We just didn't close the second set off and I think it was a little bit of a downer and a momentum changer for sure when we didn't."
Viterbo, with Geidel having another standout match (23 kills), built leads of 7-2 and 17-13 in the second set. Aspen (11 kills), along with freshmen Maya Roberts (9) and Miah Garant (8), appeared to have Viterbo on the right track.
Dordt, however, rattled off five straight points to take a 18-17 lead. Viterbo, as it had done all season, rallied for a 24-22 lead, but the Defenders scored the final four points of the set to win 26-24. It was the first set Viterbo had lost since Oct. 21.
Viterbo didn't go away, and led 11-8 in the third set before Dordt against made a strong comeback, this time taking a 16-14 lead. The Defenders continued to dictate the tempo, finishing the set on a 9-2 run and 25-17 victory.
Dordt, with a 2-1 set lead, then powered its way to 25-19 win the fourth — and final — set.
"The third set is the one set we didn't play really well and they handed it to us," DeLong said. "We came back and played well in the fourth set, and it was tied at 18 before they made a late run. They just made a few more plays than we did. It is always tough to see it come to an end, especially with the seniors, but watching them play at their highest level down here was a lot of fun."
Dordt finished with 66 kills compared to 57 for Viterbo, and had a hitting percentage of .247 to .205 for the V-Hawks. Digs were close (Dordt 71, Viterbo 70), but the Defenders were tough at the net with 20 assisted blocks compared to 10 for Viterbo.
In her final collegiate match, Grahn turned in a strong all-around performance with 46 assists, eight digs and five kills. Jenna Phillips led Viterbo with nine digs, while Gross finished with eight.
"We are disappointed in the loss, but not disappointed in how we played." Ryan DeLong, Viterbo coach, after the V-Hawks lost in the NAIA semifinals