OSHKOSH, Wis. — The UW-La Crosse men's basketball team suffered its fifth straight loss on Saturday, falling at No. 21 UW-Oshkosh 70-54 in a WIAC matchup.
The Eagles (11-12, 3-9) are tied with Eau Claire for the final spot in the WIAC tournament with two regular-season games left. La Crosse split the season series with the Blugolds.
"Losing games in a row hurts when you know you could compete better on the defensive end," UW-L interim coach Kent Dernbach said. "We lost our identity in the last few games, where we were comfortable grinding out games and playing ugly."
UW-L never led Saturday's game, as Oshkosh guard Charlie Noone got his team off to a good start with three 3-pointers and 10 points in the first half.
La Crosse got Titans' 6-foot-9 center Jack Flynn — a matchup nightmare that hit the Eagles with 24 points in a game earlier this year — into foul trouble in the first half. But Flynn stayed on the floor in the second and ended with a game-high 21 points.
The Titans (16-7, 10-2) made good on their chances at the free-throw line, shooting 19-for-27 at the stripe. Oshkosh's size advantage put La Crosse's big men in tough spots defensively. Sophomore forward Lane Von Rueden had a career-high 10 points and played solid defense on Flynn, Dernbach said. Junior forward Brendon Manning had a team-best 13 points on 4-for-7 shooting and hauled in eight rebounds.
Dernbach said his team fought Saturday better than it had in recent games, and he said he needs to see more of that as the Eagles head into their final regular-season week.
"We played with a chip on our shoulder, we battled," Dernbach said. "But tonight we were playing from behind and we just didn't make enough shots."
NSAA
Viterbo 82, Dickinson St. 80 (2OT)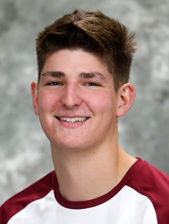 Senior and Central High School graduate Ethan Haberman made a go-ahead layup with 5.7 seconds left in the second overtime to give the V-Hawks the homecoming win.
Haberman, who had 18 points, also made a free throw after that to give Viterbo (15-12, 7-8) a win after they fell in overtime Friday night.
Junior forward and Sparta grad Cade Anderson had 23 points and a game-high 17 rebounds for the V-Hawks.
MCAC
Minn. West 87, Western 78
Despite a 24-point outing from Josh Brownlee, the Cavaliers (6-17, 3-7) couldn't get over the hump.
They cut the Minnesota West (15-8, 7-3) lead to two late in the first half, but it went on an 8-0 run before halftime to lead 45-35 at the break. Western's deficit hovered around 10 for most of the second half.
WOMEN'S BASKETBALL
NSAA
Viterbo 74, Dickinson State 58
The V-Hawks blew out Dickinson State for the second time this season on the night they celebrated homecoming. Madison Doerr, a sophomore Gale-Ettrick-Trempealeau grad, scored 18 points off the bench to lead Viterbo (6-21, 3-12). Ambree Schlosser added 17 off the bench as well, while Alyssa Nilssen posted her seventh double-double of the year with 16 points and 11 rebounds.
MCAC
Minnesota West 80, Western 51
Minnesota West (17-5, 10-0), thanks to a 19-point performance from Andrea Hinkelday, led by 12 points at halftime, then outscored the Cavaliers 38-21 in the second half of a MCAC game played at Holy Cross. Cashton graduate Lexi Schroeder, a 5-foot-4 point guard, led Western (5-16, 4-6) with 19 points and seven rebounds. She was 4-for-8 from 3-point territory. Cochrane-Fountain City graduate Kerrigan Lyga added eight points and eight rebounds for Western, which was 7-for-28 from beyond the arc.