Coming off an upset and statement win over No. 3 UW-Oshkosh last Saturday, UW-La Crosse women's basketball coach Karen Middleton was worried about a potential letdown against UW-Stevens Point on Wednesday.
On a night when leading scorer Elise DeNoyer was held to seven points, and three starters — including DeNoyer — were limited in the first half due to foul trouble, it was beginning to look like Middleton's concerns were warranted.
But the Eagles prevailed, thanks to a pair of great shooting performances from sophomores Dani Craig and Delaney Schoenenberger, who combined to make all 10 of the Eagles' 3-pointers as UW-L grinded out a gutty 51-36 win in front of a crowd of 125 at Mitchell Hall.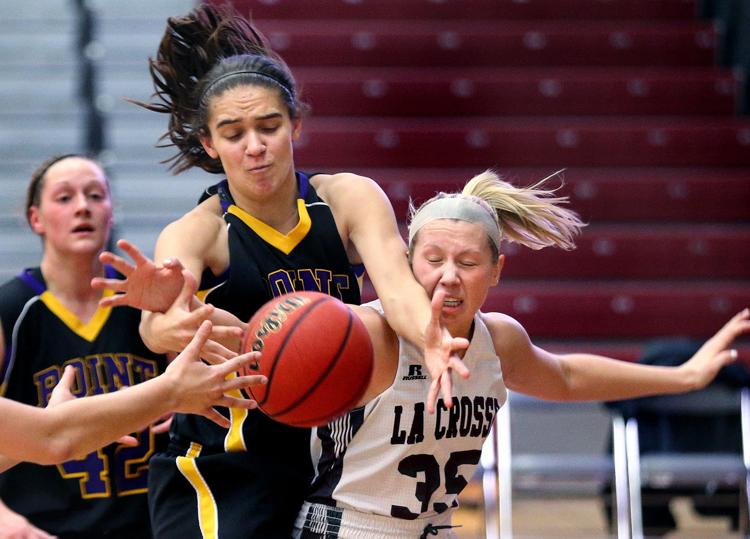 Due to that early foul trouble, Middleton played 11 different players in the first 20 minutes.
"Stevens Point, they're super aggressive and physical team, (and) we knew one of their strengths was the free-throw line," Middleton said. "Our position defense without fouling was critical, which obviously we didn't do very well in the first half.
"We allowed them to get to the free-throw (line) and got ourselves in foul trouble."
Despite shooting just 29 percent (5-for-17) from the field, the Pointers (7-7, 1-2) were able to hang around thanks to a 10-for-11 performance from the line in the first half. That was the focal point for the Eagles after being tied at 20 at halftime.
"We talked about at halftime just being a step ahead, so we aren't reacting, but we were in our spots like we are supposed to be," Middleton said. "That was key. We got some really good stops and held them to just 16 points in the second half."
The Eagles (9-5, 2-1) weren't much better from the offensive end in the first half. The Eagles were just 8-for-29 from the field. They stayed in the game thanks to Craig, who scored 13 of the team's 20 points including all three of the team's first-half 3-pointers.
The Cal-State Fullerton transfer finished with a game-high 19 points on 7-for-14 shooting and 5-for-11 from beyond the arc. She has now reached double figures in four straight games as her confidence grows.
"My teammates have allowed me to get more and more comfortable," said Craig, who averaged nine points per game as a freshman for Cal State-Fullerton in 2015-16. "They support me and stay positive for me, and our offense allowing me to get open shots gets me comfortable, too."
The second half was a different story. The Eagles shot 7-for-14 from beyond the arc and held the Pointers to just two free throws in the final 20 minutes. UW-L also held Stevens Point without a 3-pointer. The Pointers were 0-for-13.
"Our defense is our backbone," Craig said. "We make that a focal point of our practice, too. Coming into the game we always put defense and rebounding up on the board. It will always give us the best chance to win."
The Eagles also received a solid effort from Schoenenberger. The sophomore southpaw made five 3s to give UW-L a boost.
"It gives us great balance," Middleton said of Schoenenberger and Craig making shots. "Elise has been getting a ton of attention just with what she has been doing and continuing to do. It was just a really good job all the way across the board, but the balance across the board is just huge for us."
UW-L has won two in a row and will be back in action on Saturday when it hosts UW-Platteville at 3 p.m.