Elise DeNoyer showed a little bit of everything in helping the UW-La Crosse women's basketball team beat UW-Stout 79-64 in front of 230 people at Mitchell Hall on Wednesday night.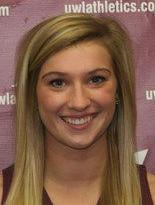 Perhaps that's the best description of DeNoyer's game — all-around.
DeNoyer scored in a variety of ways Wednesday en route to becoming the 17th UW-L women's player to eclipse the 1,000-point plateau. She did most of her work in the paint, as she has throughout her Eagles career. But her ability to isolate matchups and get a good shot regardless of the situation is what has made her a three-time All-WIAC selection.
Her 25 points against the Blue Devils put her at 1,013 for her career with seven guaranteed games left. She drove to the paint and put up tough layups, as well as posted up defenders and used an assortment of pump fakes and hesitations to get herself to the rim.
The 5-foot-10, versatile forward from Waukesha, Wis., said she didn't know she was close to the milestone. But after she hit it — on a nifty reverse layup with 8 minutes, 27 seconds left in the third quarter — UW-L assistant coach Alyssa Clemment, a three-year teammate of DeNoyer's, told her in a timeout.
"Alyssa said, 'Congratulations,' and I was like, 'For what?'" DeNoyer said.
"It's awesome," said DeNoyer, who said she didn't reach the milestone as a high schooler. "It's all to my teammates. They give me the ball when I need it. So it's thanks to them and thanks to my coaches."
DeNoyer scored 11 straight points in the fourth quarter that blew the game open for UW-L (12-6, 5-2). After Stout had made a 3-pointer and cut La Crosse's lead down to eight entering the fourth, DeNoyer dismissed any idea of a comeback.
"My teammates just kept feeding it to me, so I was going to give them what they wanted," DeNoyer said with a laugh.
Wednesday's game was one that UW-L coach Karen Middleton has come to expect from DeNoyer. She was one of Middleton's top options last season when Middleton took over the program, and she's blossomed this season as the top scorer, averaging 14 points per game.
"We were trying to keep (knowledge of the milestone) away from her, just so she'd play in the flow of the game," Middleton said. "But Elise is a tremendous player who's got great versatility. She's a tough matchup at that 4 spot."
DeNoyer also tallied seven rebounds and four assists, with all but one of those passes setting up a layup for UW-L junior Kylee Marks. Marks (10 points) was among the four Eagles — including DeNoyer, Delaney Schoenenberger (16), and Taylor Nelson (10) — to score in double figures.
Her play and the way La Crosse stepped it up defensively in the second half masked a slow start that allowed Stout (7-11, 0-7) to get out to a 24-16 lead after the first quarter.
"It worked hand in hand. Great stops leading to really patient offense, getting good shots and knocking them down," Middleton said. "We got punched in the face, but then we figured out what we needed to do."
UW-L — which has won five of its past six — seemed to be in a rush to start the game. It missed a handful of point-blank shots, and was sloppy on the few fast-break opportunities its defense created.
Stout's Kyncaide Diedrich started blazing hot by scoring the first seven points of the game and 12 in the first six minutes. But the Eagles recovered in the second quarter, holding Diedrich scoreless for the final 14 minutes of the half and playing better on-ball defense against the Blue Devils' drives.
DeNoyer made a layup with 1:19 left to give La Crosse its first lead at 34-33, which is where the score remained at halftime. DeNoyer had eight points and three rebounds, and three assists in the opening half. UW-L made five 3-pointers — including two from Schoenenberger, who had eight points at halftime — before the break.
Diedrich, the WIAC's leading scorer, finished with 23 points on 9-for-12 shooting.
KRAMER, NELSON SHINE: Nelson and freshman guard Ava Kramer had big impacts on Wednesday's win that didn't always show in the box score.
Kramer was a pest defensively, as has become her calling card for UW-L. She had two steals, and made it difficult on Diedrich whenever the two were matched up. She also had seven points.
Nelson, a senior, hit a pair of 3-pointers that kept Stout from double-teaming DeNoyer, and created three turnovers in the second quarter as the Eagles chipped away at the Blue Devils' lead.
CROWDED AT THE TOP: The Eagles win, Eau Claire's 86-52 rout of River Falls on Wednesday, along with Oshkosh and Whitewater tallying wins, created a five-way tie at the top of the WIAC standings.
La Crosse, Eau Claire, River Falls, Oshkosh and Whitewater are all 5-2 in conference play with seven games remaining. UW-L has beaten Oshkosh and Whitewater on the road, while they lost at River Falls and suffered their lone home loss of the season in the conference opener against Eau Claire.