Kent Dernbach is going to continue his head coaching career in the same gym where he made his debut.
The former associate and interim coach at UW-Stevens Point was hired Tuesday as the interim men's basketball coach at UW-La Crosse. The hiring was announced via a press release from UW-L Assistant Athletic Director for Media Relations David Johnson.
Dernbach replaces Ken Koelbl, who stepped down in September after 14 seasons as the Eagles' coach to take a full-time role in the UW-L admissions department.
"I'm extremely excited to pursue this opportunity," Dernbach said. "Those guys (the players) are what make any job special. And you can tell in that room, they're committed, they want to be coached hard, and that's what I look forward doing."
Dernbach, 35, became the Pointers acting head coach last season when full-time coach Bob Semling was suspended by the university midway through the year amid an investigation that indicated Semling was running practices outside of NCAA rules and allowing recruits to practice with the team.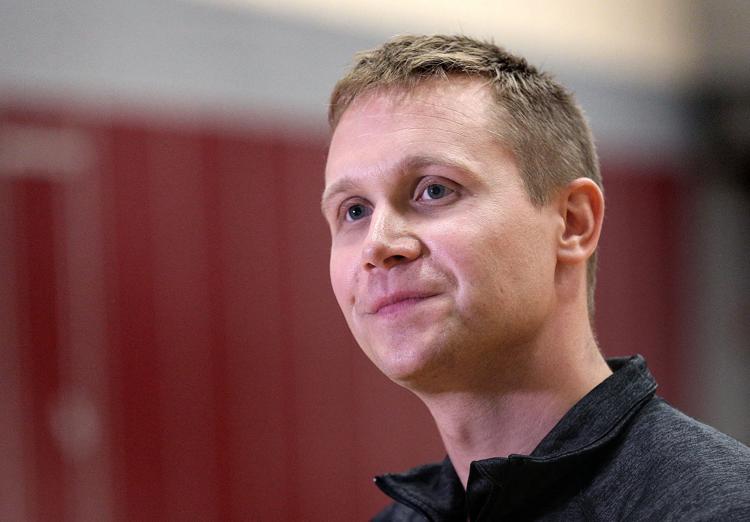 Dernbach led the Pointers to an 8-5 record in his 13-game stint as head coach, but has been on the staff since 2011. He was part of the Stevens Point staff that won the 2014-15 NCAA Division III national championship, made four consecutive national tournament appearances (2012-15) and won three consecutive WIAC championships (2013-15).
His first game as the Pointers' coach was a Jan. 7 tilt against UW-L at Mitchell Hall. Given that Semling had been suspended just two days before the game, it would've made sense if Stevens Point didn't have its best performance. However, the Pointers shot 51 percent from the field and had five players score in double figures to beat La Crosse 76-58.
"Players are really resilient," said of what he learned last season with the Pointers. "As long as they have the belief to put the team first before themselves, then you have the opportunity to overachieve."
Dernbach said UW-L Director of Athletics Kim Blum reached out after Koelbl's resignation, and had the opportunity not been at a place he was familiar with or a school he didn't believe in, he wouldn't have pursued the position.
"Because it's within the WIAC, because it's a premier institution like UW-L is, it made me really excited to pursue it and pursue it really hard," he said.
The experience Dernbach gained last season dealing with those issues will help him handle the position he takes on at UW-L — the interim tag on his position could mean the end of his tenure when a national search is conducted at the end of the season.
"I don't get hung up in what the job title is," he said. "These kids don't care what the title is. They care about one thing, and that's working hard every day, having a coach that believes in them, and having a coach that's committed to making sure we overachieve."
Blum said she approached the search for an interim coach with a single question in mind — "Who's the best person to lead our program right now?"
"He definitely emerged at the top based on his experience, and talking to him just further solidified what we'd already seen," Blum said.
Dernbach, an Almond, Wis., native, applied to be a graduate assistant under Koelbl after he completed his playing career at Carthage College, but decided to instead pursue a graduate degree at Ohio State University. He was a director of basketball operations at D-I George Mason, and an assistant coach at D-III Marymount University (Va.) and D-I Northern Illinois before landing at Stevens Point.
Dernbach said he's still examining housing options in La Crosse. He and his family — wife, Amanda, and daughters Camilla (4) and Eliana (1) — currently live in Plover, Wis. Amanda Dernbach is a nurse practitioner.
He met with the team during his on-campus interview on Friday, then again Tuesday afternoon before a press conference at Mitchell Hall. Blum said those meetings confirmed her confidence in Dernbach leading the program.
"He has high character. He cares about the players, and you can see that immediately," Blum said. "The experience he has will make this transition so much smoother for the guys, and I absolutely believe in what he can do as a coach here. Whether that's for the next six months, or six years, or 16 years, whatever it is."
The Eagles begin practice on Oct. 15, and Dernbach said players and fans can expect a similar style of play to what Koelbl has established with the Eagles.
"I believe in motion offense and man-to-man defense," he said. "Good basketball knows no level; that'll be the same situation here. If you can keep things simple, take care of the basketball, and defend, you give yourself a chance to win."