Steve Law was excited the entire week leading up to Saturday's game against UW-Stout.
The senior cornerback of the UW-La Crosse football team (7-2, 4-2 WIAC) has been a true lockdown coverage player for the Eagles after battling injuries early in the season. But the game plan for the Blue Devils called on Law to do something else. Something he says he's been itching to do.
"I love man-press coverage, but my second favorite thing is to blitz. And coach (defensive coordinator Matt) Janus called several of them today, so I was pretty happy about that," Law said. "Every time I heard those plays called, I had a big smile on my face."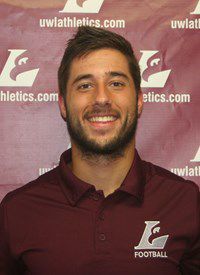 Law had two tackles, including a sack that nearly resulted in a safety, in the Eagles' 21-7 win dominated by the defense. He was also the source of pressure on Stout's quarterback duo of Jay Alston and J. Dan Sturgeon on a handful of other plays.
UW-L blitzed more than it ever has in a WIAC game in the two seasons under coach Mike Schmidt, and he said that was the plan going in. Stout's offense is predicated on hitting big plays down field in the passing game, and it was able to get a couple of those on Saturday, but UW-L's pass rush came through in waves and tallied a season-best seven sacks.
"Our plan was to make their quarterbacks beat us," Schmidt said. "We just thought if we kept pressuring them and kept bringing it and making them get the ball out fast, we'd get our opportunities."
Along with the sacks, Stout's quarterbacks had a half-dozen throwaways to avoid a loss, and ended with four interceptions, one of which was returned 13 yards for a score by UW-L senior safety Luke Winnen. That touchdown gave UW-L the lead for good early in the fourth quarter.
Junior safety Peter Kissling picked off an errant pass tossed out of desperation by Alston to avoid yet another sack in the third quarter.
Then senior safety and team captain Ryan Weber intercepted a pass in the final minute to seal the win.
"We've got playmakers all over this defense. Coach Janus put us in great position today and we made plays," Weber said. "It came from pressure, the quarterback didn't have a whole lot of time to throw the ball and he threw us some mistakes."
The Eagles' defensive depth also came through on Saturday. Late in the WIAC season, it's to be expected that UW-L is a little banged up. Sophomore defensive end and Black River Falls High School graduate Zach Zillmer is out for the season after suffering a knee injury against Platteville, and freshman linebacker Jake Krueger missed time Saturday after starting the game.
Sophomore Ryan Flathers filled in for Zillmer and tallied a game-high two sacks; senior Nick Peters subbed in for Krueger and recovered a fumble and broke up a third-down pass.
"That's been our job as assistant coaches and the defensive staff is to continuously develop our guys," Janus said. "We do a lot of things throughout the week to get our guys, from top to bottom, ready to play in games like this."
UW-L also stuffed the Stout running game, allowing just 1.1yard per carry when including the yardage lost on the sacks. Even without the sacks factored in, the Eagles allowed 2.1 yards per carry on handoffs and QB runs.
"I'm just so proud of the way our kids played. They play hard, they don't care what the score is, what happened the play before, they don't care about anything else, they just battle," Janus said.
The UW-La Crosse football team's defense had played about as well as it could through three …
EAGLES RECEIVE NATIONAL RANKING: D3football.com pegged the Eagles as the No. 24 team in its top 25 on Sunday. This is the first time UW-L has been ranked this year.
The Eagles are one of three WIAC teams ranked in this week's D3football.com Top 25 (Oshkosh, No. 3; Whitewater, No. 23).
PARKER SHINES: While UW-L's offense tried to find a rhythm in the second half, freshman punter Sean Parker was crucial to the team's ability to keep Stout out of good field position and let the defense lead the way.
Parker — who hails from Portland, Ore. — punted eight times for an average 36.2 yards, a number driven down by one bad kick off the side of his foot. But five of his boots were fielded inside the Stout 20-yard line, and three were fair caught. His punt that rolled out of bounds at Stout's 4 set up the series that Winnen ended with the pick-six, and he had a 49-yard bomb that the Blue Devils fumbled out of bounds at their 12.
HOLCOMB READY FOR MORE: Senior receiver Nick Holcomb etched his name on a couple of pages of the UW-L record book on Saturday.
Holcomb hauled in a 51-yard touchdown to effectively put the game out of reach with 6 minutes, 19 seconds left in the fourth quarter. The catch moved him into sole possession of the program's single-season record for receiving touchdowns with 15, and yards with 1,148.
His 25 career receiving TDs has him second on the all-time list, trailing only Scott Burnoski's 30 from 2001-04.
"It feels great. I never really think about (records), but I can a little now," Holcomb said. "Let's tack on some more."