The question from the UW-La Crosse football team's coaches to their team after Saturday's scrimmage was simple:
The Eagles looked solid during the individual and group periods of the exhibition against Loras College (Iowa), but when the two quarters of the game situation came up, UW-L appeared out of sync.
"It certainly wasn't our best day," UW-L coach Mike Schmidt said. "We've got to come out with more energy."
Schmidt said he wasn't disappointed nor does he think there will be any carryover from the 13-7 "loss" on Saturday, but that his team needed to put itself in better situations when the regular season kicks off Sept. 2 against Luther College.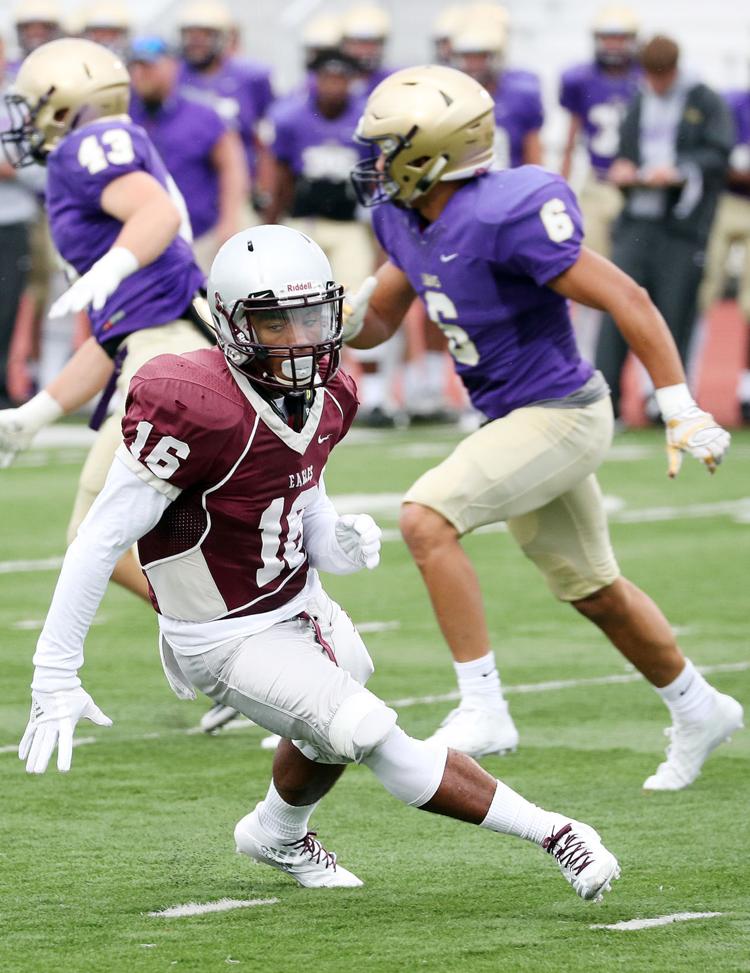 There were still bright spots in an overall lackluster scrimmage for the Eagles, particularly on defense. The first-string defense played just a couple of series before other players started to rotate in, but the defense as a whole looked stout against Loras' run game.
"We did a good job of firing off there," said Zach Zillmer, a Black River Falls High School graduate whose projected to be a starting defensive end for the Eagles. "Obviously there are things we want to work on, and get into the film, but it was nice to get out there and start tackling people for the first time."
UW-L has made it a point to not go full contact in team practices in an effort to keep its players fresher when the season comes along. So Saturday was the team's first chance to get the pads popping against an opponent.
"It was nice. It's tough to simulate full, live tackling in practice," Zillmer said.
Schmidt has said throughout training camp that his goal for the defense is to be better at stopping the run, so Saturday's showing was encouraging in that sense.
"I was impressed with how we defended the run," Schmidt said. "We gave up a couple big (passing) plays on the outside … but we did a nice job getting off the ball."
Loras connected on a deep pass down the left sideline for a nearly 40-yard gain on its opening drive of the scrimmage, but the defense held them there and the Duhawks settled for a field goal. Their lone touchdown of the day came in the second quarter on a post route that went for 65 yards, however it was a mostly a second-unit Eagles' defense against Loras' top quarterback on that play.
The Eagles' top offense wasn't able to get its up-tempo style going in its chances with the ball, going three-and-out on its first three possessions. Schmidt said the biggest factor was not being effective in the run game, which put the team in long third-down situations.
"We need to get those things cleaned up," Schmidt said. "We've had a really nice camp with that group, and I feel good about where we're at. We've got to find a way to run the football better so we can get in a rhythm and we can get moving."
It was a letdown from how good the offense looked during the situational work before the scrimmage, scoring on each red zone chance and getting out of back-against-the-goal-line scenarios.
HOLCOMB SHINES: Senior receiver Nick Holcomb showed against Loras why coaches and senior quarterback Tarek Yaeggi have been raving about him during training camp.
He shimmied past a defender to score on a third down during the red-zone session, and then scored UW-L's lone touchdown of the scrimmage on a 41-yard catch and run on the Eagles' fourth drive. Holcomb caught a short pass on a second down, broke a tackle, sprinted down the sideline and kept his balance when the last defender who had a chance to stop him took a swipe at his feet en route to the score.
RUNNING BACK RACE: Jalen Clark and Mike Santucci are both going to see plenty of time in the UW-L backfield this fall, and both had moments Saturday that proved they deserved those chances.
Santucci — a senior and converted wide receiver who missed the 2016 season with a knee injury — brings a dangerous receiving threat to the Eagles backfield, and scored on a nifty screen pass during the red-zone situation session.
Clark, a sophomore who was also hampered by injuries last season, had three consecutive powerful runs from inside the 5-yard line during goal-line work to give the Eagles a score. Schmidt said the Eagles didn't use Clark or Santucci as much during the scrimmage to keep them fresh for Week 1, but both will help the team run the ball better when real games begin.
KICKING WOES: The Eagles' kickers struggled during field goal/PAT work and during the scrimmage.
UW-L missed about a quarter of their field goals during the pre-scrimmage session, including having one blocked, and then missed a 28-yard field goal wide right that would've tied the scrimmage at 10.
CUT DOWN TIME: Schmidt said he and his coaches will be making the final roster cuts today, and the players will be off until afternoon meetings on Monday.
UW-L carried 129 players into training camp, but can only have 105 on their final roster.