STEVENS POINT, Wis. — It was an instinctual play, senior safety Ryan Weber said.
The UW-La Crosse football team captain has always had a nose for the football, and Saturday in the Eagles' WIAC opener against Stevens Point, Weber attacked the ball more so than the ball carrier in the first quarter and it sparked what became a 35-13 rout for UW-L (4-0, 1-0 WIAC) at Goerke Park.
Weber ripped the ball out of the hands of Stevens Point freshman ShamaJ Wiliams and then fell on the fumble to give his team the ball at the Stevens Point 18-yard line.
"That's kudos to our coaching staff. We work on that ball disruption every day and every week. I wasn't really thinking, it was just instinct," Weber said. "It was a big moment in the game. Coach (Mike) Schmidt says you've got to make plays if you're going to be a leader, so I was just so happy to get the ball for our offense there."
The play was just the start of a stellar performance for the UW-L defense. The Pointers' high-powered offense had no solutions to beat the Eagles secondary, and that was apparent early.
STEVENS POINT, Wis. — The UW-La Crosse football team showed up at Goerke Park ready for a fi…
After UW-L went three-and-out on its first drive, Stevens Point's first play from scrimmage was a deep pass down the sideline to receiver Jerry Williams, a speedster and the team's top big-play threat. But junior cornerback Colton Nieman ran stride for stride with Williams and knocked away the pass — a play that Weber said inspired the team.
"They went after Colton Nieman, and he took that personally. He wedged out Jerry Williams and made a great play, and that set the tone for our whole defense," Weber said. "It was a big confidence boost for Nieman, but it spread out through the defense and the entire team."
The Eagles mixed things up in the secondary, Schmidt said, and the Pointers — who were without senior starting quarterback Ryan Swigart after he broke his leg in a nonconference game — never caught up. Stevens Point finished the first half with just 3 passing yards on one completion, and only had success through the air on a pair of jump balls to 6-foot-3 junior Steve Herra on one second-half drive.
How'd that drive end? A strip sack recovered by the Eagles.
"I just can't believe how well our defense played," Schmidt said. "To hold a team that's averaging over 500 yards a game, with wideouts like they have, to 175 yards of total offense and five of 21 passing, what can you say more?"
It was a performance that senior cornerback Steve Law said established UW-L's talent on defense.
"All week we heard how good they were, how good Jerry was, and I think we wanted to come out here and prove we were good, too," Law said. "We did that (Saturday). We thought our physicality would get the job done and it did."
UW-L's defense played complimentary football — while the secondary stuck to its receivers, the front applied pressure on seemingly each pass attempt. The Eagles finished with six sacks, including three by senior defensive lineman Brandon McKandes.
The pass rush knifed through Stevens Point's big offensive line and created problems for the three quarterbacks used by the Pointers.
"We were able to stay in our base defense and pressure them. We didn't run all that many stunts or blitzes — we just stayed in our base stuff and trusted our guys," said Reese Felton, who tallied a loss of 11 yards on a sack.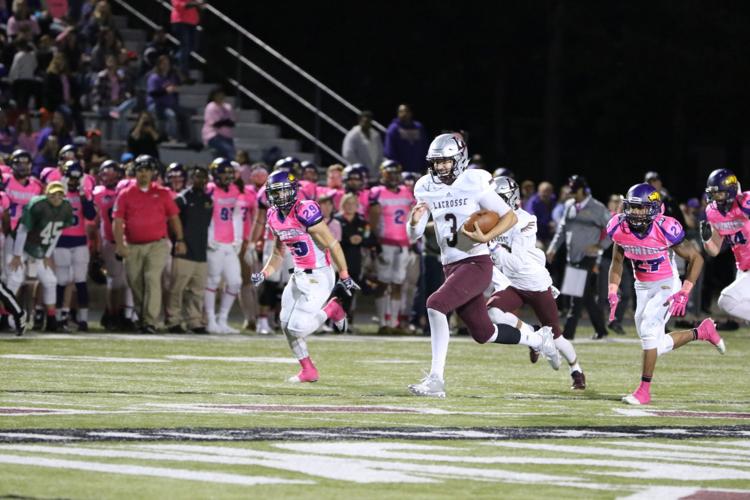 KEY DRIVE: Tarek Yaeggi had just tossed a pinpoint accurate pass to the front pylon, and his top target this season — senior Nick Holcomb — hauled it in for his second TD of the game in the final minute of the second quarter. Yaeggi couldn't contain his excitement.
He stood at the Pointers' 25-yard line, pumping his fist and celebrating with his offensive line. The score put UW-L up 28-0 going into halftime and essentially put the game out of reach.
"That was the drive of the game. That thing stays 21-0, we have a game going with them getting the ball back," Schmidt said. "We got it to 28 and that gave us some breathing room and allowed us to do what we wanted in the second half."
The scoring pass was set up by a 49-yard run by Yaeggi — the longest of his career at UW-L — on a well-blocked quarterback power play. Yaeggi's been called on more to add to the running game with three of the Eagles' top five running backs hurt, and he delivered Saturday with 69 yards on 10 carries.
Yaeggi burst through the line on the power play and had nothing but empty turf in front of him for the next 70 yards. Although he didn't score on the play, he did make good on a bet with offensive coordinator and quarterbacks coach Jake Landry.
"Before the Ripon game, I bet coach Landry I'd have a rush of 20 yards or greater, and the loser had to run … I lost. And then he guaranteed I'd never have a 40-yard rush this season, so when the hole opened up, I just went," Yaeggi said.
"I thought I was cruising for a while, then I got to like the 40 and said, 'Yeah, I'm not making it.' I just covered up the ball. Everybody on the sideline told me to unhook the trailer."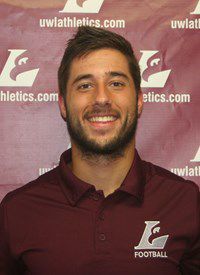 STATEMENT GAME: UW-L's win over Stevens Point was its first since 2013, as the Eagles and the Pointers have spent recent years battling it out in the middle of the pack in the WIAC.
For the Eagles to make the climb back to the top of the conference, a goal they talk about often, getting over the hurdle of the Pointers is a good start.
"Everybody's pretty elated right now," Law said. "It's a game we need to win. We wanted to show the conference we're here and we're ready to go."