PLATTEVILLE, Wis. — There are certain turning points in a program's direction — up or down — that come early in a new coach's career.
In Mike Schmidt's short tenure at UW-La Crosse, one of those came Saturday. And it was a big-time boost for a team that has already shown plenty of signs of turning the corner and taking off.
UW-L, after tough back-to-back losses to Whitewater and Oshkosh, stunned No. 9 Platteville 27-20 on a 37-degree day that likely felt even colder for the Pioneers as they left their home field.
It was a much-needed victory for UW-L (6-2, 3-2), which had gotten off to a 5-0 start for the second consecutive season under Schmidt, only to struggle in the second half of the season.
Not this time. Not this year.
"Without a doubt, this is the biggest win since I have been here," Schmidt said. "It not only gives us a big boost this year — it keeps us part of the playoff conversation — but to finally break through, to beat one of those top (WIAC) teams, it is certainly a springboard to what we want to become and where we want to go."
UW-L has two regular-season games remaining — at home next Saturday against Stout, then on the road at River Falls on Nov. 11 — would need some help for an at-large bid to the NCAA Division III playoffs, but it has an outside chance should some upsets occur.
That wasn't on the Eagles minds on Saturday; beating the Pioneers was.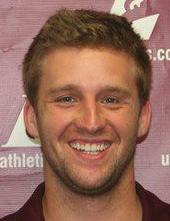 The Eagles, with backup quarterback Drew David having his finest performance, took a 14-3 lead at halftime — thanks in part to a big-time defensive play from Peter Kissing — and built that lead to 24-3 before the Pioneers came roaring back.
Kissing finished with six tackles and two key interceptions for an opportunistic Eagles' defense that allowed 504 yards, but came up with four turnovers.
And it took everything from everyone on UW-L's defense to hold Platteville (6-2, 3-2) off.
Platteville, where Schmidt was defensive coordinator before coming to UW-L two years ago, scored 17 fourth-quarter points to make many hearts on the Eagles sideline beat plenty fast.
"You always start to get a little nervous (when a lead slips away), especially when you are not able to be out there on the field," said David, junior from Sugar Grove, Ill.
"We've got complete faith in our defense. There is no way we were going to let this slip through our fingers. It is just a great feeling and I am super happy for this team. The last two weeks we have not been able to put four full quarters together and finished it.
"To do that is awesome. Words cannot describe it."
David, a 5-foot-11, 195-pound junior who is filling in for the injured Tarek Yaeggi, may see even more action after completing 14 of 23 passes for 266 yards and three touchdowns, two of which came in the first half.
He also used his swift feet to rush for 71 yards on 16 attempts.
Schmidt said he talked to his team about coming out in the second half and playing even better than it had in the first. UW-L, which used a Bryce Wesling 25-yard field goal at the 9:40 mark of the third to make it 17-3, made it 24-3 a little more than three minutes later when David tossed a 20-yard scoring strike to Nick Holcomb. The TD strike came one play — and a penalty — after David hit Devonte Amos with a 60-yard pass play.
"Each game you start to get a little more comfortable," David said, "especially when the line is doing a phenomenal job. Their corners were pressing up and playing man on us. Our receivers did an awesome job of getting open. I can't say enough about them."
Holcomb, who is putting a strong bid toward All-American honors, finished with seven receptions for 138 yards and two TDs. Holcomb has 64 receptions for 1,050 yards and 14 TDs on the season. His 14 touchdown receptions ties a single-season program record.
"That is by far his best performance. I was talking to coach (offensive coordinator, Jake) Landry about that. We need to keep Drew David playing like that," Schmidt said.
"That is what this team is about, someone else stepping in when needed. That is such a great thing, having your backup come in and it feels like he is a starter. It almost feels like a quarterback controversy to have your backup play so well."
Schmidt isn't worried about that as Yaeggi isn't ready to return from a shoulder injury just yet. He had more immediate things on his mind, as how UW-L was going to hold off the Pioneers' fourth-quarter flurry.
A barrage that consisted of a 14-yard scoring run by Sean Studer, a 19-yard field goal by Michael Pratl, then a 11-yard scoring strike from Cade Earl to Tim Jansen with 2:11 left.
"We knew they were coming. As a head coach, you are looking at a lot of things, including the clock. I was watching the clock the whole time," Schmidt said.
"We did everything we could to let them back into the game. We had a huge, costly penalty on a hold on one kickoff return. Then when it's 24-10, they get a personal foul and we are going to get the ball past midfield and have offsetting penalties.
"Our mistakes are what let them back in the game. With that said, we just kept trying to come back and answer the bell. This team, they just keep playing better and had ton of guts to go out there and get it done today."
"Without a doubt, this is the biggest win since I have been here. It not only gives us a big boost this year — it keeps us part of the playoff conversation ... " Mike Schmidt, second-year UW-L coach