The UW-La Crosse football team was focused on being efficient in its game against Carroll on Saturday.
Efficient in how it defended, efficient in churning out first downs, and efficient when it had chances inside its opponent's red zone.
The Eagles took control of the contest early and never allowed the Pioneers' offense to get untracked, winning their final nonconference game 41-6 in front of a crowd of 1,348 people at a scorching-hot Veterans Memorial Field. UW-L is 3-0 for the second season in a row and for the third time since 2009, and is receiving votes in the two major NCAA Division III polls.
From the opening kickoff, the UW-L defense took it to Carroll's offense. The front seven knifed through the Pioneers line early and often, taking advantage of its speed against a bigger front — Carroll's offensive line averages 6-foot-2, 312 pounds.
"We really thought we could limit the run game," UW-L coach Mike Schmidt said. "We thought we'd be a little more athletic than them, and coach (Matt) Janus had a good plan for them. We kept the ball in front of us, didn't allow any big plays."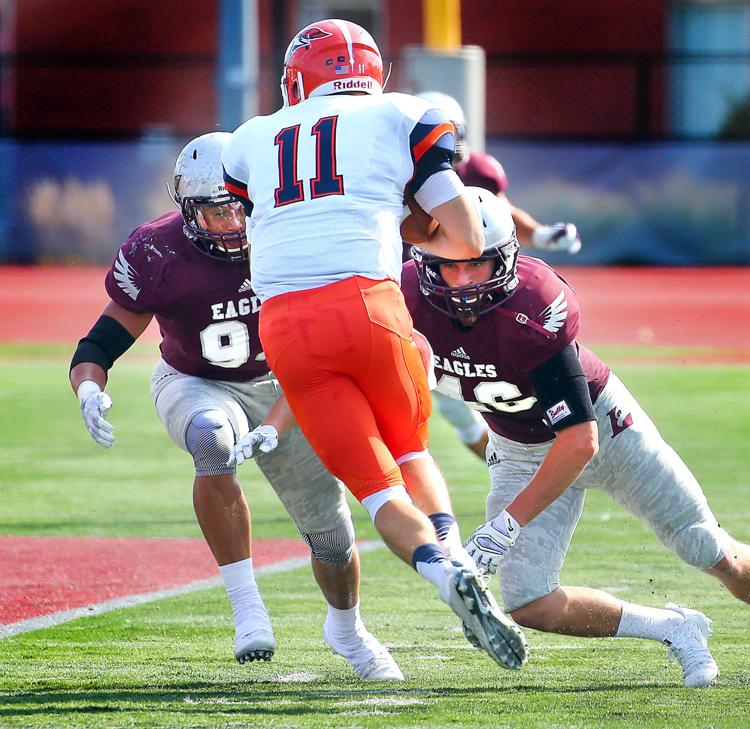 The Pioneers (1-2) gained 189 yards on 58 plays, a 3.3-yards-per-play average, and were just 4 of 13 on third-down attempts. They started 0-for-8 on third downs.
Carroll's dual-threat quarterback, junior Colton Bahling, was under duress from the jump, and tallied just 79 passing yards and 33 rushing yards. It was the first time he was held under 100 rushing yards this season, and the Eagles also sacked him three times. Much of the work inside was done by seniors defensive end Brandon McKandes and defensive tackle Jacob Wudtke. McKandes tallied five total tackles — two for loss, including a sack — while Wudtke had a sack and two tackles for loss.
"It's a testament to throwing everything we had at them," Wudtke said. "We were moving around, and I don't think they were ever able to get real comfortable on us. We played disciplined. We had a couple defensive game plans to get our linemen back there."
Carroll didn't score until late in the third quarter, using a 15-play, 75-yard drive to do so. It brought the score to 38-6, but despite losing the shutout, Schmidt said he was happy with the drive defensively because the Eagles made it difficult throughout.
Perhaps the most impressive feat from the defense was how it responded when put in sudden-change situations. UW-L's offense turned the ball over three times in the first half, but each time the defense forced a quick punt to limit the damage.
Outside of the turnovers — two fumbles that occurred when an Eagles carrier was fighting for extra yards in a pile and an interception that was tipped up by a receiver — UW-L's offense had a productive day. The Eagles scored or turned it over on each of their first 10 possessions, and punted only on its final drive with a second-string lineup on the field. UW-L held a 24-0 halftime lead after engineering an eight-play, 64-yard march to the end zone just before the break.
The running game was key for UW-L, as the Pioneers were intent on slowing down senior receiver Nick Holcomb. While Carroll succeeded at that goal — Holcomb had two catches for 29 yards, season lows in both categories — they allowed the Eagles to rush for 4.0 yards a carry and tally three touchdowns on the ground.
"Our offensive line was really communicating today, seeing the fronts well. They were blocking great, I wasn't getting touched until the second level, and that makes my job easy," said sophomore back Trenten Smith, who led the way with 57 yards and two scores on 13 carries. Senior Troy Bailey added 30 yards and a TD on six totes.
Smith started in place of junior Mike Santucci, who was injured in pregame warmups. Santucci missed last season with a torn ACL, had his knee "go out on him," Schmidt said. Schmidt said Santucci will undergo test this week to determine the extent of the injury. Senior running back Austin Mancosky, who was making his season debut, also suffered an injury in the second quarter.
Senior quarterback Tarek Yaeggi was 22 of 28 passing for 293 yards and a touchdown, and pitched in 19 yards rushing. Three of Yaeggi's incompletions were throwaways on rollouts.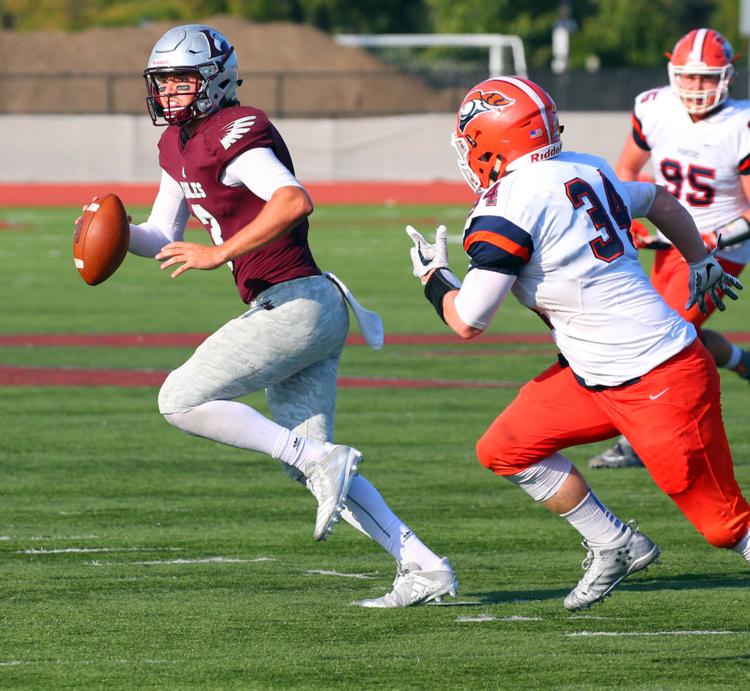 "Our line set the tempo right away," Yaeggi said. "They fired off the ball, got (Carroll) tired early in the first half, and set the tone for the whole game."