STEVENS POINT, Wis. — The UW-La Crosse football team showed up at Goerke Park ready for a fight against a tough conference foe.
What they left with was a blowout win and a boat load of confidence in both its offense and defense.
The Eagles took control early and Stevens Point never got off the mat after taking early blows, as La Crosse scored a 35-13 WIAC victory in front of an estimated crowd of 2,200.
UW-L moves to 4-0 for the second straight season, and opens the conference season 1-0. It was the team's first win over the Pointers since 2013.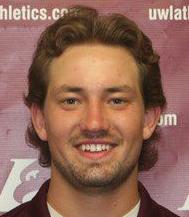 Against a pressure-heavy defense, UW-L senior quarterback Tarek Yaeggi answered the call, throwing three touchdowns, two of which went to senior Nick Holcomb. Holcomb finished with five catches and 93 yards.
UW-L's offense scored touchdowns on four of its last five possessions in the first half and led 28-0 at halftime.
Pointers senior quarterback Ryan Swigart was on the sideline in a wheelchair after breaking his leg last week, and his absence was felt greatly in how Stevens Point attacked UW-L. Sophomore Matt Urmanski — one of the three quarterbacks used by the Pointers — was clearly confused by UW-L's mix of coverages, and the front seven was able to knife through the line and create pressure. The Eagles had six sacks, including two in the first half.
Stevens Point (3-1, 0-1) managed just 80 yards on 30 plays — an average of 2.7 yards per play — in the first half, and had 3 yards passing.
The Pointers' only points came from their defense — Blake Lehman had an interception return for a touchdown when Yaeggi was hit on a throw in the third quarter, and then Juleyan Givens went 68 yards after picking up a fumble in the fourth quarter.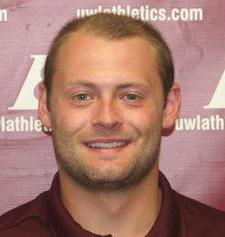 Senior captain Ryan Weber sparked the Eagles' first touchdown, forcing and recovering a fumble against Pointers running back ShamaJ Williams, which set up the offense at the Stevens Point 18. UW-L caught the Pointers on a blitz with a quick pass, then a pass interference in the end zone gave the Eagles a first down at the 2. Trenten Smith scored from there to put UW-L on the board first.
After Ryan Kruser fought off a tackle and gained 10 yards on a jet sweep, Yaeggi threw a frozen-rope pass to Holcomb for the game's second TD. Holcomb separated from the corner off the line and the pass hit him perfectly in stride, giving the safety no time to get over and contest.
Sophomore tight end Cole Spieker used all of his 6-foot-2, 210-pound frame to haul in an end zone fade from Yaeggi, putting the Eagles up 19-0. UW-L then pulled out a trick play on the extra point, having kicker Bryce Wesling toss a shovel pass to holder Drew David for the two-point conversion.
UW-L was in its no-huddle offense with less than two minutes remaining in the second quarter, and Yaeggi slid after a carry that was originally called as a first down. But the referees moved the ball back 2 yards saying Yaeggi had given himself up before the marker. After the chains were re-set, Yaeggi took a QB power run 50 yards — the longest carry of his UW-L career — to the Pointers' 22, and then found Holcomb with a pass to the front pylon the next play to go up 28-0 before the break.
Eagles coach and special teams coordinator Mike Schmidt pulled out another trick in the third quarter, as Wesling threw it to Spieker on a fake punt for a big gain. Spieker was pushed out at the 3, and senior Troy Bailey punched it in two plays later.