RIVER FALLS, Wis. — The UW-La Crosse football team had one last opportunity to make an impression.
Not just on its fans or on its coaches, but on the NCAA Division III playoff selection committee.
After what the Eagles did to UW-River Falls on Saturday, consider the statement made.
RIVER FALLS, Wis. — Each time Nick Holcomb went to the line of scrimmage on Saturday, he saw…
Riding a wave of momentum created during a blowout second quarter, the Eagles thoroughly dominated the Falcons to the tune of a 56-7 WIAC win in their regular-season finale in front of a crowd of 835 people at David Smith Stadium at Ramer Field.
The win gives La Crosse (8-2, 5-2 WIAC) its first eight-win regular season since 2006, and at least keeps it in the conversation for an at-large berth into the playoffs.
"We knew not only did we need to win, but we wanted to send a message," junior quarterback Drew David said. "We wanted to send off the seniors well and give us a chance, and I think we able to accomplish that."
UW-L had a 7-0 lead going into the second quarter before blowing the doors off.
The Eagles scored five touchdowns in the second quarter, including three scoring passes to senior Nick Holcomb, a run by Drew David and an interception return for senior safety Luke Winnen, his second in as many weeks. It was the first time since the Eagles played Howard Payne in 2003 that they scored five touchdowns in a quarter.
Holcomb had yet another banner day for the Eagles, setting a program record with five touchdowns catches en route to an 11-catch, 253-yard performance. Holcomb rewrote the Eagles' record books all season, finishing with school records in catches (80), yards (1,401) and touchdowns (20).
The Eagles offense continually put the Falcons defense in no-win situations. River Falls' plan throughout the season was to keep the box loaded up with at least seven players to stop the run and force passing attacks to pick up its blitzes. That left Falcons' defensive backs in primarily man-to-man coverage, and allowed David to pick them apart.
If River Falls stayed in true man-to-man, David would go to Holcomb deep down the sideline and he won those battles for the ball as he has all year. If River Falls had the safeties play zone behind the corners and help out on Holcomb, David would hit receiver Dominic Labellarte or tight end Trent Milliken over the middle or in the flat for easy yards.
"The line did a great job giving me a ton of time, and I was able to read things out," said David, who threw for 432 yards and five touchdowns on 19-for-31 passing. "The receivers all day did a phenomenal job getting open."
Labellarte, a freshman from Brookfield, Wis., had a breakout game as the second option to Holcomb. He had five catches for 150 yards and a touchdown, which came on a crossing route over the middle after the Falcons' defense had vacated the area in an attempt to double-team Holcomb.
UW-L led 42-0 before River Falls scored late in the third quarter on a drive aided by a pair of UW-L pass interference penalties. The Eagles denied everything the Falcons wanted to do offensively, and corralled senior running back Michael Diggins for much of the game.
Diggins finished with 108 yards on 27 carries, but UW-L's lead made it unfeasible for the Falcons to continue handing the ball off.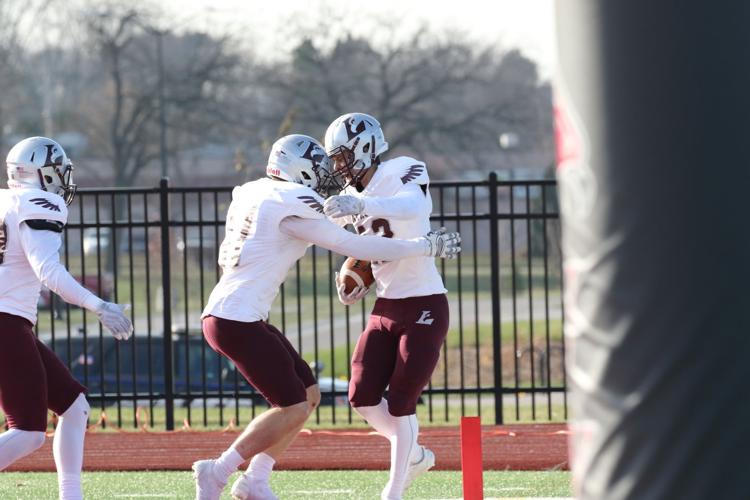 "Walking off this field now is a lot different than two years ago," senior safety Ryan Weber said, referring to the Eagles overtime loss at River Falls in 2015. "The group that we've got is special."
With the big lead, the Eagles relied on their linebackers and trio of safeties to continue holding off the Falcons. Senior linebacker Noah Risch had a team-best 10 tackles, while senior cornerback Steve Law and linebacker Michael Garvey had seven apiece.
Weber, along with Winnen and Peter Kissling, played much of the second half as UW-L went to a 3-3-5 look.
"We wanted to keep as many eyes on the quarterback for screen and draw and those types of things," Eagles coach Mike Schmidt said. "We wanted a lot more second-level players out there to try to make them throw it over the top to beat us."
UW-L outgained River Falls 584-389 and forced four turnovers. Falcons sophomore quarterback Ben Beckman finished 14-for-30 with 151 yards, a score and an interception. He was pulled in the fourth quarter after drawing an unsportsmanlike conduct penalty after tossing the team's lone score to Diggins on a short flat route in the red zone.
The Eagles' postseason fate now rests in the playoff selection committee's hands, but Schmidt said they did all they could to force their name into the conversation.
"Our guys really put in the work and came ready to play today," Schmidt said. "Hats off to our team for putting something out there like that for the playoff committee. If we don't get in, what a win to carry us into the 2018 season."