Coaches have always had a big influence in the life of Isaac Fruechte.
As a multiple-sport standout at Caledonia High School, he picked up instruction from many voices. As he began his collegiate football career at Rochester Community and Technical College, and then continued it at the University of Minnesota, the number of coaches he heard from each day dwindled, but their messages became more personalized and direct. With the Minnesota Vikings and briefly with the Detroit Lions in the NFL, Fruechte was being groomed by the top coaches in the football world.
Now he wants to give back. And for him, that starts as taking on the role of receivers coach at UW-La Crosse.
Fruechte joined the Eagles' staff led by coach Mike Schmidt this winter, and as the team has gotten in full swing of its spring practices, Fruechte has been impressing those around him with his ability to share his skills.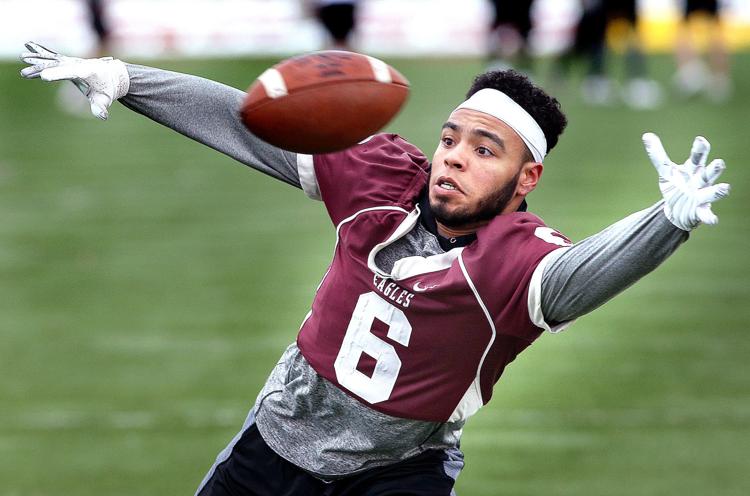 "It's awesome. He knows the game in and out, it's crazy. His footwork is incredible," said Dominic Labellarte, a freshman receiver. "He breaks down the littlest things that help us receivers out that we've never seen before. We just didn't know them.
"We've made tremendous strides in the three, four practices we've had with him as receiver coach. We're all super excited to continue with him in the fall."
Schmidt and Fruechte had talked off and on about a coaching spot while Fruechte was finishing his three-year NFL stint. He was on the Minnesota practice squad for two seasons, and then spent a short time on Detroit's before returning to the Vikings. He played in Minnesota's regular-season finale in 2016, but was released during training camp before this season.
Fruechte kept watch of the Eagles this year as they went 8-2 — their best record since 2006 — and were in the NCAA Division III playoff conversation the final weekend.
"Coach Schmidt has got a tremendous staff, and they were awesome to me when I was trying to figure out what I wanted to after being done (in the NFL)," Fruechte said. "I was attracted to coming to UW-L, and getting involved with football, because obviously it's in my blood a little bit with my dad."
Fruechte's father, Carl, has either been the head coach or the top assistant for the duration of the dynasty Caledonia High School has built, winning eight MSHSL Class AA championships in the past 11 years. Fruechte was part of two of those championship runs.
He said through his life in football multiple coaches stand out. But in particular George Stewart — who was the Vikings wide receivers coach for 10 seasons before becoming the special teams coordinator and assistant head coach in San Diego — helped mold him into a better player and person.
That's the type of affect Fruechte wants to have on his charges in the receiver group.
"Coach Stewart was a better man than a coach, and that affected me," Fruechte said. "I just want to be a positive influence on kids. Well, not even kids, these are young men here. I just want to be a positive influence and try to help any way that I can."
UW-L's receivers are a young bunch, and only Labellarte and fellow freshman Devonte Amos saw significant playing time last season. So as they work to learn and install new offensive coordinator Luke Bengtson's schemes, Fruechte said he's learning his coaching basics from his fellow staffers like receivers coach Frank Tierney. Tierney will begin his 20th season with the program this fall.
"Some kids, you're trying to figure out, 'What can I say here, what should I say here?' You're learning every single day, during meetings or at practice," Fruechte said. "(Tierney) is a tremendous coach and a tremendous guy, so it's awesome to get to work with him and learn a lot and try to build my resume for the future."
Schmidt believes Fruechte has a bright future as a coach:
"When you watch a guy who's that talented, that knowledgeable about the game of football, have that kind of passion for your players and the job of coaching, it's really cool to see that evolve."