Tarek Yaeggi and Jake Landry are perfectionists.
It's evident any time they're on the football field that to the quarterback and offensive coordinator, respectively, of the UW-La Crosse football team, the little things matter.
Their attention to detail is part of what made the Eagles' offense as explosive as it was a season ago, averaging 36 points per game, and leading the way to UW-L tallying a 5-5 record after three 3-7 years. Yaeggi and Landry both were newcomers in 2016 — Landry coming in with a revamped coaching staff and Yaeggi being arguably that group's top recruit from last season.
Their relationship and how they work together on and off the field will again be crucial for the Eagles this fall, as the team is loaded with talent at receiver, tight end and running back, and believes it can compete for a championship come season's end.
"It's a relationship that I really haven't had in college in the two other places I've been," Yaeggi said of the dynamic he shares with Landry. Yaeggi spent time at a junior college in Bakersfield, Calif., and at the NCAA Division I University at Buffalo before landing in La Crosse. "It's fun for me because I can really relate to him and have an honest conversation, and there isn't any blocking each other out. We actually get something accomplished when we talk."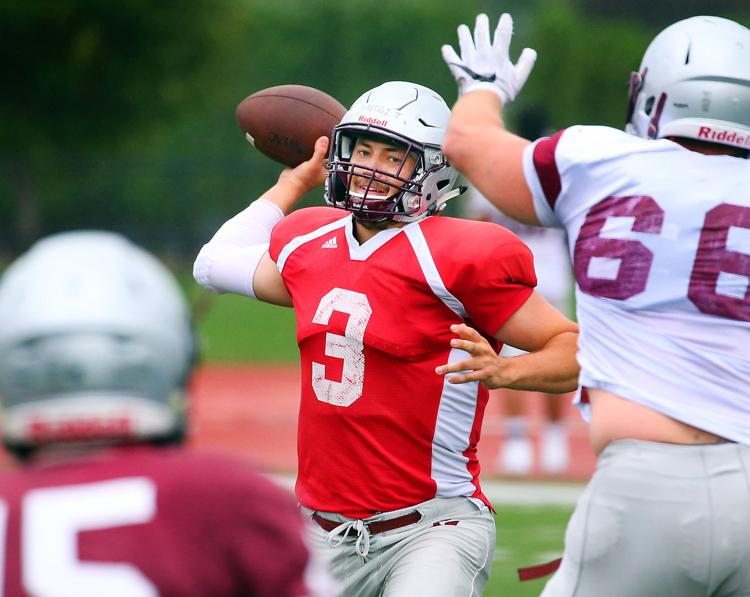 Landry arrived in La Crosse last spring and was heavily involved in recruiting Yaeggi, the 2013 Gatorade Player of the Year for Wisconsin. Landry knew a quarterback with Yaeggi's arm strength and accuracy could ignite an up-tempo offense, but as they've worked together for more than a year now, both men have come to see how similar their personalities are.
The Eagles are more than a week into their fall training camp, and the offense has had its ups and downs thus far. When it's clicking, Yaeggi is connecting with receivers all over the field and the coordination of the players in motion pre- and post-snap is efficient. When it's just a bit off, both player and coach are quick to get fired up.
"We are both like that, we want it to be perfect. He tells me to coach him hard, and sometimes he doesn't like it when it happens, but he knows it's never personal," said Landry, a former quarterback at University of North Dakota. "If I get after him in practice, afterward I'll get my arm around him and tell him I love him and how he can get better."
Landry's experience as a starter and team captain at North Dakota are valuable in his coaching of Yaeggi. Yaeggi said early in camp his goal is to become a better leader of the offense, and his efforts are easy to see. Whether it's jumping in the post-practice position huddles with the running backs or congratulating players for good reps during team sessions, Yaeggi's been front and center.
So when mistakes happen, be it his own or the offense as a whole, Yaeggi's been trying to learn from Landry how to correct them without letting frustration boil over.
"I get fiery when I'm on the field and stuff doesn't go my way, and he understands that. He said he was the same player. He helps me with realizing I can't lose it necessarily and I've got to keep calm even when I'm not performing the way I should be," Yaeggi said.
Yaeggi and other offensive players in the past have commented on how Landry is different on the field and in the meeting rooms. That balance of Landry's sides — the louder, more intense version seen on the field and the more personable version away from it — keeps players accountable, Yaeggi said.
"He really is picky about what we do, and he really wants us to be detail oriented. He won't stand for anything less, it doesn't matter who you are," Yaeggi said. "When my feet are bad, he's going to point it out. If we're lazy in our stances at wide receiver, it doesn't matter, he's going to point it out. He doesn't let stuff slide."
Landry also emphasizes to Yaeggi — and the rest of the quarterbacks — to do something not often encouraged in football: Ask "why?"
The old-school mentality of the coach being an unquestionable entity isn't how Landry runs his meetings, and Yaeggi said that culture of collaboration has allowed him to get a grasp of the offense in a more complete way.
"I was the why guy in college. If you called all my coaches, they probably didn't like that," Landry said. "I want them (the quarterbacks) to understand it (the scheme), and ask why. If they just agree with it on paper, then they're just agreeing with what I'm telling them and I want it to be more of a committee thing on certain plays. I'm never going to call a play that they're not comfortable with."
In spring practices, there was a particular play Yaeggi wasn't a fan of, but the Watertown, Wis., product didn't raise any questions about it. The play wasn't as effective as Landry felt it should've been, and when Landry spoke with Yaeggi about it, they were able to diagnose the player's issue with it and correct it. It's been one of the best plays for the offense through fall practices, Landry said.
Yaeggi set UW-L program records under Landry last season with 218 completions, 2,724 passing yards and 2,896 yards of total offense. If the Eagles are to be in contention for a WIAC or more, it'll take a similar output from both players and coach to lead the charge on offense. That's a challenge Yaeggi said both are up for.
"He pushes me, and I try to push him in what we're doing and push him in a sense to make me understand why we're doing what we are," Yaeggi said. "He's going to push me to the max."