For the UW-La Crosse football team to beat Stevens Point for the first time since 2013 today, it will need to control the line of scrimmage.
Sure, the Eagles have plans to utilize their talent at wide receiver and continue putting pressure on opposing secondaries, but to be able to do that effectively, they have to first establish at least the threat of a run game. Today's game — slated for 6 p.m. in Stevens Point, Wis. — will test how well UW-L's efforts through the nonconference season to become a better running team have gone.
"We know we're going to have to try to control the line of scrimmage to give our quarterback time to throw the football, and we have to be able to run the ball," Eagles coach Mike Schmidt said. "Our offense is predicated on being able to stay on schedule and the volume of plays. If we can't do that, we won't win the game."
The Eagles have done a good job thus far being efficient with their runs — 60.7 percent of their carries have results in gains of 4-or-more yards, a first down, or a touchdown.
But just as UW-L appeared to be getting healthy for the conference season, a rash of injuries at the running back spot have the Eagles with three of their top five backs sidelined.
Sophomore Jalen Clark, who was the starter Week 1, is still recovering from a dislocated elbow suffered against Luther. He's targeted to be back in action Oct. 13 against Whitewater. Senior Austin Mancosky missed training camp and the first two games with a broken foot. He returned against Carroll last week, but then suffered the same break in his other foot, and is likely out for the season. Junior Mike Santucci aggravated a knee injury before the Carroll game, but could play today.
That leaves sophomore Trenten Smith and senior Troy Bailey healthy and active. The situation puts more responsibility on senior quarterback Tarek Yaeggi to add to the run game with option reads and smart decisions.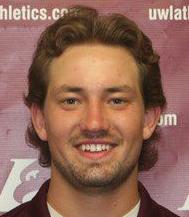 "I just have to be smart with how I run the ball. That's not my game, to run guys over or take a big hit, that's not what's best for us. I have to get what I can, get down and we'll keep going," Yaeggi said.
The Eagles need to do this to slow down Stevens Point's blitz-happy defense, led by a big defensive line, which averages 6-foot-2½-inches tall and 245 pounds.
"Last year, they brought a lot of different coverages and a lot of different blitzes. I've got to be on my toes with watching film and trying to get a key on what they're doing," Yaeggi said.