The UW-La Crosse football team has its most difficult task of the season to date waiting for it today.
On the road to open the WIAC season, the Eagles must find a way to stop two explosive receivers to give themselves a chance to do something they haven't done since 2013 — beat UW-Stevens Point.
Tonight's game, slated for 6 p.m. at Community Stadium at Goerke Park, will test the UW-L secondary more than any of its first three contests. The Pointers' tandem of wideouts — junior Steve Herra and senior Jerry Williams — possess speed, size and skill, and Stevens Point's offense creates plenty of opportunities for them to get down field and go for big plays.
"On film, that's what stands out, they're going deep all the time," UW-L senior safety Luke Winnen said. "You've got to have that in the back of your mind, protect the end zone. As a DB you're always thinking that, but there's even more emphasis on it this week.
"They have a lot of great athletes, definitely the best team we've seen this year. It's going to be a great test."
Williams, a 5-foot-11, 175-pound speedster, is a 12-time NCAA Division III All-American in track and field, and is the defending national champion in the indoor long jump. Averaging 20 yards a catch, Williams has 437 yards and six touchdowns. He scored two touchdowns in Stevens Point's win over the Eagles last season, including an 82-yard catch and run that put the game away in the second half.
Herra is a tough physical matchup at 6-3, 215 pounds. He has four scores on 19 catches this season, and had 10 catches for 149 yards to help the Pointers (3-0) top Albion in Week 2.
Throwing to these players is sophomore quarterback Matt Urmanski, who is making his first start of the season. Urmanski fills in for senior Ryan Swigart, who was hurt last week against Adrian. Urmanski, who stands 6-5, is well-protected behind the Pointers' massive offensive line, which averages 6-3½, 295 pounds. Stevens Point has allowed just two sacks for a loss of 8 yards this year.
"Our secondary is going to have their hands full. They know the task they have," Eagles coach Mike Schmidt said. "We've got to find a way to get the quarterback contained, get into coverage and figure it out from there."
UW-L has three interceptions and 19 passes defended thus far, but the vertical passing game the Pointers put out there is unlike any the Eagles have faced so far. Winnen said having the talent the Eagles do with their wide receivers has been good training for today.
"We're improving every week," Winnen said. "Going against the offense here in practice, we've got a great group of receivers here, so we're using that to get ready."
Since Schmidt took over the UW-L program in 2016, the secondary has been aggressive. Schmidt likes to play tight man-to-man coverage and force opposing quarterbacks to throw into small windows. It's had its good and bad days in the 13 games of Schmidt's tenure, but after playing two option-run based offenses in the nonconference schedule, the secondary must be ready for an aerial attack today.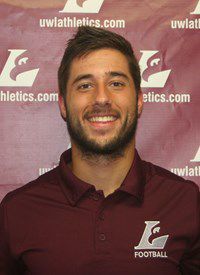 Senior cornerback Steve Law — who at 6-3 and 200 pounds can match the physicality of bigger receivers like Herra — said the key tonight is for the secondary to stay true to their schemes.
"(The deep threat) is going to be in the back of our mind, but at the same time, we have to play our technique," Law said. "We can't let that affect the way we approach them. Every play playing man-press you have to go up to the line with the same mentality."