There is something cooking over at UW-La Crosse and it's starting to feel a little like a full-blown holiday meal.
The meat and potatoes, as in offense and defense, have cranked up the level of their performance to a downright tasty level. And just for good measure, the Eagles' special teams are like pie and ice cream — often overlooked, but very important in capping the overall experience.
The UW-L football team sure seems to be as it dumped UW-Eau Claire 45-14 Saturday afternoon before a dry, then wet, crowd of 2,054 at Roger Harring Stadium.
It may seem a bit greedy to poke holes in an offense that put up 423 yards, had 19 first dow…
With a showdown against normally potent UW-Whitewater looming on Friday night, the Eagles — who received votes in this week's Division III top 25 poll — pushed their unbeaten record to 5-0, and more importantly, 2-0 in the WIAC.
"I just told the team that this is exactly where we thought we were going to be. We haven't done anything that surprised us, we haven't done anything that has surprised that team that is in the locker room there," UW-L coach Mike Schmidt said after his team began a season 5-0 for the second consecutive season.
"This is right where we thought we were going to be. We are right where we thought we were going to be, right where we need to be. We are pretty juiced up for this opportunity, yes, for sure."
Those who follow the Eagles and their resurrection under the Schmidt regime saw UW-L strike quickly, albeit unexpectedly in building a 21-0 first-quarter lead over the Blugolds and stretching it to 31-7 by halftime.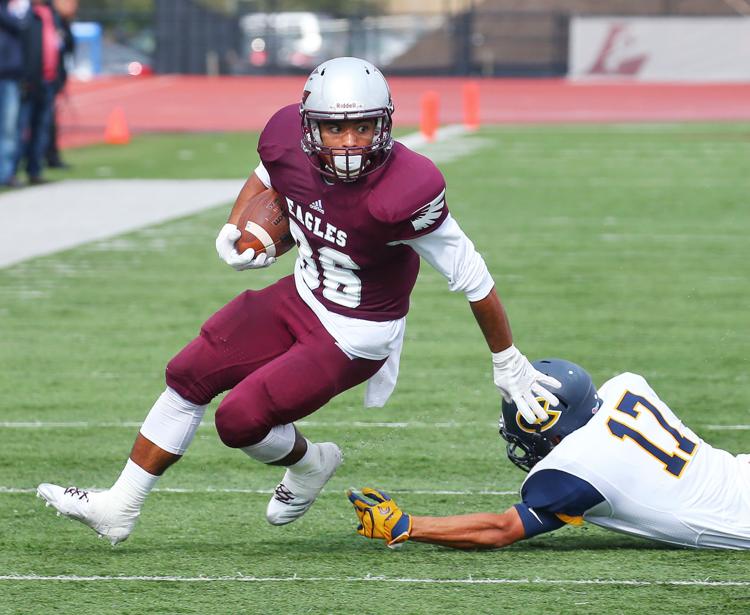 The second half featured a couple of big plays by the Eagles, but the outcome was never in doubt after UW-L's big-time first half.
UW-L's offense was like a microwave — short, hot bursts — but it was the special teams and defense that burned Eau Claire first. On its second possession, the Blugolds were forced to put from their own 14 after a dropped pass, then a sack by Brandon McKandes — one of four sacks the Eagles recorded on the day.
Cole Spieker, a sophomore tight end from Brainerd, Minn., blew through the line, then went untouched as he smothered Eau Claire punter Brad Goetsch, blocking the punt before it even left his leg.
The ball fell to the ground a few feet away and Spieker jumped on it for a 7-0 Eagles lead at the 11-minute, 43-second mark of the first quarter.
It was one of two blocked punts in the first quarter for UW-L, as freshman Rusty Murphy blocked another at the 3:29 mark.
"We have been practicing that all week. We saw that they had a couple of guys that they let go through and then the back wall (of blockers) had to pick me or Rusty. On that one, they picked Rusty and I just blocked it and scooped it and scored," Spieker said.
"Coach Schmidt was doing a great job to just put us in position. I just looked down (in the end zone) and it was right there. I got lucky, I guess."
While the big play fired up the crowd, the Eagles' hot-and-cold offense moved the ball at times, the sputtered at others. UW-L did push the ball to the Eau Claire 34-yard line, but Bryce Wesling's 51-yard field goal attempt was short, low and off the mark.
No problem, as the Eagles' defense forced a fumble by Matthew Harring, and quarterback Tarek Yaeggi showed how quick-strike UW-L's offense can be when he hit Nick Holcomb, who had surprisingly drawn one-on-one coverage, with a 27-yard scoring pass down the right sideline.
It was one of two TD passes Holcomb would catch on the day, as the 6-foot-2, 190-pound senior star from Germantown, Wis., pulled in a 33-yard scoring strike with 6:37 left in the fourth quarter. Holcomb finished with five catches for 129 yards, pushing his season totals to 31 catches, 627 yards and nine TDs.
"If they are playing man (coverage), I am always looking at the safety and seeing what he is doing. If he is over on the other side of the field (like he was), I am thinking, Ok, here it comes," Holcomb said.
"This whole week we have been stressing that if it is one-on-one, I have to be ready."
Eau Claire wasn't ready for happened next, as a game-changing play by senior Luke Winnen put the Blugolds in a hole that was too deep to dig out of. Unlike last year's 20-14 upset of the Eagles, Eau Claire would not be able to pull off another head-twister.
Winnen said defensive coordinator Matt Janus had the perfect coverage called and put him in the perfect spot. As the Blugolds' Herring broke off an out route, Winnen jumped it, snared quarterback JT DenHartog's pass, and returned the interception 28 yards for a TD.
With 6:28 left in the first quarter, UW-L was riding high with 21-0 lead and DenHartog was benched in favor of Scott Proctor.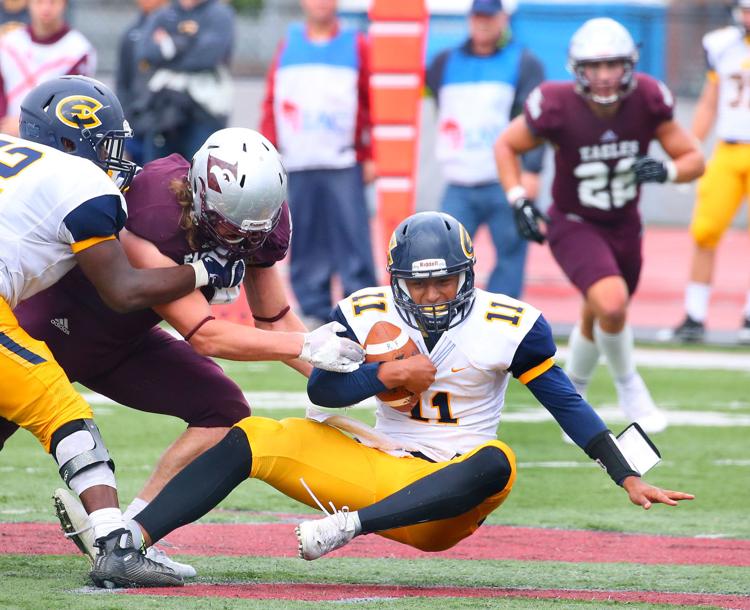 "What we always say about Luke Winnen is he does everything right. He is such a great kid and he has taken this opportunity with (Peter) Kissling and now (Ryan) Weber getting hurt, and just ran with it," Schmidt said. "What a great play he had on that one."
Winnen, who finished with four tackles, credited Janus with putting the Eagles defense in great position all day. UW-L's defense overwhelmed the Blugolds in the trenches, holding Eau Claire to 15 yards in the first quarter and 83 in the first half before substituting freely in the second half.
"Coach Janus just called a great play, so it was zone (coverage) and I don't think the quarterback saw me," Winnen said of his first career pick six, "so I was fortunate enough to make a play on it. It was kind of a peripheral thing as I saw the route and I saw the guy looking at him.
"I knew we were in zone and I had help from behind, so I was covering the flat, basically.
"I took a glance to see if anybody was trying to chase me down… we were on the 20, so it wasn't very far (to run)."
Wessling connected on a 21-yard field goal at the 9:27 mark of the second quarter, then Yaeggi basically ended it when he found a wide-open Spieker over the middle for a 20-yard scoring strike with 3:31 left in the first half.
UW-L, with a dominant defense, standout special teams play and a quick-strike offense, had taken a 31-0 lead.
"The touchdown (catch) was a nice route and Tarek just put it in perfect position," said Spieker, who had two catches for 32 yards. "Nick Holcomb drew the corner over, the safety over, so I was wide open. I felt we got the momentum early and just took it from there and ran with it."