It's safe to say that the UW-La Crosse soccer team is entering this week's WIAC tournament with a ton of confidence.
The thing is, for the Eagles and fourth-year coach Jason Murphy, it's well deserved, as the program has improved both its record and national standing during his tenure.
UW-L will play host to Stout in a WIAC tournament semifinal following a 16-1-2 record in the regular season and a perfect 7-0 mark in conference play. The Eagles have already set a school record for wins in a season, and are riding an 11-game winning streak entering Thursday.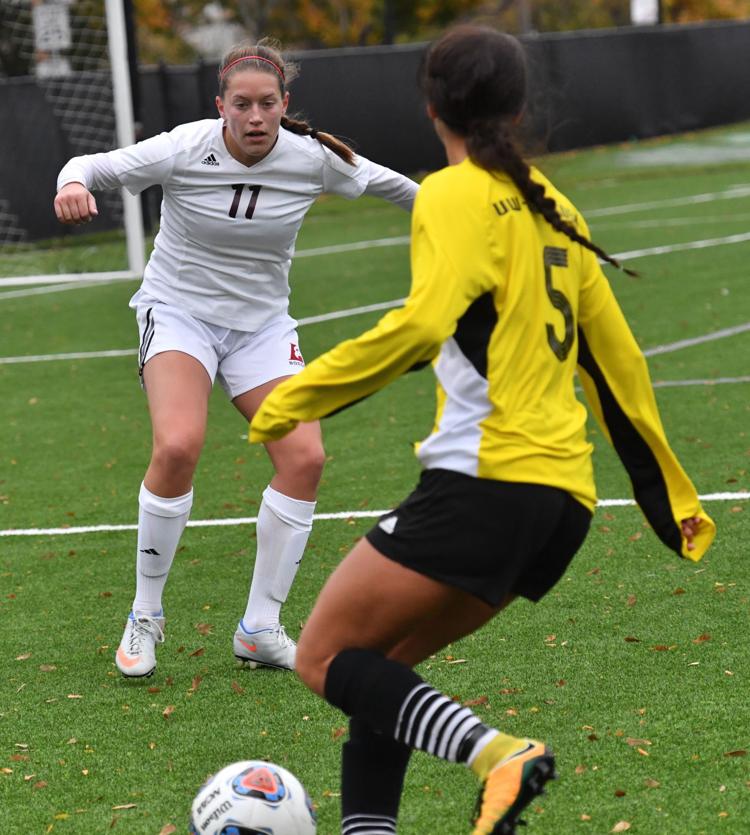 "It's been a three- or four-year project for us," Murphy said of his team, which kicks off at 6 p.m. Thursday on the new turf soccer facility at Veterans Memorial Field. "I think not making the national tournament last year was a pretty humbling experience for a lot of the younger kids in our program because they had a lot of success as freshmen and sophomores and then didn't have it last year."
The Eagles will still need to win the WIAC tournament to ensure a spot in the national tournament, but being ranked 16th in the country and first in the North region puts the team in a good spot no matter what shakes out over the next few days.
"It's been cool experiencing, every year, us improving more and more," said junior defender Megan Carroll. "Coming together now like we did this year, adding a few more elements, everything clicking into place — everyone's more comfortable with each other. It's been really cool watching it develop the way you hoped it would coming in."
Carroll has been a leader of the Eagles' defensive attack, which has surrendered only 12 goals over 19 games.
She's joined by senior Hayley Stephens, who, like Carroll, was named to the All-WIAC First Team a season ago, as well as returning starter Mary Mansker and freshman Tori Barnhart to make up the Eagles' back line.
Those four, along with freshman goalkeeper Lily Brock, have spearheaded a group that has earned 11 shutouts this season.
"We really believe in our back four, and because of that Lily can play with more confidence," said Murphy. "She's so comfortable on the ball back there."
Brock's emergence from a talented goalkeeper group has been aided by Carroll on the back line.
"I expect a ton out of Megan Carroll, and she knows that," Murphy said. "It's not always easy for her, but she's stepped up and done a good job. She's got Hayley and Mary on the outside, who are veterans that have a lot of minutes under their belts, but we really demand a lot out of her (Megan) day in and day out."
Stephens said that the level of confidence the Eagles have is a different brand than they had anytime prior in her UW-L career.
"I think our mentality, when we've gone into games, is that we are the better team and we're going to show that we're the better team," Stephens said. "I don't know if that's been there my first two years, and only maybe a little last year."
According to Murphy, he's seen that swagger rise to a new level over the past few weeks, and has been proud of the way they've held on to it.
"Truth be told, they've kind of worn it proudly," said Murphy. "They've said, we understand that we're going to get everyone's best, and that's fine. We'll give you our best too. We've been able to put ourselves in some pretty comfortable positions."
Part of that motivation is getting to stay at home, which the Eagles will do throughout the WIAC tournament and if things break well for UW-L, into the national tournament as well.
"I think that we're going into it knowing that we're the best team in the conference," Stephens said. "Our record shows it, and we won outright this year. We really just want to go out and win the conference tournament and guarantee a spot in the national tournament and maybe hopefully host some teams (in the NCAA tournament) here in La Crosse."