It appeared for a moment that the UW-La Crosse volleyball team had a game on its hands Thursday night at Mitchell Hall.
Squaring off with UW-Oshkosh in a WIAC tournament semifinal, the Titans used crucial runs in the second set to tie the match and make it look like the Eagles would need to buckle down to fend them off.
Instead, the Eagles did what's worked for them all season — getting the ball to senior outside hitter Stephanie Henk — and rode her accurate attacks to a 25-13, 23-25, 25-15, 25-18 win over Oshkosh in front of 250 people.
The win puts UW-L (20-6) into Saturday's championship game against Whitewater (22-7), who beat Eau Claire 25-23, 25-20, 23-25, 25-20 in its semifinal on Thursday. Oshkosh ends its season 20-15.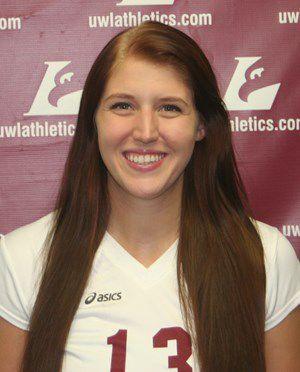 "That was coach's intentions. She said, 'We're going to start row five and we're going to get Steph hot,'" Henk said of the team's performance in the third set. "I said, 'All right. Let's put the ball down.'"
She did that repeatedly, beating the Titans' blocks over and over in the third and fourth sets. She slammed home three of the first five points of the third set, and after Madison Entinger tallied an ace and forced a bad set with a tough serve, Oshkosh called timeout to try to quell the momentum.
It didn't work — UW-L raced out to a 12-5 lead and then built it to a 21-9 advantage. Oshkosh made a quick run to get it to 21-15, but the Eagles closed it from there. Henk had eight of her match-high 18 kills in the third set.
"Tonight was kind of a goofy night," UW-L coach Amber Dunn said. "We knew Oshkosh was going to play us tough, we knew that was their gameplan. For us, we stuck to our guns and made good decisions."
The win was a proper cap-off to a good day for Dunn, Henk, and the Eagles. Dunn was named the WIAC coach of the year, Henk the player of the year, and had two other players — senior Madison Entinger and junior Marissa Johnson — named All-WIAC first team.
The Eagles' defense controlled the action in the first set, as eight of Oshkosh's 13 points came off attack or service errors. Oshkosh used late runs of 5-0 and 4-0 to get back into and then seal the second set, but never got into the fourth. UW-L jumped out to a 7-2 lead and kept that momentum going to lead 21-9. A 6-0 run by the Titans made it closer, but the Eagles closed the door with a 4-0 run, capped off by an ace from Henk.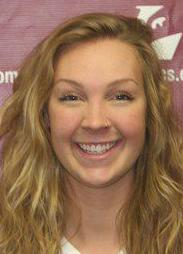 Dunn said the thing she was most impressed by was the play of senior Jessica Jablonski and sophomore Kathryn Maas. Jablonski at 6-foot-2 and Maas at 5-11 create a formidable block at the net, but Dunn said they made an impact in other ways.
"Our middles finally stepped up to the plate. Kat Maas and Jess Jablonski were incredible," Dunn said. "They were huge offensive players (Thursday)."
Maas tallied 10 kills, a solo block and seven block assists, while Jablonski added eight kills and two block assists.
"Middles play such a crucial role. If our middles aren't on, it makes it a struggle because the big blockers come out to the outsides," Henk said. "Them making an impact and having a great game makes it go so much more smoothly."
Freshman Laine Hoeffel chipped in nine kills and Johnson had seven and 13 digs. Entinger had 47 assists, 11 digs — her 12th double-double, and fourth in a row — and added four kills.