Amber Dunn has seemingly pushed all the right buttons in her first season as the UW-La Crosse volleyball coach.
The Eagles are riding a five-game winning streak into the WIAC tournament and have won seven of their past eight games. They're the No. 1 seed in the conference tournament, meaning the road to a championship and an automatic bid into the NCAA Division III national tournament runs through Mitchell Hall.
UW-L has battled through injury and adjusting to a new coach throughout the season, but appear to be peaking at the perfect time and poised to make the NCAA tournament for the third consecutive year.
"Having a new head coach can be tough," Dunn said Tuesday before the Eagles' practice. "Buying into the strategies that I've been talking about, finding ways to be good at the things I think we can be good at. It took some trust and some buy-in.
"Now, we've found more opportunities to trust each other … and to be good together, not just as individuals."
After starting 6-4 over the first two weeks of the season, the Eagles have gotten on a roll and enter Thursday's WIAC tournament semifinal against XXX — slated for 7 p.m. at Mitchell Hall — with a 19-6 record. UW-L also went 7-0 in conference play.
Injuries played a big role in the slow start, as key players like Marissa Johnson missed time. When the team got healthy, and found continuity in its lineups, wins started to pile up.
"I think everyone started to figure out what their role is," Dunn said. "We're ready to continue what we're doing and be the best we can be at whatever role it is."
Dunn, who took over for Lily Hallock in the offseason after Hallock resigned, hasn't focused just on the court with her team. Each week, between preparing for its next opponent, the group would get together to do team-building activities.
For one of those outings, over the weekend of Oct. 21, the Eagles navigated the UW-La Crosse Adventure Program's challenge course — a system of cables, poles, wires, and ropes at heights varying from 1 to 40 feet off the ground that are constructed to form series of obstacles, according to the program's website.
It was there the team got to see a different side of Dunn.
"We did some things out on the course that I don't typically like to do, swinging from the sky and not having a lot of control," Dunn said. "They (the players) were awesome at it, just spectacular. Me getting to see them be awesome at it was fun, but I think for them, being able to see me in a vulnerable state — that I really am a normal human being outside of the gym — was valuable."
Senior outside hitter Stephanie Henk, the team's leader in kills (302) and aces (30), said the trip also exemplified how the team can help pull each other through difficult times.
"Some of us are afraid of heights, so we learned some new fears. But it was great because even if you were really scared of heights and didn't want to do it, we had our teammates there cheering you on when you really didn't want to keep going," Henk said, pantomiming white-knuckle gripping the balancing ropes of the course.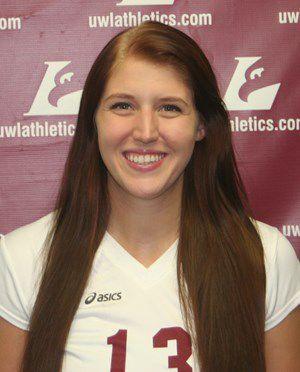 Dunn said the Eagles have a good mindset heading into Thursday's game, knowing all of their larger goals are still ahead of them.
"Whoever we play on Thursday, I'm excited about it," Henk said. "We're right here, we practice in this gym every day. I'm excited."