It didn't seem possible to Stephanie Henk.
The UW-La Crosse volleyball team's senior outside hitter and WIAC Offensive Player of the Year was still in shock minutes after the final cheer erupted from the estimated crowd of 425 people watching the WIAC tournament championship match at Mitchell Hall on Saturday night.
The Eagles had once again swept visiting UW-Whitewater — this time by scores of 25-19, 25-21, 25-22 — but the match meant more in that it gave UW-L an automatic berth into the NCAA Division III tournament.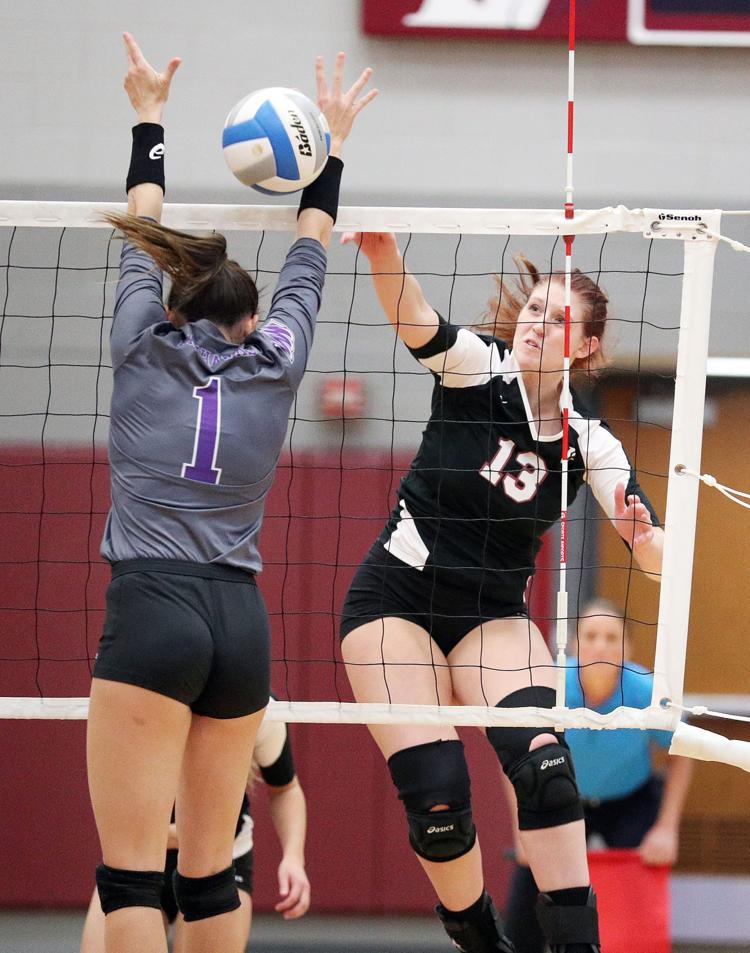 "Unbelievable … I can't believe we did it," Henk said. "I looked at the scoreboard and it was something like 20-13 at one point and I thought, 'Is this real life? Is this happening right now?'"
The Eagles played well for long stretches and were able to hold off the Warhawks' runs in each set. The sweep was the team's second of Whitewater in the past 11 days, as UW-L clinched a share of the regular-season WIAC title with a similar performance on Oct. 25.
This is the Eagles third consecutive trip to the national championship tournament, but their first as an automatic qualifier.
"There's been talk of us having the capability for us to do this, and the girls really found a way tonight," Eagles' first-year coach Amber Dunn said. "They had a good week of practice even through being tired and found a way to respond.
"We're still learning as we go."
UW-L won't know its opponent at the national tournament until Monday, but if it continues the role its been on the past few weeks, winning six straight, they have a chance to go deep in the tournament.
UW-L called a timeout in the first set after a 3-0 Warhawks run put them up 11-8. It was clear early that Whitewater was a much more locked-in team than the one the Eagles swept a week prior, but the Eagles still had a great advantage at the net. UW-L came out of the break with a 5-0 run to take back momentum.
La Crosse continued to hold a slim lead up to 19-17, but then a 4-0 run put it in the driver's seat and it closed the set out from there.
Senior middle hitter Jessica Jablonski made her presence felt in the second set, getting the Eagles going with four kills in the first 15 points. UW-L led 20-13 and looked to be on the way to an easy set win. But the Warhawks took advantage of some inaccurate hitting by the Eagles to go on an 8-1 run to tie it at 21.
After a timeout, La Crosse scored the final four points — a block error by Whitewater, a block by Jablonski, an attack error by Whitewater, and a Jablonski kill — to put it away. Dunn said Jablonski's play has steadily improved this season, and praised her work in the middle after the WIAC semifinals Thursday and after Saturday's match.
Whitewater fought hard in the third set after falling behind early. Each time La Crosse started to pull away by a couple of points, the Warhawks would storm back and either tie it or take a slim lead. Whitewater took a 20-19 lead, but UW-L fired back with a 5-0 run to force a match point.
The Warhawks scored the next two, but a block out of bounds finished it off.
Dunn said the team has grown on her more and more through her first year with it, and the past couple weeks have been the best in practice. That, plus a great deal of confidence gained from a dominant WIAC tournament, has the Eagles primed for a national tournament run.
"I still think there's a little bit more in them to get out," Dunn said. "We should have all the confidence in the world going into the tournament. We're going to keep the ball rolling."