The early-season matchup with one of the best teams in the country was one the UW-La Crosse wrestling team knew was going to be difficult.
And Saturday morning's opening dual of the Candlewood Suites Duals against No. 1 Wartburg was a rough time for a majority of the No. 17 Eagles' revamped starting lineup, as the Knights — defending NCAA Division III national champions — pulled away in the lighter weights and didn't let UW-L come back in posting a 25-9 victory.
But Wartburg's advantage throughout the morning — experience — was something the Eagles couldn't match no matter how hard they fought. Knights grapplers had their plans of attack and stuck to them to score takedowns, then points on the mat to expand their leads, while UW-L's wrestlers were forced to react more often than be aggressive.
"We just have to learn from it," Eagles coach Dave Malecek said during the Eagles' break between duals. "They took the fight to us, and we've usually been taking the fight to other guys. And I think you saw we're just a little inexperienced."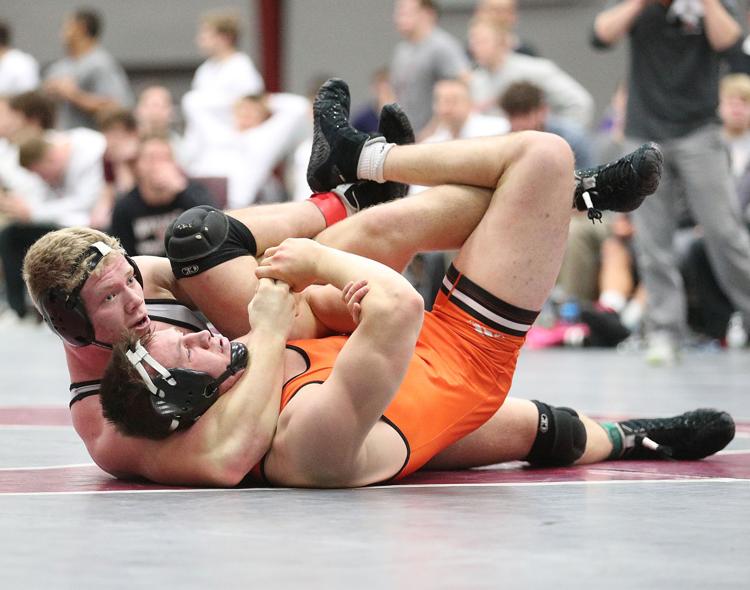 The loss was the first UW-L has suffered in a dual since January 2016 at UW-Whitewater.
Senior Nelson Baker got the Eagles off on the right foot at 125 pounds, opening the match with a 10-4 win over Wartburg's Connor Cleveland. Baker secured an early takedown with a clean feet-to-back throw, and then stayed patient as he attempted a pin as Cleveland bridged on his neck and head for at least 20 seconds. He scored eight back points in the first period and coasted from there.
But the Knights rattled off five straight wins that gave them a 19-3 lead and made it so the Eagles would need pins and technical falls from then on to post an upset.
At 157 pounds, Sparta High School graduate Michael Murmane battled Wartburg's Logan Thomsen, the No. 1 wrestler at the weight in Division III. Thomsen held a 9-3 lead early in the third period, but then an escape, and a single-leg takedown brought it within 9-6. After the takedown, Murmane allowed Thomsen up because getting him to his back would've taken too long from that position. Murmane rushed for the final 30 seconds and locked up another takedown, but time ran out on the 10-8 loss.
Sophomore Sawyer Massie stemmed the tide for the Eagles at 174, taking an 11-2 lead after the first period and controlling the action from there. Massie said the team's effort against a talented Knights team was fine on the mat, but believed the Eagles could add more off of it.
"We talked about it as a team, I think we just need more enthusiasm on the sideline," Massie said. "We have the skill to beat them, we just have to bring more energy."
Malecek also noted that after the team got behind — something that hasn't happen yet this season — the bench got a little flat.
A new rule emphasis cost senior Sean O'Neil a chance at a win at 184 pounds. With the score tied at 1 with less than 10 seconds remaining, O'Neil and Wartburg's Tyler Lutes were brought back to the center of the mat after going out of bounds. O'Neil circled out of center, and was called for stalling, as Division III referees have been encouraged to call in such situations, and the point gave Lutes a 2-1 win.
Onalaska grad and UW-L sophomore Konrad Ernst didn't have the match he expected against Wartburg's Lance Evans — ranked No. 2 in the nation individually. In fact, he didn't even wrestle Evans. Instead, he competed against moved-up 197-pounder Bowen Wileman, beating him 8-2 with the only points surrendered being escapes that Ernst allowed.
Malecek said the loss will be a good learning experience for the Eagles moving forward.
"We're just scratching the surface," Malecek said. "By the end, we'll be all right."
NO. 17 UW-L 36, NO. 21 CONCORDIA 6: A different lineup of lower weights got the Eagles ahead and then Massie, Ernst and company blew it open.
Junior Reid Johnson had the most impressive win of the match at 141 pounds. Facing No. 7 Adam Presley, Johnson held a 5-2 lead after a takedown in the second round. He increased that lead to 6-2 with an escape, then won 7-3 after earning a point for riding time.
Freshman Zach Villarreal tallied a pin in 34 seconds, moving his record to 13-0 on the season at 125. Sophomore Jackson Schoen also picked up a pin at 157. Ernst added a technical fall to cap the dual.
UW-L 40, CORNELL 3: The Eagles recorded three pins and four major decisions in their last dual of the day Saturday.
Massie went 3-0 on the day with a major decision, and Ernst did as well with a tiebreaker victory.