Each day of practice and competition this season has brought something different for UW-La Crosse wrestling coach Dave Malecek.
This year's Eagles are new to Malecek, who's in his 12th season leading UW-L's wrestling program. New in that the team routinely trots out seven wrestlers who hadn't been in the starting lineup in previous years, and new in that Malecek doesn't quite know yet what he'll see from his team on a day-to-day basis.
"We've just scratched the surface with these guys," Malecek said. "They're all new or newer guys into the lineup. At times we have seven new guys in the lineup, so as a coach, that part is a little stressful because you don't know what to expect."
It's been a season of change for the Eagles, who moved from their digs in Mitchell Hall into a new practice and training facility in the lower level of the Cartwright Center. The 7,500-square foot space has one of the largest training mat areas in NCAA Division III, along with weight training and running equipment along the walls.
TV screens posted around the room allow Malecek and his staff to show the entire team different techniques that it can immediately start drilling. It's a vast improvement over their previous space, one of the smallest in Division III, according to Malecek.
"It has allowed us to have everybody competing at the same time, practicing at the same time, doing the same drills," Malecek said. "Another big (benefit) we've noticed is the injuries. Our injuries, knock on wood, have decreased significantly because of our space."
Benefits of the new training ground will be put to the test on Saturday at the Candlewood Suites Duals. UW-L's annual early-season showcase, slated for 9 a.m. Saturday, features six nationally ranked teams and 26 ranked wrestlers. Six of the 10 weight classes have the No. 1 wrestler in Division III competing in the duals.
The No. 17 Eagles start with a showdown against No. 1 and defending national champion Wartburg (9 a.m.). They'll be off during the 10:30 a.m. round, then return to the mat at noon against No. 21 Concordia (Minn.), before finishing the day against Cornell College (Iowa) at 1:30 p.m.
"We're going to see some of the best teams in Division III wrestling," said sophomore heavyweight Konrad Ernst. "That's going to be a great test for us. Not only whether we're winning or losing, but what we need to do after our matches to get better. It's a great time to see how our offseason and our early-season work has paid off."
Ernst, an Onalaska High School graduate, is 4-0 to start the season after a 27-11 freshman campaign that ended in the regional tournament. He's ranked No. 9 in Division III at 285 pounds, and will face Wartburg's Lance Evans — a two-time All-American and ranked No. 1 — early Saturday. Ernst said he's excited for the challenge.
"It's always a great thing to wrestle the best and seeing how to match up with them. If you want to be No. 1, you've got take on No. 1," Ernst said.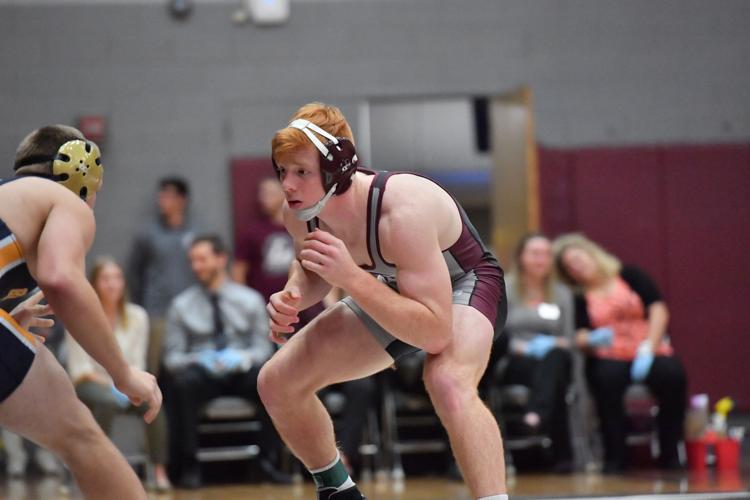 Ernst is one of the few holdovers from last year's starting lineup, but newcomers like sophomore Sawyer Massie have a chance to introduce themselves on a national stage with a good day Saturday.
Massie — a Hudson, Wis., native — is 4-1 at 174 pounds this season. He went 27-6 in open meets and other tournaments last season, but was behind then-senior Richard Carlson when UW-L could only enter one competitor at the weight. Carlson went on to take fifth at the national championship tournament, and Massie said Carlson remains one of his tutors in the sport.
"He taught me a lot about weight cutting and positioning and everything in a match," Massie said. "He was at Augsburg when we were there (Nov. 18) and he gave me some pointers."
Massie took third in his division's 174-pound class at the Auggie-Adidas Invite.
He's the only ranked (No. 10) wrestler in his weight at Saturday's duals, but against top teams like Wartburg and Concordia, wins would show Massie's a serious postseason contender.
"I just want to keep building on what I've been training on, keep putting in hard work," Massie said. "I feel like I'm way better than I was last year and I just want to keep the train rolling."