SIOUX CITY, Iowa — Ryan DeLong, coach of the No. 2 Viterbo University volleyball team, wasn't overly concerned about the 17-day span between matches for his team.
This was, after all, the start of the 32-team NAIA Women's Volleyball National Championship.
DeLong's confidence was rewarded Tuesday when Viterbo opened pool play with an impressive 25-14, 25-15, 25-19 victory over Our Lady of the Lake University (Texas) at the Tyson Events Center. It was the V-Hawks (35-1) 12th consecutive victory and pushed their consecutive sets won streak to 28.
Viterbo, which is making its fourth straight national tournament appearance, faces No. 17 Georgetown (Ky.) at 2 p.m. today in the second day of pool play. Eastern Oregon swept Georgetown 3-0 in its first match.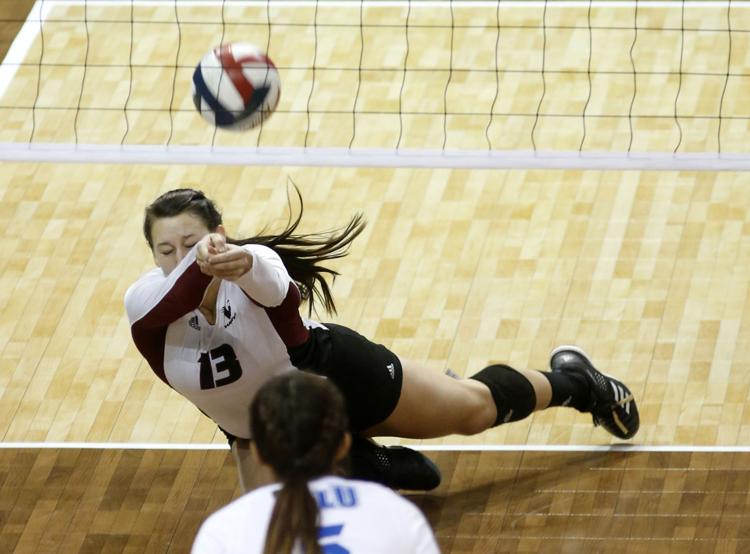 The winner of each of the eight pools advances to the quarterfinals on Friday. The semifinals and national championship match are set for Saturday.
"We came out strong and did not show a lot of rust. The experience of being down here before helps," DeLong said. "The mindset of our freshmen helps, too.
"You never know, being off that long, how you are going to come out and react. And the seniors, coming out for the last time… we have a very passionate group of seniors. They want to play volleyball forever."
One of those seniors, two-time first-team All-American Natalie Geidel, a 6-foot-2 middle hitter from West Bend, Wis., came out strong as she finished with a match-best 19 kills. Geidel set the tone in the opening set, sparking Viterbo's 11-4 run that decidedly erased a 2-0 deficit.
Our Lady of the Lake (24-9) rallied to within 11-9, but Viterbo answered with a 12-3 run to put the set away.
Viterbo used its balance in second set, controlling it from start to finish, but the third set was the most competitive with six lead changes and 13 ties before the V-Hawks pulled out a 25-19 win.
"The third set, we let them control us for a little bit there, but we responded well in a tight situation. That's what you want to see," DeLong said. "Many of these players have been here before, so we stress to them to enjoy the experience. We don't want to put any undue pressure on them."
Freshman Miah Garant added eight kills in her first national tournament match, while Katie Frohmader added seven and Sparta High School graduate Aubrey Aspen had six. Viterbo finished with 49 kills to 33 for the Saints. The V-Hawks finished with a .363 attack percentage to the Saints' .133
Defensively, Baylee Gross and Chloe Jakscht led Viterbo with 11 digs. All-American setter Amelia Grahn recorded 40 assists.