SIOUX CITY, Iowa – The No. 2 ranked Viterbo University volleyball team flexed its muscles once again Wednesday at the 32-team NAIA Women's Volleyball National Championship.
The latest opponent to be swept off the Tyson Events Center floor was No. 17 Georgetown, Ky.
Viterbo cruised past Georgetown College 25-12, 25-20, 25-18 to move to 2-0 in pool play and guarantee itself a spot in Friday's Sweet 16. The V-Hawks, winners of 13 consecutive matches and 31 straight sets, are tied with Eastern Oregon in pool play with a 2-0 record.
At 4 p.m. today, coach Ryan DeLong's team will go head-to-head with Eastern Oregon, which also swept Georgetown.
"Eastern Oregon, they are big with a 6-3 kid in the middle and they block a lot of balls. They run a pretty good offense. It will be a good test," DeLlong said. "We are playing some really good volleyball right now.
"With our conference, we don't see a ton of top competition through the middle of the season until the conference tournament. This is the best we have played since the conference tournament."
The top two finishers in each of the eight pools advances to the Sweet 16, which begins bracket play on Friday. The semifinals and finals are set for Saturday.
Viterbo simply overpowered Georgetown in the opening set, thanks in part to Sparta High School graduate Aubrey Aspen and Natalie Giedel, a two-time first-team NAIA All-American middle hitter. Aspen and Geidel were nearly unstoppable, as Aspen finished with 21 kills while the 6-2 Geidel added 20 to give her 39 in two national matches.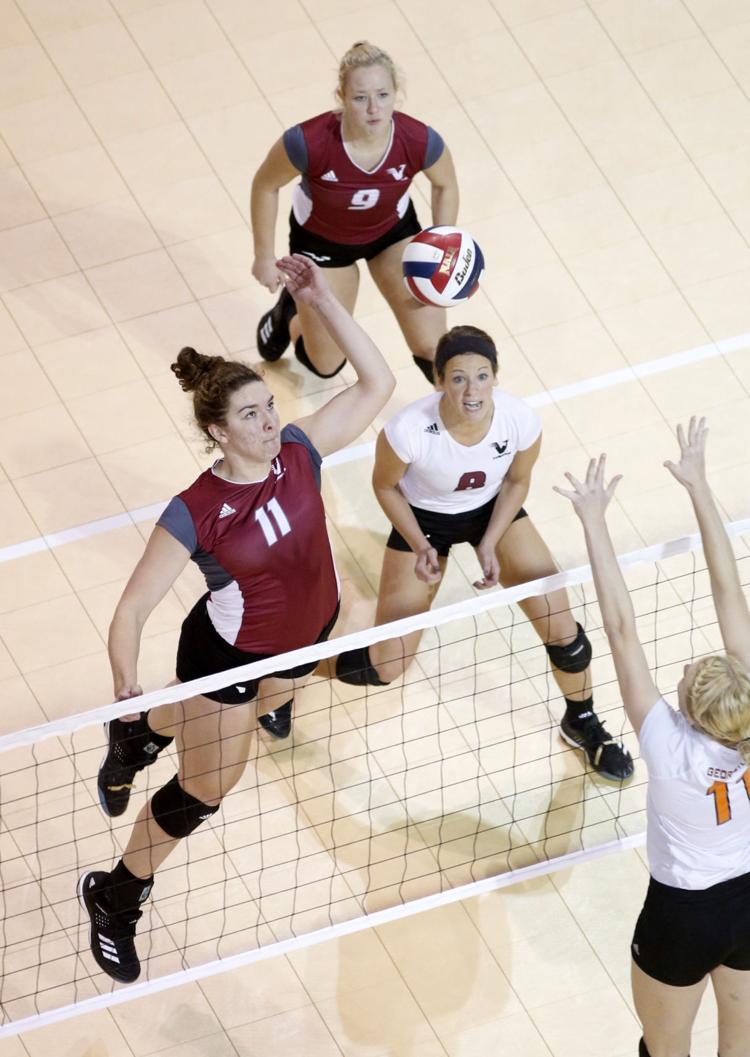 "Aubrey played really well today, our middles played well," DeLong said. "We know what are going to get from Natalie and stuff, so when Aubrey steps up we are that much stronger."
Viterbo was challenged more in the second and third sets, but the V-Hawks led from start to finish in the second set and controlled the third. Overall, Viterbo finished with 42 kills to 27 for Georgetown, and had an attack percentage of .297 to .105 for the Tigers. Viterbo also controlled the net defensively, finishing with 12 blocks assists to six for Georgetown.
"We didn't have a lot of rust and today was a pretty consistent and efficient day for us from start to finish," DeLong said. "We like how we are playing."
Viterbo received another strong performance from freshmen Katie Frohmader, Miah Garant and Maya Roberts. Frohmader, 6-foot outside hitter from Fort Atkinson, Wis., had 14 kills, while Garant a 6-2 right side hitter also from Fort Atkinson, added 13. Roberts, a 6-foot right side hitter from Watertown, Wis., also had 13 kills. Defensively, Baylee Gross had nine digs, while Amelia Grahn turned in another standout performance with 33 assists, eight digs and a kill.