The top three batters in the La Crosse Loggers lineup for Wednesday night's game against the St. Cloud Rox played Tuesday at the Major League Dreams Showcase in Madison.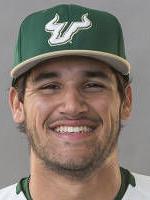 Kennie Taylor, Garrett Christman and David Villar were regarded by a panel of major-league scouts to be in the top 100 prospects from the Northwoods League. Ryan Anderson was also selected, and pitched a hitless inning in the event, which was played in front of a diverse crowd of major league scouts.
Taylor, Christman and Villar all played the second game of the doubleheader. Villar was the only La Crosse player to record a hit — an RBI single in the third inning. The abundance of scouts in the stands didn't do much to rile Villar, who's batting .310 this summer for the Loggers.
"Nah I didn't think so, I've done it a lot in my career," Villar responded when asked if there was pressure with the audience. "I'm used to it. When they come out to BP a lot.
"It's a little bit different when there's 65 or 70 of them, but it felt just like another day of baseball. If you just have fun with it, you'll be able to show how good you are."
Villar, who says playing professional baseball has always been his dream, has shown scouts plenty of good things this summer while playing with the Loggers. Villar leads the team in home runs (13) and RBI (48).
"I'm pretty happy with my power numbers, and to cut down a little on my strike-outs," said Villar, who will only get a couple days back home after the season before he has to be back on campus at South Florida. "My power has been there, and I thought I was capable of showing it, and now I finally am."
Villar says things went a little slow at the start of the summer, but then flew by after the all-star break. He played 60 games at school before joining the Loggers for 60more this summer. Villar said what he'll miss the most about La Crosse is its fans at Copeland Park.
"They have been so great, just to get over 2,500 fans a night," Villar said. "They come out every night and are dedicated on supporting the Loggers, and it's amazing to play in front of that."