After giving up 14 runs on 17 hits while walking nine Duluth Huskies on Saturday night, La Crosse Loggers manager Brian Lewis told his pitching staff he needed more out of them down the stretch.
The Loggers' arms apparently got the message. After a rocky start on Sunday, they settled down. This time, it was the Loggers' bats and errors on the base paths that cost the Loggers a victory on a cloudy Sunday evening, as La Crosse fell to the Mankato MoonDogs 6-5 in front of a crowd of 2,507 people at Copeland Park.
The Loggers had 12 hits but managed just four runs. Twice they were thrown out at third base to end an inning and once were thrown out at home with just one out.
"A couple of times we were just too aggressive on the base paths in situations where we should have not been," Lewis said. "We should have been a little more patient and not try to take third base with two outs.
"It's part of the development process, some of these guys that run well they start going a little bit out of control at times, we just have to be a little smarter on that."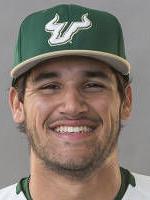 The base running errors cost the Loggers runs multiple times. In the fifth, with runners on first and second and two outs and Northwoods League All-Star David Villar at the plate, Kennie Taylor tried to go to third on a delayed steal. He was thrown out easily. The next inning, Villar led off with a home run. In the sixth, the Loggers had runners on second and third with one out when Jake Hirabayashi lined a single to right. One run scored while the second was gunned down at the plate. The next hitter, Nick Kahle, singled to left field.
The Loggers had a chance once again in the eighth with the bases loaded and one out, but were unable to make anything out of it.
"That eighth inning was big," Lewis said. "Bases loaded, one out and we weren't able to scratch a run across."
The offense was paced by David Villar, who drove in four of the five La Crosse runs while going 3-for-5 with two home runs and a double. It was Villar's first ever multi-homer game and he did it in front of his father, who was in attendance from Florida.
"He's been here for the last three games," Villar said. "It's nice to perform in front of my dad.
"The first one I didn't think it had a chance of getting out so I ran hard out of the box, but the second one I knew I had hit it high enough that the wind would take it out."
The MoonDogs scored five runs in the second inning off of Loggers starter Grant Ford to take a 5-0 lead. Ford wouldn't make it out of the inning. He lasted just 1⅓ innings giving up five runs on three hits and two walks. But on a night after Lewis demanded more out of the bullpen, they delivered. Peter Hamot, Andrew Owen, and Jason Seever combined to toss 7⅔ innings, allowing one run on two hits.
"The bullpen was outstanding," Lewis said. "Before the game we talked about you just have to throw strikes. When you come out of the bullpen, you have to throw strikes. If we are going to get beat in the bullpen, we should be beat by the other team hitting us around the ballpark. They took that to heart and did a great job throwing strikes."
They kept the Loggers in the game, but unfortunately the offense couldn't overcome the early deficit, as the Loggers left nine on base. Yet, Villar is still confident that Sunday was just one of those nights and that they will come back ready tonight.
"We'll get better," Villar said. "Baseball is game that rotates. Sometimes luck goes your way and sometimes it doesn't. We just got to get that spark and I think we will be good."
The Loggers and MoonDogs are back in action at 7:05 p.m. today at Copeland Park.