Just a little over a week ago, the La Crosse Loggers were sputtering, having won just five of their first 17 second-half games. Disgust could be heard from the fans at Copeland Park as La Crosse managed to score just one run in a July 23 loss to the Willmar Stingers.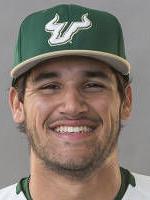 La Crosse was 7½ games out of North Division second-half lead and it appeared the Loggers were on their way to their second consecutive season of missing the postseason. La Crosse's last postseason appearance came in 2015 when it lost a one-game playoff to Kenosha.
Then, almost without warning, the Loggers bats came alive.
Entering Monday night's game against Bismarck, La Crosse has scored 68 runs (an average of 8.5 runs per game) over the past eight games, helping the Loggers post a 7-1 mark over that span. La Crosse (12-13 second half, 26-33 overall) suddenly sits just 4½ games back of frontrunning Mankato in the North Division, second-half standings. Eau Claire, which lost Monday night, is one game back of the MoonDogs.
"I think we have finally come together as a team," said Loggers' all-star third baseman David Villar, who leads the team with 12 home runs and 47 RBI. "We know who does what and we know our roles in the lineup and everybody is starting to come together and do their jobs."
The Loggers have shown signs of having an explosive offense, but the problem was consistently. La Crosse would score 10 runs one night and get shut out the next. They failed to consistently drive in runners when in scoring position.
"It felt like we were hitting the ball pretty good for a while, but things kind of just weren't really going on our way," said Loggers' utility player Ryan Mantle, who now holds the team record for walks in a season (49), which was previously set in 2011 by Trent Copeland (43).
"We would get a hit here and there instead of stringing them together and scoring multiple runs in an inning. That's what we have been able to do lately instead of just getting two guys on and not getting them in. So our RBI totals have all gone way up. And David (Villar) has been a big part of that."
After seeing his average dip to a season-low .287 on July 26, Villar has been on a tear over his last four games. He has gone 9-for-18 with three home runs and has driven in 17 to spark the Loggers' offense.
"I think I learned what people were trying to do to me," Villar said. "But I've also got to know that baseball is a game that is day and night. You will have those good spells kind of like I did in the first half and you have to realize that you will come back down to Earth and struggle. You've just got to remember the good times you had and you will work out of it."
For Villar, his success comes down to pitch selection. During his slump he was chasing too many breaking balls.
"Obviously he was doing so well for us for a while and then he hit that slump," Loggers manager Brian Lewis said. "A lot of times when hitters get into slumps they try and change things with their swings, with their stance, but most of the time they don't realize it all has to do with their eyes and they are swinging at bad pitches.
"We tried to talk with David about that and as far as you just have to see the ball. You are swinging at curveballs and stuff in the dirt and he wasn't doing that early on. He continued to try and work on that to really try to pick the ball up better. And I think that has been the biggest thing. He is seeing it better now."
This was something that was not only big for Villar, but for the rest of the Loggers as this philosophy was echoed by logger leadoff hitter Kennie Taylor.
"I just all feel like we are taking a lot better at-bats," said Taylor who entered Monday night's game fourth in the Northwoods League in batting (.352). "We are getting in better counts and taking advantage of mistake pitches."
Up and down the Loggers' lineup are a number of players who seem to be more patient and getting better at-bats. Jake Hirabayashi and Jeremy Ydens both have recorded a hit in five of the past six games while Ydens hit a grand slam on Monday night. Garrett Christman has raised his batting average to .300 after back-to-back three-hit games against the Rochester Honkers.
Catcher Korey Lee is hitting .280 while backup catcher Jorge Gutierrez is picking up steam with at least one hit in six of his last seven games.
"They all are kind of catching their stride and I think it is for different reasons," Lewis said. "But they are all starting to get hot at the same time."