After becoming the Northwoods League's most valuable player in 2015, Mason McCoy set out to make a mark in the major leagues.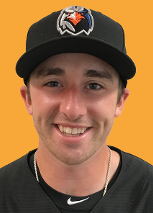 McCoy's success with the La Crosse Loggers for the 2015 and 2016 seasons helped position him for the MLB draft in 2017, and he was selected by the Baltimore Orioles in the sixth round (118th overall).
He'll return to La Crosse on Jan. 25 to be part of the team's 15th annual winter baseball BBQ at the AmericInn Hotel and Conference Center.
"Playing in the Northwoods with Division I kids, they were hard and had good stuff," said McCoy, a shortstop who played for Illinois Central Community College and the University of Iowa. "It made me better by playing everyday and it was comparable to the minor-league schedule.
"Playing in all of those games definitely helped get me going and prepare for what was now the future."
McCoy set a Northwoods League record for career runs scored (137) and team records for runs in a season (80) and hits in a season (112).
The Loggers play a packed summer schedule with 72 scheduled games in a 76-day window and little time to rest. Succeeding at that pace helped McCoy, who is originally from Peoria, Ill., adjust to the demands of the Aberdeen Ironbirds, Baltimore's Low A team.
"The only difference in the league is everyone has been playing for so long now, and they're more developed as a player. After two years in La Crosse, I found myself more mature and learning how to play everyday," McCoy said. "At first I didn't know, and now in my professional career I have that experience, and it's helped a lot."
The 6-foot, 175-pounder began his first year of minor-league play in the New York Penn League. He batted .301 and struck out 28 times against 26 walks drawn. He hopes to improve on that strikeout-to-walk ratio next season.
McCoy might get the chance to compete with the Orioles in spring training, and he said he feels mentally ready for the challenge if it happens.
"It's still up in the air," said McCoy. "I can either go to regular spring training or go to big-league camp, so it's time to just wait and see. I'll play in the infield whenever they need me.
"I'll be super-nervous playing next to big names like Manny Machado, but I was excited to come to find out that they're just regular guys that throw hard and hit far."
Even though the 22-year-old has a promising future in baseball, he's still planning for a life off the diamond. After baseball, McCoy's biggest goal is to get into nursing school. But he's still taking steps to be in the best possible position to play the game.
"I just want to play my role and prove everybody wrong that has ever doubted me and just play to the best of my abilities," he said. "Everything will take care of itself if I do that."