ROCHESTER, Minn. — The La Crosse Loggers scored six runs in the first four innings on the way to a 7-5 Northwoods League victory over the Rochester Honkers on Sunday.
The Loggers (26-33 overall, 12-13 second half) scored three runs in the top of the fifth for a 6-3 lead and countered a seventh-inning Rochester run with one of their own in the top of the ninth.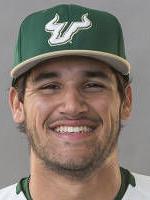 First baseman David Villar doubled, homered and drove in five runs as La Crosse won its third game in a row after losing an 11-inning game at Thunder Bay on Thursday.
The Loggers, who trail first-place Mankato (35-23, 15-7) by 4½ games in the North Division race, host Bismarck (26-33, 10-14) at Copeland Park in a 7:05 p.m. game today.
Peter Hamot allowed three hits and three earned runs over six inning to earn the pitching victory for La Crosse. Grant Ford picked up the save by getting the final out with a Rochester runner at first base.
A quick start gave the Loggers a 2-0 lead after the top of the first inning. Villar made Rochester pay for a walk by drilling a 2-1 pitch over the wall for his 12th home run of the season.
La Crosse needed those runs after Rochester answered with three of its own against Hamot in the bottom of the first.
The Loggers extended the lead when Cameron Blake singled home Nate Heili with two outs in the fourth and by scoring three times with the aid of four hits in the fifth.
Villar's two-run double was the big hit of the fifth, and Jeremy Ydens followed it up with an RBI single to bring Villar around. Villar recorded his fifth RBI of the game and 47th of the summer with a sacrifice fly to score Blake in the top of the ninth.