He's La Crosse's version of Tom Sawyer, only with a different surname, as he has indeed grown up on the Mississippi River and has an undeniable fondness for it.
A true river rat in the most positive of meanings, 68-year-old Tom Monsoor has made a living out of commercial fishing, then pro tournament fishing. He cut his pro fishing teeth, so-to-speak, tugging fat-belly bass from the backwater sloughs, lily pads and rock ledges of the Mighty Mississippi before testing his casting talent across the country.
And he's done well — very well — with nearly $750,000 in winnings during a 14-year FLW Tour career.
Today, and hopefully for the next four days, Monsoor will be competing against the top 160 professional bass anglers in the country in a FLW Tour event on pools 7, 8 and 9 of the Mississippi River. It's a big-time tournament with big-time cash, as the winner pockets $125,000 out of a $800,000 purse.
This time, it's home-water advantage for Monsoor, right?
"You just go fishing and do what you do. The river has been dropping a half a foot a day for two days, and tomorrow it will go up a half a foot or more. You may be catching fish in two feet of water one day, and a few days later it is dry ground," Monsoor said.
"The fish are thinking, 'What in the world is happening?' Not these guys (pros). That is what these guys are famous for, catching fish, and doing it in every condition you can think of. These guys travel around the country and catch fish everywhere.
"This is what they do. It is no cakewalk because I live here."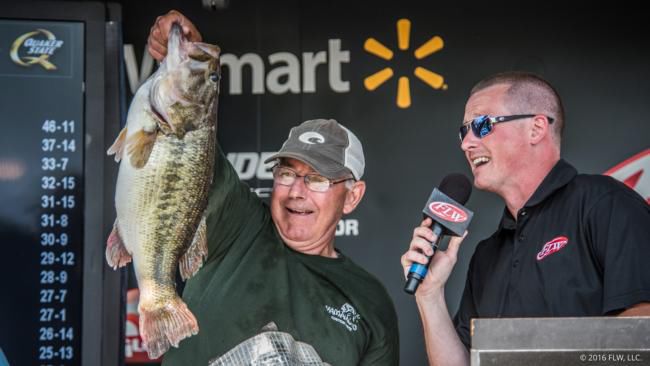 Bright and early this morning — and most likely with a chill in the late-spring air — 160 boats will ease into the Black River at the landing near the Clinton Street bridge. There will be two anglers in each boat — a pro and what is called a "co-angler" — who will be competing in two separate tournaments.
Monsoor will be one of them, and as he hits the throttle in sleek-looking bass boat, he'll be thinking, and rethinking, his strategy for a tournament that includes FLW Tour points leader Bryan Thrift (980), along with second-place Scott Canterbury (896) and third-place Casey Scanlon (887).
"I've got 18 spots that I even wrote down because I am getting old. I used to remember them all," Monsoor said, chuckling. "My buddy told me, 'You had better write those spots down.' It's not a bad idea. I know how to get to them, that's for sure."
Monsoor said he's got spots picked out for when the wind is out of the east, west, north and south. He's got spots picked out with current, with no current. He's got spots in the backwater, on the main channel and spots in between.
In other words, he's done his homework on a body of water he knows like the back of his hand. The tournament is being held on pools 7, 8 and 9 of the Mississippi River, which includes 65 miles of the main channel and countless miles of backwater.
The other 159 FLW Tour pros have done their homework, too, or they wouldn't be here, Monsoor said.
Bill Taylor, the FLW Tour tournament director for the Mississippi River event, said the recent turbulent weather, fluctuating water levels and temperature will be a challenge, but nothing the pros can't handle.
In fact, he's certainly they will catch bass — lots of bass. Taylor figures it will take a catch of 75 to 80 pounds to win the tournament.
"I think it will take nearly a 4-pound average to win it. These guys are just that good," Taylor said. "I am an old tournament angler from way back and was a better-than-average angler myself, and I can't compete with these guys.
"This will test anyone because of the fluctuation of the water (level), but these guys will step to the front. This fishery is very vast with thousands of acres of backwater with good fish habitat. Our anglers love it up here as it is a great fishery and a great community for the families of the anglers."
You won't get any argument from Monsoor, who won his first big tournament on the Mississippi River when he captured the 2001 Everstart Series event and the $50,000 payday that went with it.
"I won the first one they (FLW) ever had up north. You never know, you just never know, as you have to handle everything Mother Nature throws at you," Monsoor said. "I have as good a chance as anyone. I know where to go, how to get everywhere."
Still, it's fishing. Sometimes they bite, sometimes they don't.
Monsoor, who is currently 120th in points out of 165 pro angles to earn points, said this has been his most frustrating year as a pro. In the first two tournaments he was "on the best fish ever" during the period called "pre-fishing" leading up to the tournament.
When the tournament got underway, it was a totally different story.
"In pre-fishing, it was completely crazy. Get to the tournament, nothing. Oh my God, all you can do is shake your head."
Monsoor certainly hopes that doesn't happen today or Friday, as the tournament field is cut from 160 to 20 after two days, then down to 10 for Sunday, the final day of the event.
"I just go to have fun, to be honest," Monsoor said. "I am so lucky to be doing this. It is fun, it is exciting. It is not nerve-wracking. At 68, I am happy to be casting from daylight to dark."
Well, not quite. Monsoor will have to weigh in his catch at 3 p.m. today and Friday. And if he makes the cut, weigh-ins are at 4 p.m. Saturday and Sunday.
"This (tournament) is a big deal. The weird part of it is that La Crosse has the best potential. We have the best boat landing, and the parking setup is the best there is. The fishing is the best there is," Monsoor said.
"Everything is so perfect, and La Crosse has it going on like no place I have ever seen.
"They (people of the area) are starting to get it. They are starting to realize this is a big deal."